28.02.2011 » Is there a Cristiano Ronaldo dependency in Real Madrid?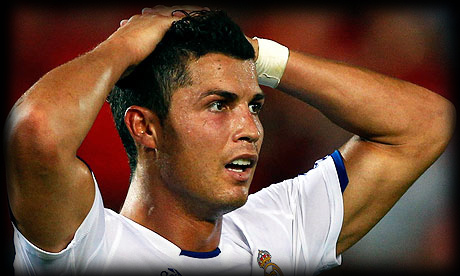 Real Madrid seems to be very dependent on Cristiano Ronaldo. Whenever CR7 doesn't score, that usually means Real Madrid will struggle to beat their opponents, since no one else in the team steps up to decide matches.

Is there a Cristiano Ronaldo dependency in Real Madrid? I would say there is, at least from what we could witness in the last matches. Some might say that there is no dependency and when Ronaldo doesn't score, someone else might step up to the occasion and do the job. That possibility doesn't seem to be valid though and the truth is, when Cristiano Ronaldo doesn't find the back of the net, Real Madrid struggles a lot more.
I think Higuain injury, just a couple of monthes ago, made this fact even more evident. At this moment, Real Madrid depends and expects too much from Cristiano Ronaldo, in a way which isn't comparable to any other top team across Europe. We could take Barcelona example, and notice how their performances don't seem to be too afected when they rotate players as Messi, Xavi or Iniesta (as long as they don't bench all those players at the same time). But it's undeniable that they can sit one of them, or have one of them having a bad day in a certain match, and someone will still rise up for the occasion and give the team what it needs.
Some might argue in favor of this dependency but decide to point fingers to a couple players that are expected to perform a lot better. We can't close our eyes to the fact that besides Cristiano Ronaldo, there's still another former FIFA World Best Player in the team: Kaká. However, the serious injury the Brazilian had to overcome in the last year, seems to still be holding him from establishing as the key player this Real Madrid team needs so much. Specially in times when CR7 is having more trouble to score goals, and there's the urgent need that someone else steps up. Who better for that task than the FIFA World Best Player of 2007? But I honestly don't think we'll get to see the best Kaká this season and I'm sure some of you might even think that we won't see the "Milan-type" Kaká in Real Madrid in the remaining years of his contract. I would say to hold expectations for next season and give the Brazilian another chance to prove his value in Madrid.
Cristiano Ronaldo lack of goals in the last matches is also a fact (CR7 scored "only" 2 goals in the last 9 matches, and those 2 goals were scored in the match against Real Sociedad), which coincide with the most difficult period Real Madrid has gone through this season. The draws against Almeria (1-1) and Deportivo (0-0), as the defeat against Osasuna (1-0), are examples of matches where Cristiano Ronaldo couldn't score and no one else in the team arised to the moment to settle things. It's also true that Real Madrid can blame the lack of luck, since there have been lots of opportunities smashing in the posts in the last matches. Cristiano Ronaldo himself, already hit the post 8 times this season! In the last match against Deportivo, CR7 just added another to that counting.
That being said, is there still anyone out there who believes that there is no Cristiano Ronaldo dependency in Real Madrid? The portuguese has played all the matches in this Spanish La Liga season, being the only player in the entire league to have that mark. Just another stat I'll throw to prove my point. Cristiano Ronaldo has scored 25 goals in the Spanish La Liga this season, from a total of 55 goals scored by Real Madrid. This means that CR7 scored close to 45% of Real Madrid goals in La Liga BBVA.
What are your thoughts on this topic? Does Real Madrid depend too much on Cristiano Ronaldo? Should Florentino Pérez buy a couple new World class players for next season, or wait for Kaká to get his old level? What about this season, is there anything Mourinho should do to overcome this dependency? Afterall, is this Cristiano Ronaldo dependency good or bad? Basically, do the advantages of such a "one-player" dependency compensante the evident disadvantages we're witnessing in the last weeks? Don't be shy and let us hear your voice in the comments below.

Sources: ronaldo7.net

comments powered by