05.02.2011 » Real Madrid 4-1 Real Sociedad. Cristiano Ronaldo scores two goals.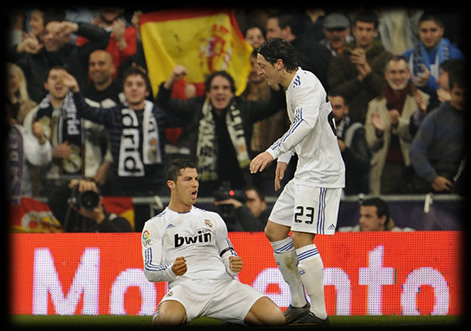 Watch Cristiano Ronaldo first goal
Watch Cristiano Ronaldo second goal
Watch Cristiano Ronaldo photos from Real Madrid x Real Sociedad
Real Madrid achieved a confortable win against Real Sociedad by winning 4-1. Cristiano Ronaldo returned to goals and scored twice. Kaká and Adebayor scored the other 2 goals for Real Madrid.
Kaká surprisingly made the starting eleven and soon proved everyone why.  Around the 7th minute mark, he controlled the ball inside the box following a clearance and scored the opener. Cristiano Ronaldo netted the team's second strike on the 20th-minute mark, after controlling the ball outside the box and dribbling past a defender. Despite local dominance, Iker Casillas was forced to make a great save to clear a shot by Tamudo earlier. It was the only dangerous effort from the locals in the first half, who didn't know if to concentrate on defending or if to try their luck with ventures in attack. Cristiano Ronaldo then tallied a third goal for his team by finishing off a corner kick served by Ozil, with a great header.

Real Madrid looked confident in the second half. Cristiano Ronaldo and Kaká both came close to netting yet another strike. Things went so well, that José Mourinho decided to make a few changes. Angel Di Maria came on for the Brazilian (59'), who received a standing ovation. Real Sociedad also made some changes looking to turn their luck. The "Whites" had one chance to score after another, but the ball always failed to go in. Raúl Albiol came on for Ricardo Carvalho in the 69th minute and, two minutes later, Real Sociedad scored a lucky strike, on a shot by Tamudo that was saved by Iker Casillas, but the ball bounced off Arbeloa's face to fall into the back of the goal.

Sergio Canales then came on for Ozil in the final minutes. Moments later, Adebayor had a sensational individual effort that was thwarted by Bravo and Labaka when he was about to score the fourth goal for his team. The Togolese player eventually scored from a fast effort, after receiving the ball from Angel Di Maria. Cristiano Ronaldo still tried to achieve the hattrick for a few times, but his efforts didn't reward him with the third goal.
Sources: ronaldo7.net/realmadrid.com

comments powered by