How to contact us:
E-mail: admin@ronaldo7.net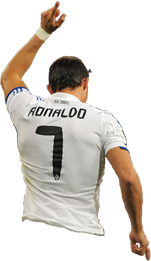 .................. :: How to contact Cristiano Ronaldo :: ..................
Alternatively, If you wish to contact Cristiano Ronaldo, then the best thing to do is to write him a letter and physicaly mail it, since he has no official email to receive fans' feedback. So, if you're looking to send him a message, or make a request for Cristiano to sign a shirt or a photo, you should simply write a letter to the address below. (Please notice that your letter will probably be read by either some Real Madrid employee or eventually some Cristiano Ronaldo agent, and they will decide whether to deliver it or not, to Cristiano Ronaldo himself)
How to contact Cristiano Ronaldo? Write this in the letter envelop:
Real Madrid C.F.
ATTENTION TO: Cristiano Ronaldo Dos Santos Aveiro
Avenida de Concha Espina, 1
Estadio Santiago Bernabéu
28036 Madrid
Spain
There are many fans who succesfully got their shirts, photos or other things signed back by Cristiano Ronaldo using this method, but that doesn't guarantee it will happen with everyone who tries to contact him.

comments powered by