16.01.2011 »» Almeria 1-1 Real Madrid. Real Madrid couldn't bring the 3 points.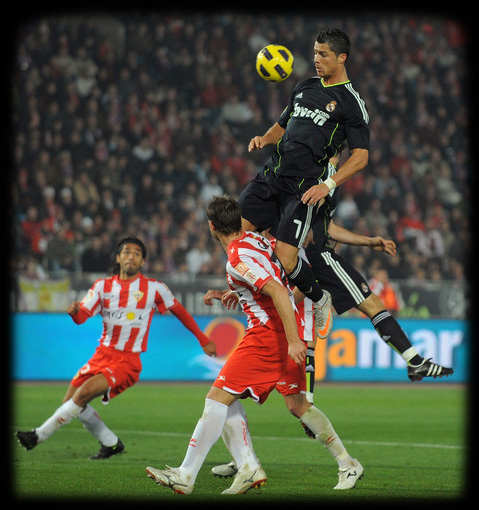 Real Madrid drew 1-1 against Almeria on Sunday and were thus unable to bring the first half of the season to a close with their sixth straight win. Cristiano Ronaldo still hitted the post in a powerfull freekick a few minutes before the end of the game.
Kaká earned his first start of the season in detriment of Benzema. Without a true '9' on the field, Cristiano Ronaldo, Di Maria and the Brazilian shared duties in attack. Perhaps due to accumulated fatigue from Thursday's league encounter, Real Madrid were unable to dictate the pace they are accustomed to. The first half flew by with only on chance on goal, but Khedira's misfire sailed well wide.
Benzema stepped in for Kaká shortly after the restart and Real Madrid grew more confident, but it was Almeria who drew first blood. Piatti turned inward towards goal and managed to get the ball to Ulloa, who beat Casillas with a powerful shot towards the post on 60'.
Mourinho sat Marcelo and Albiol and ordered Granero and Ricardo Carvallho onto the pitch; a move that saw the defense shrink to only three center-backs. Thirteen minutes after setting foot on the pitch, Granero fired in the equalizer following a pass by Karim Benzema.
Real Madrid pressured in search of a winner as Almeria retreated satisfied with the draw. Just on the verge of the end of regulation, Cristiano Ronaldo's free kick struck Mbami on the hand and rather than point to the penalty spot, referee Perez Lasa awarded another free kick just outside the box. But as luck would have it, Cristiano Ronaldo's ensuing free kick struck the crossbar and the match came to a disappointing end.
Real Madrid will play against Atletico Madrid next thursday in the 2nd leg of the "Copa del Rey", after having won 3-1 in the Santiago Bernabéu just a few days ago.
Sources: ronaldo7.net/realmadrid.com

comments powered by