13.03.2014 » Ronaldo donates 60.000 euros to pay for a young boy's brain surgery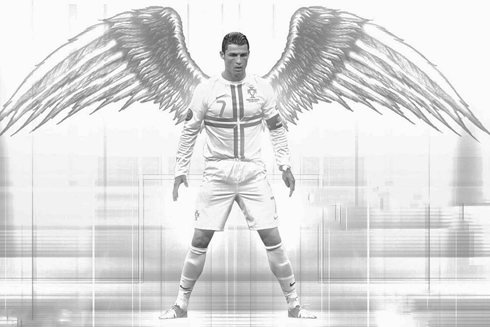 Cristiano Ronaldo has shown his incredible human side once again, after stepping forward to cover the full costs of a brain surgery to a 10-month-old boy in Spain. The little's boy name is Erik Ortiz Cruz and the whole story came to light a few days ago, after being initially reported by the Spanish daily sports newspaper "As".


It takes a lot more than talent and success in life to produce the kind of gesture that Cristiano Ronaldo had earlier this week. After coming to his knowledge that a young kid in Spain was very sick and in need of an expensive brain operation as part of his treatment, Ronaldo didn't hesitate and immediately offered himself to pay for all the costs involved in what is inevitably a quite highly delicate surgery intervention. The Real Madrid forward will fully fund the whole operation, and in order for that to happen, he will donate a total sum of 60.000 euros to the mother of the 10-month-old Erik Ortiz Cruz.
TV piece on Ronaldo paying a 10-month-old boy's brain operation:
Charity is not a strange word for someone like Ronaldo, but it's not every day we see a celebrity such as him stepping in to assure a 60.000€ surgery to a young kid. It happened this week though, shortly after the 10-month-old Erik Cruz's delicate situation came to the attention of the Portuguese superstar. According to the young kid's own mother, it all started happening when Ronaldo got asked by a personal friend to donate a signed shirt and a pair of boots for Erik's cause, in order to help raising funds for the most-needed operation. The Real Madrid forward was touched with the struggle and difficulties that the young Erik Cruz and his family were going through, and basically made sure that the large amount of money in need wouldn't be an obstacle anymore.
Unfortunately, this is the kind and generous side of Cristiano Ronaldo that many football enthusiasts seem to overlook every now and then. Even in situations like these, it's likely that we'll see people claiming that everyone else would have done the same thing if they were in Ronaldo's shoes, or that he has done no more than his obligation because he is in fact the richest football player in the World. The truth is, this has just been one of many cases in the past years where Cristiano Ronaldo got involved to help (and only accounting for those that actually came to public), and absolutely no one should even think they got the authority to ask more from him.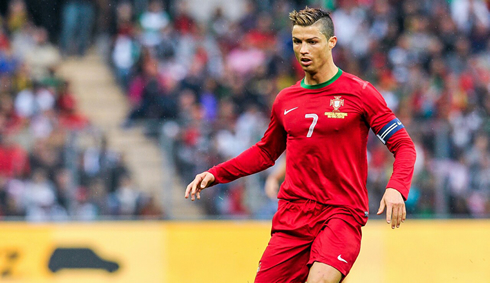 Erik suffers from a cortical dysplasia, which is basically a brain disease that can lead to cause up to 30 seizures a day. Being a Real Madrid supporter living on a small town called Villaluenga de la Sagra, part of the Spanish region Toledo, it didn't take long for the small town's community to start combining efforts in order to raise the funds to help the 10-month-old boy. From public fundraising campaigns, to media appeals or simply selling raffles tickets, everything was being done in hope of collecting the necessary money to go through with Erik's brain operation. Unfortunately, the battle to raise 60.000€ in a short period of time was most likely doomed to failure, had Ronaldo not appeared in the scene.
Cristina Cruz (Erik's mother): "We knew about Erik's condition about a month ago, since he started having several consecutive epileptic seizures, caused by a brain malformation. Our family and friends have immediately gathered to do everything we could to raise the money we needed to fix my son, but the truth is that the treatments are just too expensive."
Cristina Cruz: "Fortunately, my son's case recently reached Ronaldo's attention and it all suddenly changed. He first gifted us with his own signed football jersey and a pair of boots. Now, he has also offered his help by taking care of the costs of the operation. To me, he is an angel!"
And since all this will only be possible because of Cristiano Ronaldo's financial condition, why not taking a quick look at one very interesting infographic , on which we can take a look the most expensive body parts that celebrities have insured these days. Ronaldo had his legs secured for a total sum of 88 million pounds! (Click on the image to enlarge it)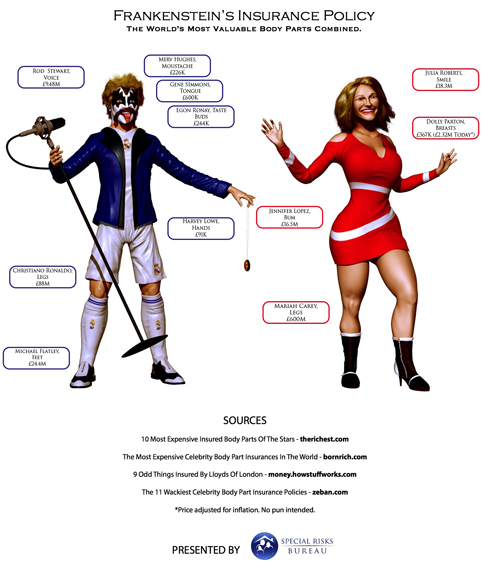 Cristiano Ronaldo next game for Real Madrid will be against Malaga for the La Liga, on March 15 of 2014. You can watch Juventus live stream, Malaga vs Real Madrid live, Atletico Madrid vs Espanyol, Hull vs Manchester City and Everton vs Cardiff, all games provided from our fre and online live football streaming section. The big game of the weekend will be Manchester United vs Liverpool at Old Trafford though, set to take place in England this Sunday.
Real Madrid next game:
Malaga vs Real Madrid kick-off time (15-03-2014):
Jakarta (Indonesia) | GMT+7: 02:00
Spain (Madrid) | GMT+1: 20:00
Portugal and England (Lisbon/London) | GMT+0: 19:00
Rio de Janeiro (Brazil) | GMT-2: 17:00
New York (United States) | GMT-5: 14:00
Los Angeles (United States) | GMT-8: 11:00
Beijing (China) | GMT+8: 03:00
Sources: ronaldo7.net / as.com / independent.co.uk