16.11.2011 » Cristiano Ronaldo launched an appeal for bone marrow donation
After beating Bosnia-Herzegovina, Cristiano Ronaldo dedicated the victory to Carlos Martins son, who is currently sick and suffering from leukemia. Gustavo, a 3-years old boy, needs a bone marrow transplant and several players and staff members showed their solidarity with their friend and teammate. Cristiano Ronaldo launched an appeal to raise the awareness about the importance of donating blood and bone marrow.


Celebrations after Portugal's victory over Bosnia have somehow been limited and clouded, as a sign of respect to Carlos Martins 3-years old son, Gustavo. The young child suffers from leukemia and everyone on the Portuguese National Team decided to show their solidarity to Martins. A curiosity that very few people know about, is that Cristiano Ronaldo is a member of the Portuguese Association Fight Against Leukemia (APCL in Portuguese) and a bone marrow donor since the Summer of 2010. Ronaldo decided to launch a big appeal, that we at ronaldo7.net are trying to spread, consisting on raising the awareness of how important it can be to donate blood and bone marrow, in order to help young kinds such as the case regarding Gustavo, Carlos Martins 3-years old son.
Cristiano Ronaldo: "I want to dedicate this victory to Carlos Martins, since his child is going through health problems and I want to announce my availability and willingness to help spreading the message of the importance of donating blood for the bone marrow purpose, which can help young kids on this sort of situations", appealed Ronaldo just before wishing luck to Carlos Martins 3-years old son, Gustavo.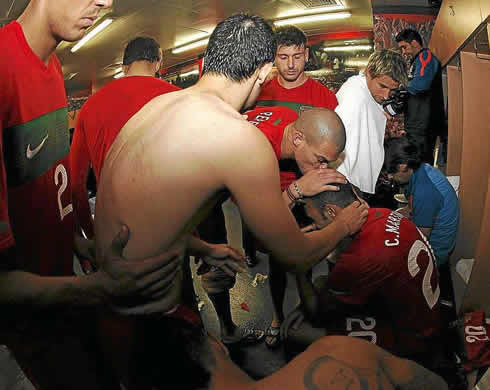 The Portuguese National Team has also expressed his solidarity and was quoted saying: "This victory is also to Carlos Martins, who is suffering a lot, so we want to launch an appeal for people to become bone marrow donors and help many young kids that are sick and suffering."
We've done some research on the matter and we gathered a few pages explaining the requirements for someone to be a bone marrow donor, as well as what kind of procedures are used and a few more frequently asked questions.

English: Link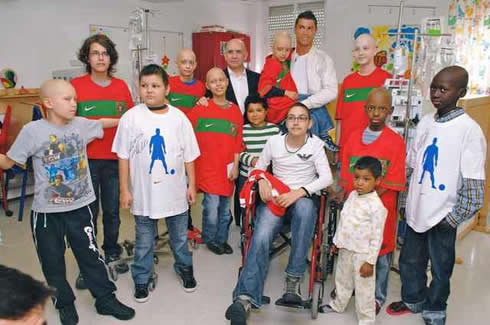 Below are a few short definitions on the bone marrow:
Bone marrow definition: The bone marrow is a spongy material, that can be found in the hollow centres of some bones. It's crucial since it contains special cells, which are known as stem cells. These cells create other specialised cells, that will be responsible for other important tasks. Stem cells in bone marrow produce 3 types of blood cells:
- red blood cells: carry oxygen around the body;
- white blood cells: help fight infections;
- platelets: help stop bleedings;
Bone marrow transplantation: Bone marrow transplantation, is also known as stem cell transplantation and it consists on harvesting healthy stem cells, in order to replenish the bone marrow of the patient. The new stem cells take over the production of the blood cells. In some cases, it may even be possible to take your own bone marrow from different part of your body (this is known as autologous transplantation). The bone marrow may be cleared of any diseased cells before being returned.
After confirming Portugal's presence in EURO 2012 with a 6-2 win over Bosnia, Cristiano Ronaldo is now back to Madrid. Real Madrid next match is against Valencia, for La Liga, in the 19th of November 2011. You can watch Juventus live stream, Valencia vs Real Madrid in our football live streams section this Saturday.

Sources: ronaldo7.net / dn.pt / wikipedia.com

comments powered by