26.02.2011 » Ozil: "Cristiano Ronaldo is the perfect player"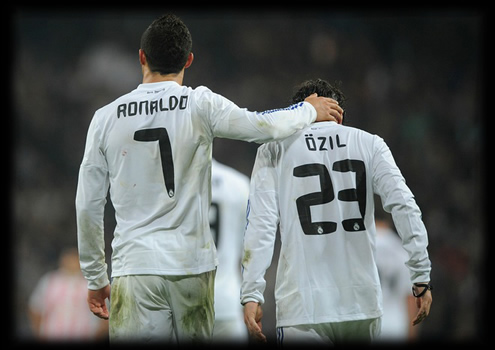 Mesut Ozil doesn't hold his tong when it comes to talk about Cristiano Ronaldo. The german midfielder sees Ronaldo as the perfect player.
Day after day and the roll of world wide celebrities praising Cristiano Ronaldo just keep growing. It was now the time for Mesut Ozil to join the list. A couple weeks ago the German player showed his gratitude to Cristiano Ronaldo, for helping him adapating in Real Madrid, and now he talked to the press once more, to say what he thinks about CR7.
In an interview given to the spanish network "Sexta", Ozil said: "He has been scoring a lot of goals and some of them really important. Cristiano Ronaldo is the perfect player."
With Real Madrid still fighting for all the trophies this season, the Spanish League remains one of the most important targets this season. Ozil believes the League leaders, Barcelona, will still drop a few points. The German thinks they can also have bad days, like every other team.
Ozil: "They can't play at the same level all the season. They are humans, so they can fail too. And we still have the game against them in the "Santiago Bernabéu".
The German player ended the interview by talking about Zinedine Zidane, his idol in football: "I saw almost all his games and he was also a perfect player. In a Champions League Final, scoring a goal with the left foot, without letting the ball hitting the grass... It was amazing."
Real Madrid will play against Deportivo de La Coruña tonight and you can watch the game in ronaldo7.net. Cristiano Ronaldo was called up for the match and should start the game.
Sources: ronaldo7.net/abola.pt

comments powered by