11.11.2011 » Bosnia 0-0 Portugal. Final decision delayed to the 2nd leg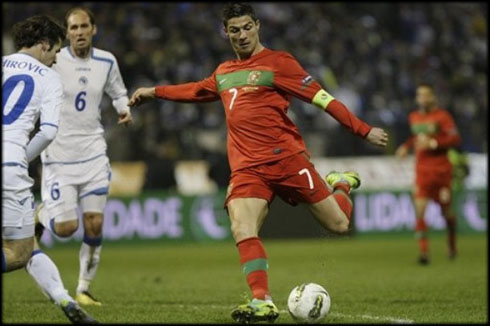 Bosnia-Herzegovina and Portugal settled for a goalless draw this Friday night, in the 1st leg of the EURO 2012 Playoff. As expected, Cristiano Ronaldo was the main target of the crowd, but the Portuguese remained focused on the game and had a positive performance.


A goalless draw between Bosnia-Herzegovina and Portugal has delayed the final decision of who will be in next summer's EURO 2012, for next Tuesday's 2nd leg, to be played in Lisbon, Portugal. Following the trend of the last days, Cristiano Ronaldo was chased by lasers, provocations and insults, but the Portuguese player showed he was completely focused on the game. This time, CR7 left Bosnian fans without response and made them look like fools, since they were screaming non-stop for Barcelona's Messi name.
Watch Cristiano Ronaldo game photos in Bosnia vs Portugal
Watch Bosnia 0-0 Portugal video highlights, including Cristiano Ronaldo actions: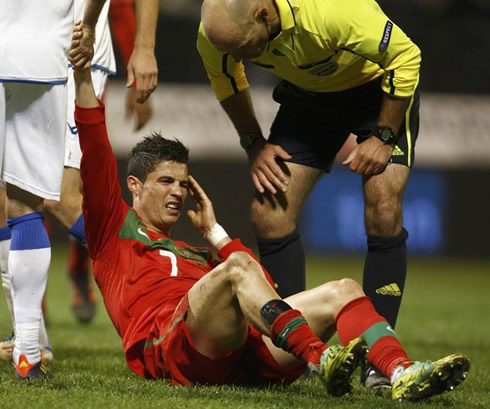 Cristiano Ronaldo was in risk of being suspended, in case he would have seen a yellow card, a fact that may have instigated and motivated Bosnian fans to keep teasing Ronaldo during the entire game. The typical "Messi, Messi" chants echoed right from the start even when both teams were lining up, just before hearing the respective National anthems. CR7 remained calm and didn't respond to any provocation, unlike what happened yesterday during the training, where the Portuguese player showed some Bosnian fans his middle finger, after constantly being annoyed with lasers pointed at his face.
The game was expected to be tough and played in a very combative style, with so much at stake. Portugal started the game smoothly, trying to impose their passing game in a pitch that was in very bad conditions. The Portuguese Team managed to create several good chances to open the score, with Cristiano Ronaldo, Raúl Meireles and Hélder Postiga being granted with good opportunities. However and even though Portugal came on top during the 1st half, the score would remain 0-0 at half-time, with the best chance coming from Cristiano Ronaldo left foot. After being assisted by Nani's backheel and already in a very dangerous position, CR7 blasted the shot wide, mostly due to the awful pitch condition.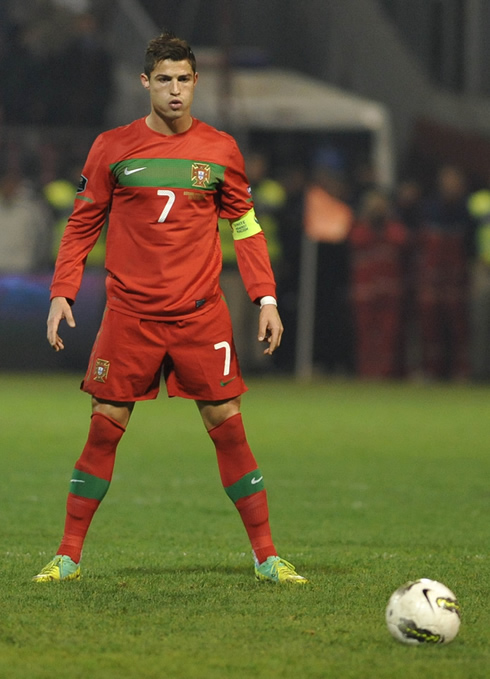 Bosnia-Herzegovina came on to the 2nd half with a revitalized attitude and the story would be slightly different from the 1st half. Portugal was still able to collect a few good chances to score on this period, but Bosnian players showed a more aggressive stance, as well as they were definately more interested in risking more, by attacking with more men. Bosnia created two great chances to score, near the 71th and the 82th minute, but in both occasions, Ibisevic couldn't prepare the shots properly and suffered the consequences of their coach and Federation's choice of playing in such a bad pitch, wasting their good opportunities with bad finishes.
Portugal ended the game defending from Bosnia's last assaults and holded to what can turn out to be a valuable goalless draw. Pepe was probably the best player on the pitch, defending with class and always anticipating Bosnian forwards, not allowing Edin Dzeko and company to create much danger. The Portuguese National Team will now start preparing the 2nd leg match, which will be played in Lisbon, next Tuesday (15-11-2011). If Cristiano Ronaldo and his teammates manage to beat Bosnia on this game that will be held in Portugal, they'll immediatly assure their presence in next summer's EURO 2012.
Watch Cristiano Ronaldo highlights and actions video, in Portugal vs Bosnia:
Portugal line-up vs Bosnia-Herzegovina:
Goalkeeper: Rui Patrício
Defenders: Fábio Coentrão, Pepe, Bruno Alves, João Pereira
Midfielders: Miguel Veloso, João Moutinho, Raúl Meireles
Attackers: Nani, Cristiano Ronaldo and Hélder Postiga.
Match stats provided by www.ronaldo7.net

0

Goals

0

0

Assists

0

5

Shots

12

2

Shots on goal

5

4

Corner kicks

9

14

Fouls commited

16

2

Yellow cards

1

0

Red cards

0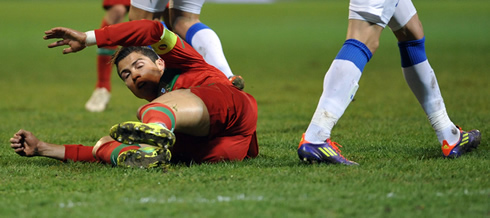 After the draw against Bosnia, in Zenica, Cristiano Ronaldo next game is again against Bosnia, this Tuesday for the 2nd leg of the EURO 2012 playoff. Real Madrid next match is against Valencia, for La Liga, in the 19th of November 2011. You can watch Juventus live stream, Portugal vs Bosnia in our Football live streams section this Tuesday, but tomorrow don't miss the International friendly between England vs Spain.

Sources: ronaldo7.net / record.pt / uefa.com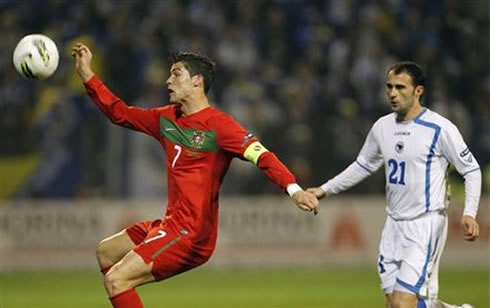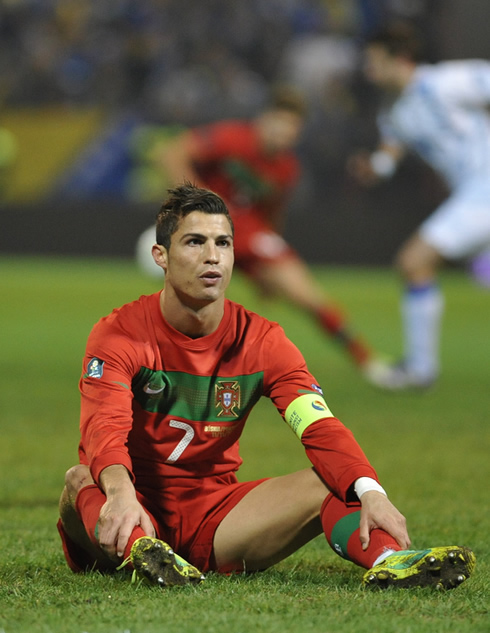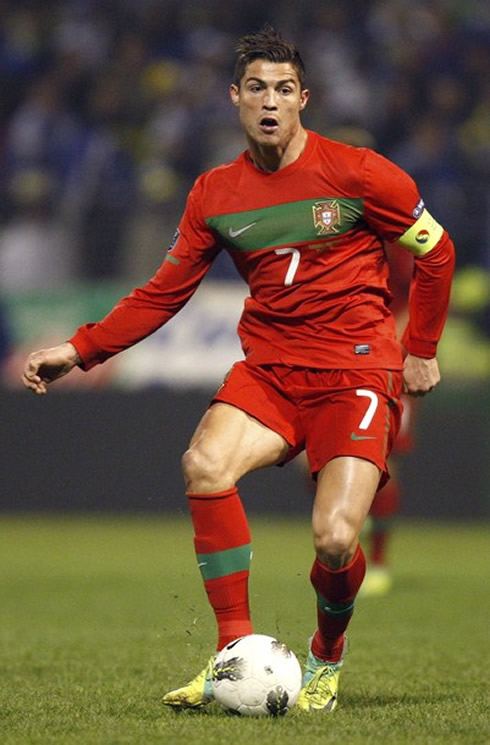 comments powered by