11.11.2011 » Cristiano Ronaldo received with Messi chants when arriving to Bosnia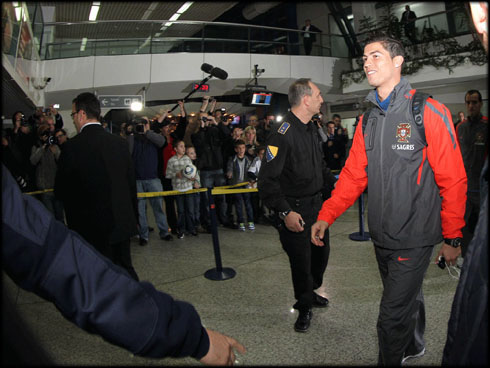 Portugal will face Bosnia-Herzegovina this Friday night, in the first leg of the EURO 2012 playoff. The Portuguese National Team landed in Sarajevo this Wednesday and a few hundreds of Bosnian fans were waiting in the airport to welcome Cristiano Ronaldo with "Messi" chants and provocations.


This Friday night, Portugal will play in Zenica against Bosnia-Herzegovina, for the EURO 2012 1st leg playoff. With so much at stake, a few hundreds Bosnian fans decided to grant the Portuguese National Team with an hostile welcoming in Saravejo's airport. Among several provocations, Cristiano Ronaldo had to deal with the misplaced and inadequate "Messi, Messi" chants from Bosnian supporters, just before stepping to the bus, with destination set to Zenica.
Watch Bosnian fans chanting and provoking Cristiano Ronaldo with "Messi" shouts:
Several players from the Bosnia-Herzegovina National Team, as well as their coach, have already started previewing the clash and they all confessed to expect difficulties in stopping Cristiano Ronaldo. The first was Edwin Dzeko, roughly a month ago, saying that Portugal will necessarily be the favorite to get through, simply because they have Cristiano Ronaldo on their side. A few days ago, it was time for Bosnia-Herzegovina's manager to anticipate the game and leave a few interesting remarks regarding Cristiano Ronaldo and the Portuguese National Team.
Susic: "No one can defend Cristiano Ronaldo. How can we defend a player that scores 100 goals in 105 games for Real Madrid?", stressed out the Bosnian coach, before revealing a curious situation: "I once joked with our chances to get through and said that it wouldn't be that bad if we lose 7-0 in the first leg, because at least we would play the 2nd leg without any pressure."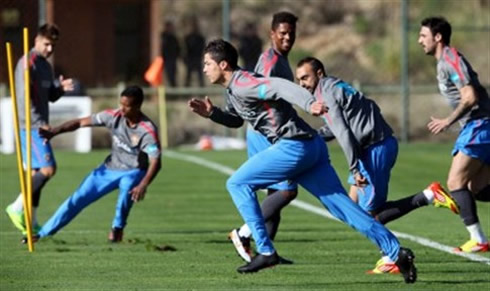 Short after and in a more serious tone, the Bosnian coach confessed he is optimistic towards the outcome of this playoff. Susic: "I usually avoid doing any kind of forecasts in football and I don't want to put a number in our chances. I want to be optimistic and keep believing that my team will be the one qualified at the end of this playoff round." Susic then explained the reasons why he believes his team can surprise Europe and beat Portugal. Susic: "Bosnia didn't lose a single game in our last 6 fixtures and we only conceded one goal, from the penalty-kick spot. We had really good performances in some of our last matches. Besides that, we're aware that Portugal also has a few weaknesses, since they don't defend very well and that often leads them to suffer many goals."
However, Susic also recognizes that Portugal strenghts lie in their individual players. "It's a very dangerous team, with several great players in different positions, like Nani, Cristiano Ronaldo or Hélder Postiga. But they still have a few other players who can decide a match all of a sudden, so we must be cautious during the entire game."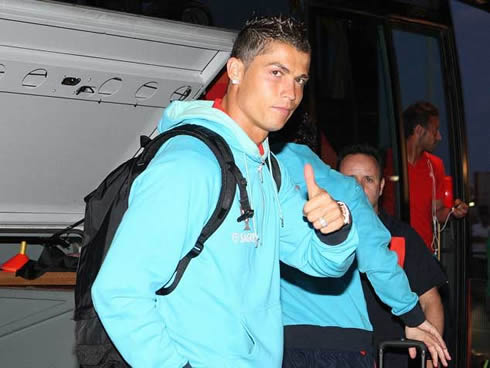 Who also made a few remarks on the Bosnia vs Portugal match, was Emir Spahic, a Bosnian defender. Currently playing for Sevilla, in Spain, has allowed Spahic to be well aware of the threat that Cristiano Ronaldo poses to the Bosnian defense. "Obviously, it will be a very hard task to defend him. Cristiano Ronaldo is one of the best players in the World. But one thing is for sure, we'll give everything we have to make sure that Cristiano Ronaldo and the Portuguese National Team don't win this Friday's game", alerted Spahic.
The Portuguese National Team has traveled to Bosnia this Wednesday and once again, it has been possible to witness how some football suporters insist on provoking Cristiano Ronaldo through inappropriate ways. When Cristiano Ronaldo was heading to the team bus, several Bosnian fans started shouting and chanting "Messi, Messi", in a clear attempt to tease the Portuguese player. At that time, Ronaldo response was a simple smile. However, earlier today, during the Portuguese National Team practice session in Zenica, several Bosnian fans kept with their strategy of annoying and provoking Cristiano Ronaldo. This time, CR7 didn't hold back and he showed them his middle finger, after being constantly disturbed with lasers pointed at his face, as well as the usual "Messi, Messi" chants. Let's hope these fans can receive a more peremptory response this Friday night, when Cristiano Ronaldo steps on to the pitch to help Portugal pulling off a good result. It's about time that those kind of fans stop with these non-sense provocations and instead of wasting energy insulting and teasing opponents, they could actually start cheering and rooting for their team.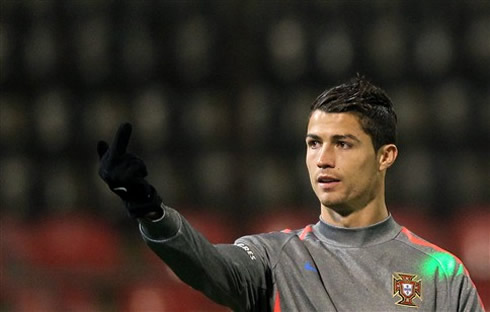 Below you may watch a Cristiano Ronaldo highlights video, while playing for Portugal, as a sort of a teaser for tomorrow's game:
Real Madrid next match is against Valencia, for La Liga, in the 19th of November, 2011. Over the last days, Cristiano Ronaldo has been training with the Portuguese National Team, in order to prepare the 2-games playoff stage, against Bosnia Herzegovina. You can watch Juventus live stream, the first leg of Bosnia vs Portugal live, this Friday, the 11th of November. The 2nd leg will be played in Lisbon, Portugal, in the 15th November of 2011. The winner will qualify for the EURO 2012.

Sources: ronaldo7.net / record.pt / abola.pt / jn.pt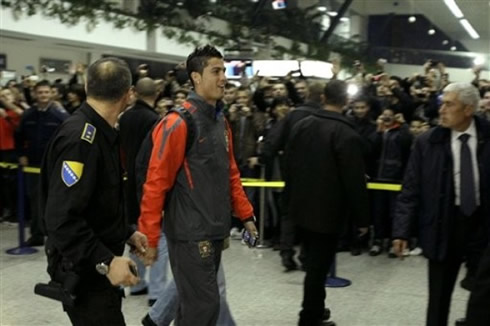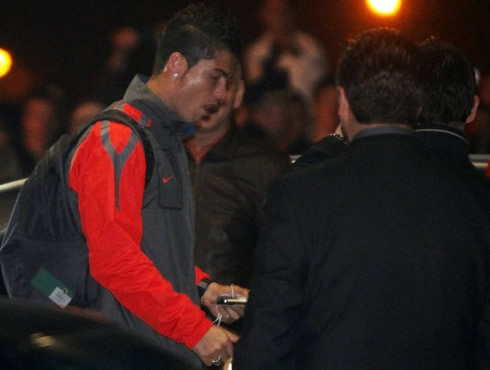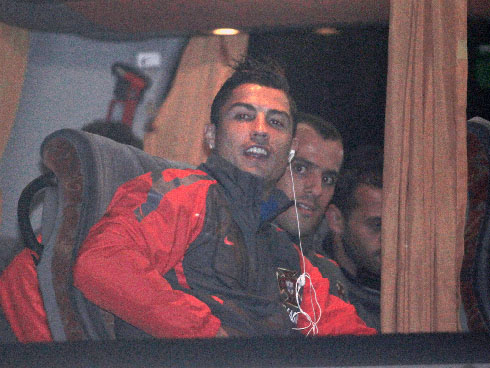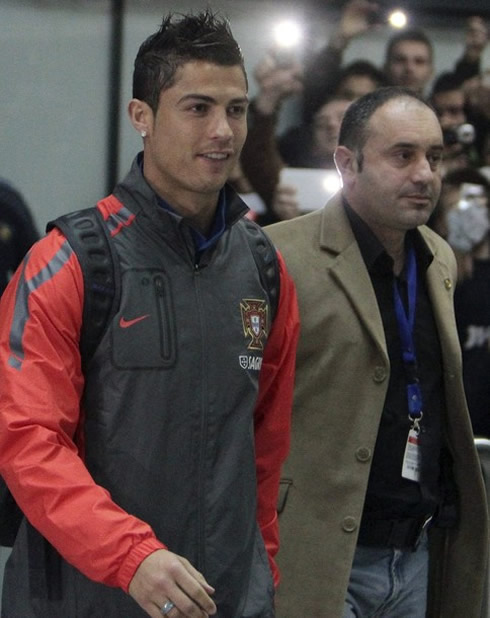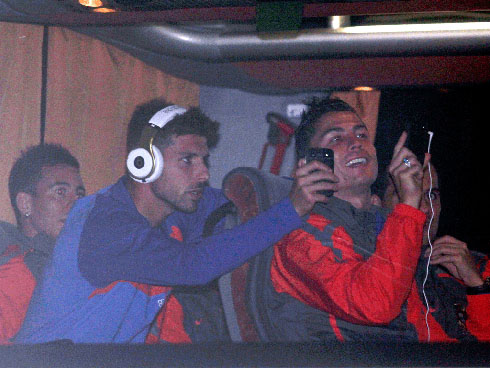 comments powered by