March 29, 2023
Cristiano Ronaldo in 2007/08 - His greatest year?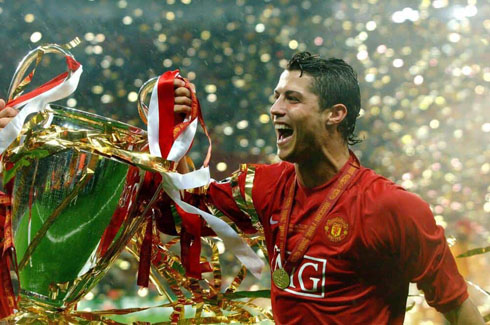 When a player of Ronaldo's caliber manages to be on the top of his game for so many seasons throughout his career, it becomes extremely difficult to choose his best season ever. Nevertheless, it's almost consensual that the 2007/08 season became a truly turning point in Ronaldo's long journey in football...
There is no doubt that Cristiano Ronaldo is one of the greatest footballers ever. He has achieved every possible accolade on a personal and team level. A better discussion is, what was his best season? With so many to choose from, it could be hard to whittle it down. However, after much deliberation and thought, 2007/08, his penultimate season at Manchester United, was his greatest ever. In his downtime, Cristiano has many extracurricular activities he enjoys. He is known for his philanthropy work and has funded the building of a hospital in his native Madeira. Many fans may not know he is a big poker player, donating any of his winnings to charitable endeavors. Not clear yet, whether he used learned some of the information regarding the strongest hands at https://www.ignitioncasino.eu/poker/poker-hand-rankings or somewhere else, but when it comes to playing, it seems he is always good.
Cristiano Ronaldo - Pure magic in 2007-08:
---
Cristiano's Manchester United story
After impressing legendary coach Sir Alex Ferguson during a pre-season friendly in 2003, Manchester Utd went directly to Sporting Lisbon to acquire the services of the precocious Portuguese. His tenacity, power, and technique were all blisteringly on the show as Lisbon defeated the might of England's biggest club.
Once he made a move, Cristiano initially found the cultural adjustment difficult. However, once he started to find his feet, he was considered one of the key reasons Manchester United started to find their feet and challenge for the most significant honors again.
His first trophy in English football was the FA Cup in the 2003/04 season. Once he fully adapted to the league, he spearheaded Manchester United to three consecutive Premier League titles in 2006, 2007, and 2008. His final season is considered one of the finest individual football seasons by any player in the history of English football.
---
2007/2008
With Sir Alex Ferguson discussing how his team should be challenging for the most significant honors, many analysts fancied Manchester United to lift the Champions League trophy. However, this hinged on their leading man Cristiano staying fit and their other key players, such as Wayne Rooney. Other players that flew under the radar during this period include Louis Saha and Carlos Tevez.
Cristiano finished the season with 31 league goals in as many appearances. This was an incredible feat, given that he was still in the early stages of his career. It propelled Manchester United to the top of the table, and they lifted the trophy on the season's final day against Wigan Athletic.
Despite players chipping in and playing their part, Cristiano stood head and shoulders above the rest of the team. This became apparent when he received his first of several Ballon d'Or at the end of the season.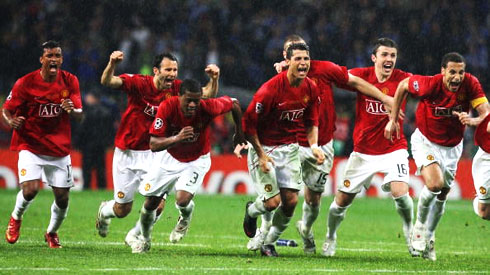 ---
Champions League heroics
The reason the 2007/08 season is so pivotal in the career and development of Cristiano Ronaldo is that he achieved the highest accolades on a personal and team level. He was named the world's most outstanding player in 2008 and received the separate award of FIFA World Player of the Year. This was alongside the Premier League Golden Boot, and he retained his Premier League Player of the Season trophy from the previous season.
Following an iconic knockout stage run where they defeated Roma and the soon-to-be Kings of Barcelona, a tense 0-0 final against Chelsea culminated in a penalty shootout victory. Manchester United lifted the UEFA Champions League, one of the defining moments in Cristiano's career.
Even though he later went on to win multiple individual accolades at both club and international levels, he often talks about this victory in Russia being the sweetest, as it was his first. He also won every possible accolade you could think of at the tender age of 23.
He also played an enormous role in returning the trophy to Manchester United that the Old Trafford faithful forever adorned him. So despite his recent outburst in a Piers Morgan interview which saw his abrupt exit from Manchester United, the fans have a long-lasting appreciation for everything he has achieved while wearing the jersey.
Erik Ten Hag weighed up the idea of losing Cristiano from his squad, which would be a difficult decision for any manager. However, having weighed up the disruption the interview caused, Ronaldo's form concluded that Cristiano made a big money move to Saudi Arabia.
However, in the 2007/08 season, Cristiano was operating at his highest level. With dozens of trophies, dozens of goals and a clean sweep of all the most prominent awards you could win as a professional, this was the season when he broke through as a crossover star.
The football fraternity was all aware of his incredible ability. However, he had now proven this on the world stage, and his crossover stardom became apparent when Real Madrid paid a then-record fee to acquire his services in 2009. You could make a good argument for several seasons being Cristiano's best, such was his consistency and quality. However, 2007/08 beats them all.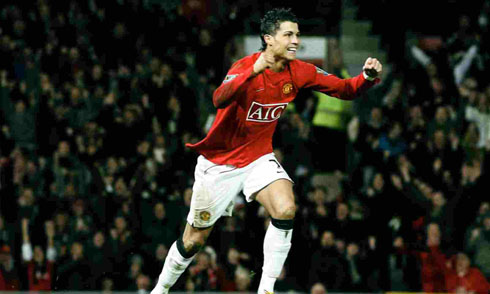 ---
Cristiano Ronaldo next game for Al Nassr in the Saudi Pro League is on April 4, Al Adalh. You can watch Al Adalh vs Al Nassr, Chelsea vs Aston Villa, Elche vs Barça, Man City vs Liverpool, Arsenal vs Leeds and Bayern Munchen vs Borussia Dortmund, all matches provided from our stream live game pages.
Al Nassr next game:
Al Adalh vs Al Nassr kick-off time (04-04-2023):
Beijing (China) | UTC/GMT+8: 03:00
India (New Delhi) | UTC/GMT+5.30: 00:30
Saudi Arabia (Riyadh) | UTC/GMT+3: 22:00
Spain (Madrid) | UTC/GMT+2: 21:00
Portugal and England (Lisbon/London) | UTC/GMT+1: 20:00
Rio de Janeiro (Brazil) | UTC/GMT-3: 16:00
New York (United States) | UTC/GMT-4: 15:00
Los Angeles (United States) | UTC/GMT-7: 12:00
Sources: ronaldo7.net / thetimes.co.uk / icons.com / forbes.com