February 28, 2023
Ronaldo secrets to success:
How to get things done at 38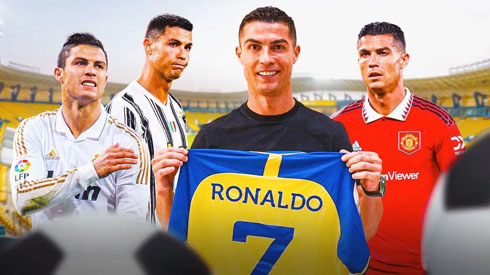 Not everyone is capable of playing professional football in their late 30's and much less at the highest level like Ronaldo has been showing he's capable of. The Portuguese forward has never hesitated to leave his comfort zone and his hard-work ethics have helped him in every stage of his career...
Cristiano Ronaldo is one of the best football players of our time. Many wonder how the player manages to look so good at 38 years old. Ronaldo's secret consists of a number of factors: nutrition, training and rest. Cristiano is helped by experts in the field of nutrition, training and even sleep. All efforts on himself give an incredible result - at the age of 38, the player moved to a new club and received one of the highest paid contracts in football history. Few athletes can match the fees of UFC bets Canada. And the point here is not only the promotion of the Ronaldo brand, but also its physical indicators. In 2023, Cristiano shows phenomenal results and is ready to decide the fate of many matches alone. Next, we'll take a look at how Ronaldo is able to be in amazing physical shape at 38 and how his success on the pitch has allowed him to build a great career in business.
Cristiano Ronaldo - Life advice:
---
Balanced diet
It's no secret that proper nutrition is the key to health and a beautiful body. It is especially important for athletes to watch what they eat. The right diet can help prolong your athletic career. Ronaldo is no exception. The football player does not consume fast food, sweets, carbonated drinks and alcohol. Ronaldo follows a Mediterranean diet. His diet is based on whole foods, plenty of vegetables, fruits and lots of protein: lean chicken, fish and eggs.
---
Special sleep and recovery
British researcher Nick Littlehales is working on a sleep schedule with a football player. The specialist opposes 8-hour sleep. Therefore, Ronaldo sleeps 4-5 times a day for 90 minutes. The specialist believes that such a sleep pattern contributes to a better recovery of the body.
To recover, Ronaldo uses a cryochamber, which helps to remove pain, reduce swelling and inflammation after a workout. A cryochamber is a room designed to create extremely low temperatures (usually from minus 50 to minus 170 ° C). Procedures in a cryochamber have a number of useful properties, such as a general strengthening effect on the human body, cosmetic and immunostimulating. The cryochamber contributes to the normalization of blood circulation (all vessels expand), thermoregulation and the release of endorphins.
---
Workout
For Ronaldo, regular exercise is an integral part of life. The football player does not allow himself concessions and carefully follows the regime. Typically, training takes 3-4 hours a day. Ronaldo prefers cardio, training aimed at developing speed, strength. Also, the football player loves to do Pilates and devotes a lot of time to pumping the press. Do not forget about exercises that are aimed at developing football technique, and tactical exercises to improve interaction with teammates.
Ronaldo is known for his incredible work ethic, often appearing first in training and remaining last on the pitch at the end of a session.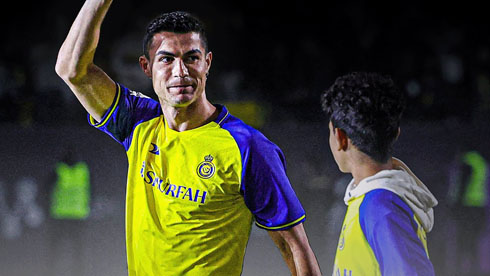 ---
Ronaldo's advantages on the playing field
Diets
Numerous workouts, a personal sleep system - as you can see, all this gives a result to the player. Incredible speed, together with phenomenal technique, allows the player to single-handedly decide the fate of matches, scoring important goals. Ronaldo has 5 main advantages that distinguish him from other players:
Endurance
On average, Ronaldo runs over 10 kilometers per game. He scores most of his goals in the last 20 minutes of the match. When all the players are already tired, Cristiano looks fresh and head and shoulders above his rivals.
Force
The player shows phenomenal results due to diligent physical training in the gym. At 38, he squats with a 200 kilogram barbell. This allowed him to keep his quadriceps in the best shape, which allows him to jump as high as possible and score goals. Ronaldo's jump is on average 7 centimeters higher than many NBA players.
Decision making speed
Ronaldo is an intelligent player and, thanks to his experience, can make quick decisions on the pitch. And here it is not only the ability to beat the player, but also the ability to read the game on the field and the further actions of their teammates in order to play as useful as possible for their team.
Speed
Several times during the game you can watch how Ronaldo can accelerate to 33 kilometers per hour. In addition, through preparation and coordination, he can change direction at any time without slowing down his attack speed. Very often it is this skill of his that allows him to stay 1 on 1 with the goalkeeper and score goals.
Power
Cristiano has one of the strongest shots among football players. The speed of the ball after impact can reach up to 130 km / h. But in addition to speed, thanks to the player's technique, he can spin the ball so it can change its trajectory within 274 centimeters. It is not surprising that many goals were scored by the player from outside the penalty area, because the goalkeepers simply physically could not beat off such blows, even keep track of the flight path of the ball.
---
Cristiano Ronaldo business success
As of February 2023, Cristiano held the second position in the ranking of the wealthiest football players in Europe (according to the sports publication L'Equipe). According to Forbes, the Portuguese star's fees from sponsorship contracts reached $47 million in 2022. The striker has many advertising contracts with global brands: Armani, DAZN, Tag Heuer, Electronic Arts, Herbalife, etc. Among them is the famous lifetime contract with Nike for a billion dollars, bringing the athlete about $ 23 million a year.
The football player received up to $10 million a year from the sale of goods of his own brand CR7 (perfumes for men, men's and children's clothing). He owns profitable hotels in Lisbon, Funchal and Monte Carlo, as well as $ 40 million laid out in one of the largest Portuguese construction companies Pestana Hotel Group.
The athlete invested in the creation of the Cristiano Ronaldo Soccer Clash smartphone game, in the development of the Mobitto cashback service, and was the producer of the animated series Striker Force 7. He also earned money on Instagram posts, where he has more than 500 million subscribers (as of February 2023) . The cost of one advertising entry on his page has reached $750.000. The football genius loves expensive cars. There are about two dozen cars in his garage, including exclusive models of the Ferrari GTB 599, Bugatti Chiron, Lamborghini Aventador, Maserati Gran Cabrio. The star also has its own Gulfstream G200 business class jet.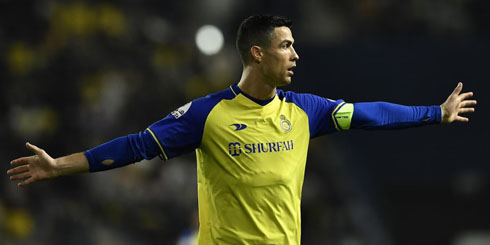 ---
Cristiano Ronaldo next game for Al-Nassr in the Saudi Pro League is on March 3, against Al Batin. You can watch Al Nassr vs Al Batin, Juventus vs Torino, Liverpool vs Wolves, Bristol City vs Manchester City, Arsenal vs Everton and Fulham vs Leeds, all matches provided from our football streaming game pages.
Al-Nassr next game:
Al Nassr vs Al Batin kick-off time (03-03-2023):
Beijing (China) | UTC/GMT+8: 00:30
India (New Delhi) | UTC/GMT+5.30: 22:00
Saudi Arabia (Riyadh) | UTC/GMT+3: 19:30
Italy (Turin) | UTC/GMT+1: 17:30
Spain (Madrid) | UTC/GMT+1: 17:30
Portugal and England (Lisbon/London) | UTC/GMT+0: 16:30
Rio de Janeiro (Brazil) | UTC/GMT-3: 13:30
New York (United States) | UTC/GMT-5: 12:00
Los Angeles (United States) | UTC/GMT-8: 08:30
Sources: ronaldo7.net / mensjournal.com / lequipe.fr