February 13, 2023
Cristiano Ronaldo sponsorships and gambling affiliations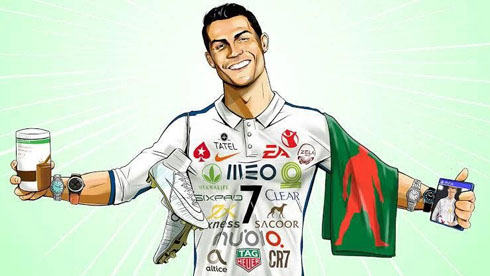 Ronaldo has been the most wanted face to endorse global brands in the past two decades and it's easy to understand why. The Portuguese superstar is the most followed athlete in the world and whenever his name is associated with a brand, everyone will hear about it...
Cristiano Ronaldo is one of the greatest footballers ever to grace the pitch. He has racked up many goals and won trophies in every club he has represented. Off the pitch, he is a global icon, a man that millions of people follow on his social media accounts, mnay those be on Instagram, Facebook or Twitter. Cristiano Ronaldo is a brand and it's no surprisew we see so many companies going after the Portuguese icon in order to get him involved with their own advertising campaigns and reap as many benefits as possible...
Cristiano Ronaldo - Just warming up in Saudi Arabia:
---
Football career
Cristiano Ronaldo first started at his boyhood club Sporting Lisbon before moving to Manchester United where he rose to stardom. He won three Premier League titles, one Champions League title, and the acclaimed Ballon d'Or. He moved to Real Madrid, where he won five Champions League titles and racked up four Ballon d'Or trophies. His time at Real Madrid highlighted one of the biggest rivalries between Real Madrid and Barcelona and personal rivalries with Lionel Messi.
Ronaldo moved to Juventus and broke a few records along the way. He won two Serie A titles and two Supercoppa trophies. Ronaldo made a swansong return to Manchester United and racked up 24 goals all season, but his second season at the club didn't end well. He currently plays for Al Nassr, and he is the highest-paid sportsperson in the world.
---
The history of
Ronaldo's sponsorships
Cristiano Ronaldo is a global brand, and many companies are associated with him. He earns over forty million pounds a year from his sponsorship deals. These sponsorship deals make him the world's highest-paid athlete.
Nike, Herbalife, DAZN, Clear, MTG, Altice Portugal, Garena Free Fire, and LiveScores are some companies affiliated with Ronaldo. Cristiano began his partnership with Nike in 2003; in 2016 he signed a lifetime deal with the brand. Before that, only Michael Jordan and Le Bron James had signed lifetime deals with the brand.
One of Ronaldo's main influences is his fitness levels, so signing a deal with Herbalife made a lot of sense. He is the global brand ambassador for Herbalife, and he takes pride in helping other athletes find healthy products that will help them perform at the highest levels.
In May 2021, Ronaldo signed a two-year deal to become the global ambassador for LiveScores. The company provides real-time sports results in various sports. Although it isn't a gambling website, it advertises other gambling websites, such as Bet365. It runs gambling ads on some of the most popular gambling websites in the world.
Ronaldo partnered with Clear in 2014 and has been featured in adverts showcasing their hair products in different mediums.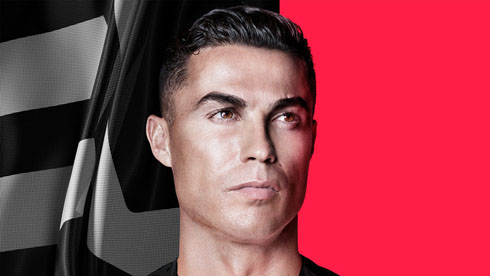 ---
Gambling affiliations
Throughout his career, Cristiano Ronaldo has been affiliated with gambling promotions. His current being with Pokerstars Casino, working as their ambassador. As a result, it has shot up the online operator's presence on the internet far ahead to many of its competitors. Several criteria characterise good online casinos, as can be seen in this comparison, the presence of a legendary player is invaluable to doing business
Ronaldo has admitted to liking gambling as one of his pastime activities. Ronaldo has been pictured in many high-rolling casinos.
The athlete enjoys playing cards and occasionally sports betting. He is a professional by all means and doesn't have a hand in influencing gambling outcomes.
He is a promoter of casino games, and you will spot Ronaldo in some ads that promote poker and other casino games. He influences sports betting by scoring in matches, and many people who have bet on Ronaldo to score in a match have reaped big rewards from his exploits. He is a goal machine, and people rely on his scoring to win big in sports betting. There are particular betting odds associated with him scoring with his head or feet, and gamblers often take a risk and gamble on how he will score.
---
Final thoughts
Ronaldo is a global icon, a phenomenon, and he has the Midas touch on everything he is involved with. Global companies have noted this and are clamouring for his involvement in their products. Whichever product he advertises, be sure of bigger rewards up ahead, be it gambling or perfume. Cristiano Ronaldo makes everything stand out.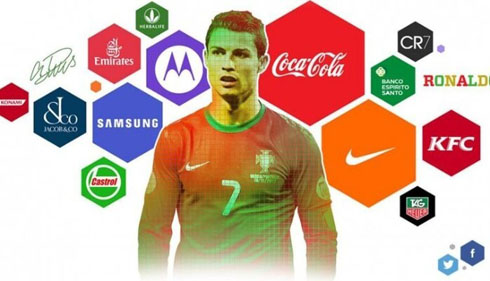 ---
Cristiano Ronaldo next game for Al-Nassr in the Saudi Pro League is on February 17, against Al Taawon. You can watch Al Nassr vs Al Taawon, Real Madrid vs Elche, Sampdoria vs Inter, Liverpool vs Everton, AC Milan vs Tottenham and PSG vs Bayern Munich, all matches provided from our stream soccer game pages.
Al-Nassr next game:
Al-Nassr vs Al Taawon kick-off time (17-02-2023):
Beijing (China) | UTC/GMT+8: 23:00
India (New Delhi) | UTC/GMT+5.30: 20:30
Saudi Arabia (Riyadh) | UTC/GMT+3: 18:00
Italy (Turin) | UTC/GMT+1: 16:00
Spain (Madrid) | UTC/GMT+1: 16:00
Portugal and England (Lisbon/London) | UTC/GMT+0: 15:00
Rio de Janeiro (Brazil) | UTC/GMT-3: 12:00
New York (United States) | UTC/GMT-5: 10:30
Los Angeles (United States) | UTC/GMT-8: 07:00
Sources: ronaldo7.net / instagram.com / businesswire.com