22.06.2022 » Travel to Ronaldo's hometown: a guide for your trip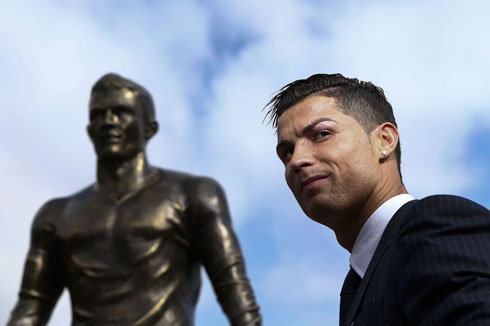 Have you ever been curious about knowing in detail all about Cristiano Ronaldo's hometown? We prepared a guide for those thinking about visiting Madeira in a near future just to make sure you won't miss anything important when you step onto the beautiful Portuguese island...
The birthplace of the soccer legend Cristiano Ronaldo is an archipelago located 323 miles (520 Km) west of Morocco. Madeira is an autonomous region of Portugal, that comprises four beautiful islands. It won the Best Island Destination title multiple times during the lockdown due to the pandemic. If you're looking to satiate your travel desires with a serene trip to a tropical paradise, this place is a must-have on your itinerary. Let's dive in and observe what a travel to Ronaldo's hometown holds for your next vacation and how you can make the most of it...
Cristiano Ronaldo - Visit Madeira:
---

Reaching and getting around Madeira
Madeira's island location limits the ways you can reach it. A few viable options to visit the island and the places around it include the following.
::: Via ferry
You can book a ferry from Morocco or Portugal. Depending on the weather, it can take anywhere between 2 to 3 hours to complete the trip. Traveling alone will cost you around $45 one way, although discounts remain present annually for group travelers and return journeys.
::: Via flights
Madeira has an international airport named after Cristiano Ronaldo. Almost all airlines fly to it from airports across Europe. You can catch a flight throughout the year, but the summer season is when the schedule fills up with the rush. If you live in the US, JFK is the only airport with direct flights to Madeira.
A flight from Portugal's Lisbon airport takes less than 2 hours. Those from the UK, Germany, or France can take anywhere between 6 to 9 hours. The average fare you can expect is between €100 - €150 ($105 - $157) according to the timeline of your flights.
Once you reach Madeira, several public transport modes are at your disposal. Boats travel to and from the islands all the time. When on land, cabs, buses, and cable cars can get you around town for a fair price. Still, hiring an ATV or off-road SUV can help you explore without restrictions.
---

Places to stay in Madeira
Whether you prefer a lavish 5-star beachside resort or a budget apartment overlooking the city square, Madeira has you covered. There are places to stay available to fit every budget. True soccer fans would book a four-night stay at the CR7 Lifestyle Hotel next to the harbor in Funchal. It gets its name from the Manchester United forward, Praça CR7. The staff is friendly, the views are great, and you get an autographed football at the end of your stay.
However, an experience like that may cost you a small fortune. If you're looking for less expensive alternatives, you can get a room in São Vicente or Santa Cruz for a fraction of the price. These also take you away from the buzz of the city to the quieter, calmer countryside.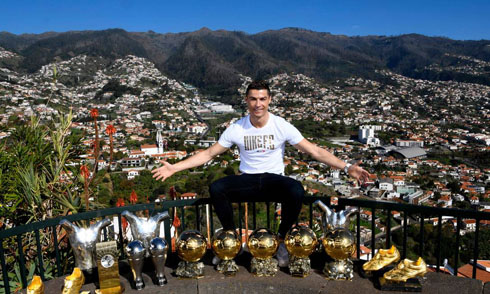 ---

Madeira Cuisine
Ronaldo's favorite dish is the bacalhau, a traditional Portuguese stew, which you can find in most restaurants on the island. In the past, Ronaldo suggested bacalhau to be added to the menu for all Manchester United players. However, the iconic place to try it out is the Casa do Velho Dragoeiro Restaurante, in Porto Santo.
If that's not your choice of lunch, there are other dishes part of the cuisine that might cater to your tongue. The region has fresh seafood throughout the year, including substantial stocks of crabs, prawns, salt cod, sea bass, and mackerel. Vegetarians aren't left out of the mix. They can enjoy traditional Portuguese dishes such as migas and caldo verde at any local restaurant.
---

Things to do in Madeira
When in Madeira, you are never out of things to do. The place has activities for people from all walks of life. Some of the most popular ones include:
::: Adventure Treks
The tropical landscape offers various types of natural formations for travelers to explore, either on foot or by car. In 2012, the construction of a 580-meter (1903-foot) Cabo Girão skywalk was completed. It gives you an expansive view of Madeira's south coast. Several inland mountain treks and dirt trails also offer incredible experiences.
::: Soccer
As the birthplace of a football legend, you can find hundreds of shrines dedicated to the sport in Madeira. There are about a dozen museums in the capital of Funchal where you can study the history of Manchester United and Portuguese football clubs in detail. A notable one is the CR7 Museum, which has a life-size statue of Cristiano Ronaldo made with chocolate.
::: Boating trips and scuba diving
Madeira has warm, stable weather throughout the year, making it perfect for taking a boat ride or a jet ski off the coast whenever the mood hits you. You can conveniently hire them through the various transport agencies that operate within the region. Those agencies can also help you plan a few scuba dives, should you find them interesting. There is nothing more wonderful than staring into the eyes of a giant whale or at a group of submerged corals bustling with marine life.
---

Conclusion
When you travel to Ronaldo's hometown or anywhere else, it can be hard to keep track of the security, especially your digital assets. You will likely use the hotel Wi-Fi to browse the internet, which could be rather unsafe. Therefore, you should download VPN apps that are tools many seasoned travelers cannot live without.
Some use them to get better prices for flights or car rentals. However, most turn to Virtual Private Networks to safeguard their devices and access to the internet, especially when connecting to public Wi-Fi.
And that's your complete guide for traveling to the beautiful island of Madeira. Travel to the hometown of Ronaldo and witness where its journey began!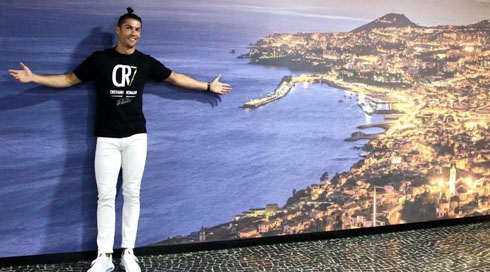 ---
Cristiano Ronaldo next game for Manchester United is on July 12, against Liverpool. You can watch Man United vs Liverpool, Real Madrid vs Barcelona, Olot vs Barça, Man City vs Club America, Everton vs Arsenal, and Kawasaki vs PSG, all matches provided from our streaming football game pages.
Manchester United next game:
Manchester United vs Liverpool kick-off time (12-07-2022):
Beijing (China) | UTC/GMT+8: 21:00
Jakarta (Indonesia) | UTC/GMT+7: 20:00
India (New Delhi) | UTC/GMT+5.30: 18:30
Italy (Turin) | UTC/GMT+2: 15:00
Spain (Madrid) | UTC/GMT+2: 15:00
Portugal and England (Lisbon/London) | UTC/GMT+1: 14:00
Rio de Janeiro (Brazil) | UTC/GMT-3: 10:00
New York (United States) | UTC/GMT-4: 09:00
Los Angeles (United States) | UTC/GMT-7: 06:00
Sources: ronaldo7.net / theguardian.com / marca.com