30.09.2021 » Why is Ronaldo so popular in Arabic countries?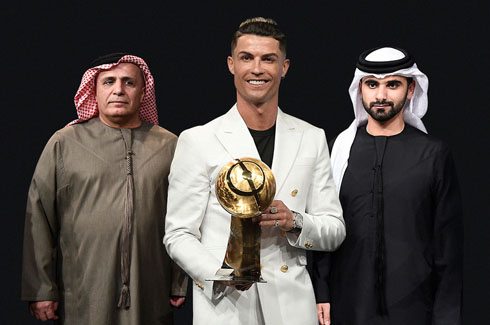 Cristiano Ronaldo has fans in every corner of the world, but there's a particular region where he seems to adored in a unique way. There's something special in the way almost everyone in Arabic countries respects and loves the Portuguese superstar...
Do you why Cristiano Ronaldo is always invited to attend the Globe Soccer Awards in Dubai? He is the top international goalscorer of all time and he has a special bond with Arabic countries. Due to his multiple achievements in football, he also won the Player of the Century award at the Globe Soccer Awards in 2020, in a ceremony held in Dubai. Ronaldo is one of the most beloved players in Arab countries. Not too long ago, a prestigious sports publication conducted a survey among 22 Arab countries to choose the greatest player in the world. And, the top-voted player was Ronaldo, the man who went from rags to riches and won many hearts across different continents. Currently, the 5-time Ballon d'Or winner has achieved many milestones, and his fan base is still growing...
Cristiano Ronaldo - Award ceremony in Dubai:
---

Ronaldo shares a special bond with Arab countries
«Finally I must thank, once again, to the Dubai Royal Family for the respect, friendship, and hospitality that I always receive in wonderful Dubai, and to all the fans that voted for me in such a huge worldwide online voting with over 21 million votes», said Ronaldo at the Globe Soccer Award in 2020, when he was awarded the Best Player of the Century.
Millions of Arab fans consider him the best footballer of the century and have his pictures in their offices and homes.. Well, the same applies to other parts of the world too. Ronaldo started playing football at a very early age and his career has always been something he held in great esteem. Through football, he earned the respect and love from fans...
Ronaldo has also shown his support for the Arab community in multiple occasions. However, this is not the only reason why Arab citizens like him so much. Well, just by knowing some facts about him, you might also adore his traits. There are certainly many things to learn from the man who has overcome every obstacle thrown at him.
---

Why has Ronaldo gained such respect in the Arab world
● Ronaldo has around 350 million followers on Instagram and was ranked the world's highest-paid athlete by Forbes in 2016 and 2017. Ronaldo was the first footballer to earn US $1 billion in his sports career.
● Ronaldo is more popular among Arab citizens. Cristiano Ronaldo has always supported Palestine and provided much aid to the country. He has also sent humanitarian aid to Syrian refugee camps in different countries.
● Ronaldo has always been sympathetic to the affected Islamic countries and has provided humanitarian aid to many of them. This is the reason why Arab citizens like him so much.
● His humanitarian works and, of course, his football skills are the reason why he is very dear to people in the Arab world.
---

Some unknown facts about Ronaldo
Here we will share some facts that you may not know about the Portuguese superstar, Cristiano Ronaldo:
● Starting from a small island in Portugal, he has completely changed the financial status of his family with his hard work and he is a perfect example of going from rags to riches.
● He started washing clothes at eleven and became responsible at a very young age.
● Ronaldo has sacrificed so many things throughout his life in order to give his best version to football.
● There have been many studies on the unparalleled moves of Cristiano Ronaldo, suggesting that he moves faster than most footballers.
● Ronaldo was first paid to join Sporting CP, in Lisbon, when he was only 13 years old.
● Did you know Ronaldo was the first footballer from Portugal to join and play for Manchester United?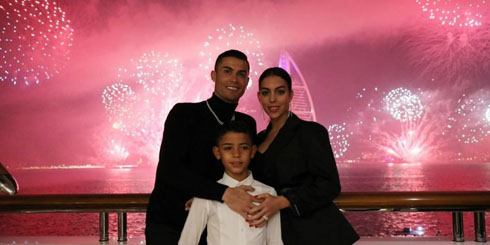 ---

Betting on Ronaldo's game at Arabic casinos
After cricket, betting on football is the most popular type of sports betting all over the world. Arabic countries have many wealthy people who love to bet on their favorite sports and players. People from these countries love to wager on Ronaldo's games, so it should come as no surprise why some Arab online betting sites offer popular leagues as part of their football betting section. Arab players can bet on the UEFA Champions League, UEFA Europa League, and UEFA Nations League.
Nothing can beat the passion that Arab citizens feel for Portuguese footballer Cristiano Ronaldo. With live telecasts of football leagues, football enthusiasts from the Arab world can bet on matches online. There is an ultimate list of Arab online betting sites where people can bet on football without any hindrance.
Arab online betting sites allow players to place bets on domestic, regional, and global football matches. Some of the other popular soccer leagues are the English Premier League, Italian Serie A, Spanish La Liga, and I-League. Players can bet on the best odds and take advantage of exciting winnings.
---

Ronaldo's return to Manchester United
Recently, Cristiano Ronaldo has reunited with the Premier League and his former club, Manchester United. He made a dazzling return back to where he belongs (in Ronaldo's own words). The last time he appeared for Manchester United was 12 years ago. Now, people showed a warm and overwhelming welcome to one of the greatest players in the history of football.
Did you know Ronaldo has won the English Premier League three times with Manchester United? Now the Portuguese footballer is back again at the English Premier League. When asked about Manchester United, he said that he always had a special place for this club in his heart.
Manchester United has not won the title since 2013. So, if you reside in the Arab world and want to bet on your beloved footballer Cristiano Ronaldo, then just try an online guide like arabonlinecasino.com as you may find it very helpful. You can get introduced to top Arabic online casinos that will allow you to bet on popular matches of Cristiano Ronaldo. For someone who is new to football betting, this guide can help you understand the best football betting odds and find the right football betting site in the Arab world.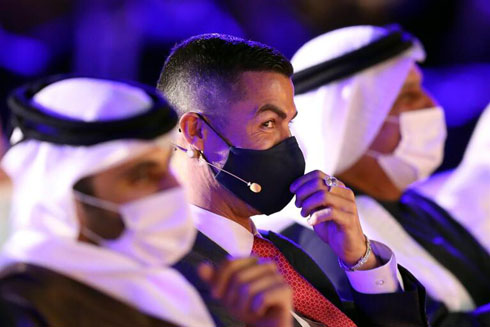 ---
Cristiano Ronaldo next game for Manchester United is on October 2, against Everton. You can watch Manchester United vs Everton, Zorya vs AS Roma, Legia vs Leicester City, Celtic vs Bayer Leverkusen, Tottenham vs Mura, and Marseille vs Galatasaray, all matches provided from our football streaming game pages.
Man United next game:
Manchester United vs Everton kick-off time (02-10-2021):
Beijing (China) | UTC/GMT+8: 21:30
Jakarta (Indonesia) | UTC/GMT+7: 20:30
India (New Delhi) | UTC/GMT+5.30: 19:00
Italy (Turin) | UTC/GMT+2: 13:30
Spain (Madrid) | UTC/GMT+2: 13:30
Portugal and England (Lisbon/London) | UTC/GMT+1: 12:30
Rio de Janeiro (Brazil) | UTC/GMT-3: 08:30
New York (United States) | UTC/GMT-4: 07:30
Los Angeles (United States) | UTC/GMT-7: 04:30
Sources: ronaldo7.net / globesoccer.com / espn.in / bbc.com