11.05.2021 » Why is Cristiano Ronaldo one of the most loved footballers?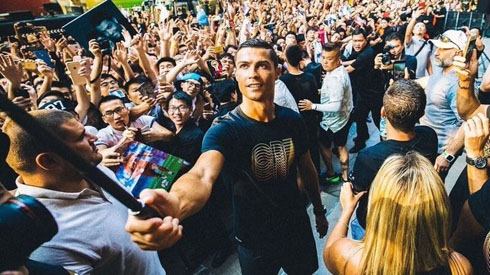 Cristiano Ronaldo has millions of fans around the world and it's not hard to understand why they love him so much. The Portuguese forward combines a fabulous talent on the pitch with a very charismatic personality.

If you love football, then you have certainly heard of the Portuguese superstar, Cristiano Ronaldo. He plays as a forward and started his professional career in Sporting CP, in Portugal. Right now, he is playing for Juventus, in Italy. In this article, we will go over the main reasons why fans love Cristiano Ronaldo so much. The 36-year old has one of the largest online fan bases in the world. Currently, he has more than 125 million fans on Facebook, 280 million followers on Instagram, and 92 million followers on Twitter. If that doesn't say a lot, then just continue reading. He is the topic of many novelty bets, so if you want to bet on him or his club, and you are +18, you can check out some football betting tips and get started. If you think you may have a problem with gambling, you can also check out the Begambleaware.org site to help you play responsibly.
Cristiano Ronaldo - Skill show:
---

Cristiano Ronaldo's career heights and honors
Ronaldo started his journey in Sporting CP and in 2002, he transitioned to the first team. In his time with them, he helped them win a Portuguese Super Cup. His talent didn't go unnoticed for too long and a year after starting at Sporting CP, Manchester United didn't hesitate paying 12 million pounds for the Portuguese prospect. In England, Ronaldo played in six Premier League seasons and won the title three years in a row, plus a UEFA Champions League title once.
In 2009, Cristiano was transferred to Real Madrid for €94 million, where he would spend nine years. At the Spanish capital, Ronaldo helped the club winning 2 La Ligas, the Supercopa de España, the UEFA Super Cup and Copa del Rey titles. He would also win the UEFA Champions League four times.
He joined Juventus in 2018 and already won two Serie A titles and two Supercoppa Italiana titles. It is uncertain if Ronaldo will end his career in Juventus though, as rumors about him going somewhere else have been arising over the last months.
---

Still Collecting goals and titles...
Ronaldo also plays for the main Portuguese National Team since 2003 and he already scored 103 goals for his country, after more than 170 caps. Ronaldo is passionate about his country and national team, which shows clearly through his actions (most recently at Portugal's World Cup qualifier in Belgrade).
Among his achievements are five Ballon d'Or awards, five European Golden Shoe awards, and since 2007 he has always been selected in the UEFA "Team of the Year". Ronaldo also has several other "Player of the Year" awards given by various leagues and associations.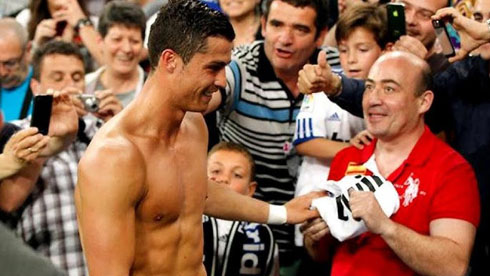 ---

Ronaldo's charity work
Besides his achievements in sports, Cristiano Ronaldo has been involved in numerous charity organizations and has donated plenty to various foundations. His most recent philanthropic deed was donating one million euros to different hospitals in Portugal, but he has also sold multiple of his awards to raise funds to build schools in Gaza and made huge donations to the Make-A-Wish Foundation. Ronaldo is also an ambassador to three major charity organizations:
• UNICEF
• World Vision
• Save the Children
He has donated many of his bonuses over the years to these charities and others. In addition to supporting charities financially, he has also made some kids' dreams come true by meeting them and even helping them and their families. Overall, Ronaldo has proved that he is a great player on and off the pitch, so it's no wonder he has so many fans worldwide...
---
Cristiano Ronaldo next game for Juventus in the Serie A is on May 12, against Sassuolo. You can watch Sassuolo vs Juventus, Atletico Madrid vs Real Sociedad, Levante vs Barcelona, Manchester United vs Leicester City, Chelsea vs Arsenal, and Napoli vs Udinese, all matches provided from our live soccer game pages.
Juventus next game:
Sassuolo vs Juventus kick-off time (12-05-2021):
Beijing (China) | UTC/GMT+8: 02:45
Jakarta (Indonesia) | UTC/GMT+7: 01:45
India (New Delhi) | UTC/GMT+5.30: 00:15
Italy (Turin) | UTC/GMT+2: 20:45
Spain (Madrid) | UTC/GMT+2: 20:45
Portugal and England (Lisbon/London) | UTC/GMT+1: 19:45
Rio de Janeiro (Brazil) | UTC/GMT-3: 15:45
New York (United States) | UTC/GMT-4: 14:45
Los Angeles (United States) | UTC/GMT-7: 11:45
Sources: ronaldo7.net / theguardian.com / goal.com