18.11.2020 » Ronaldo, Messi and Lewandowski: Who is the best player in the world?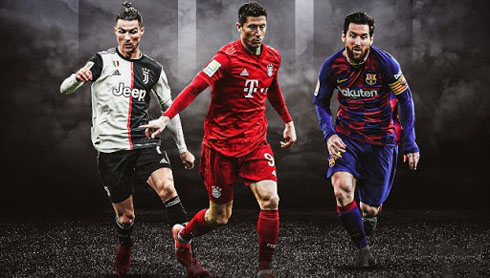 Every year we ask the same question, but unlike other times, 2020 has been shaken by a devastating pandemic that left no one indifferent. Who is the best player in the world in 2020? We'll be looking at the top 3 candidates to claim the throne, as if there was still an award to deliver...

The question about who is the best player in the world usually solicits mixed reactions from soccer fans and pundits worldwide. More so, punters on Betway Soccer betting also have their opinion, having followed closely most of the top leagues in Europe. The Ballon d'Or 2020, which has been recently called off due to the pandemic constraints, had Cristiano Ronaldo, Lionel Messi, and Robert Lewandowski ready to face off. All of them presented some good arguments, but there won't be any individual award of this kind this year. So, who's the best player in the world? Read on to find out...
Ronaldo vs Messi - The end is near:
---
#3: Robert Lewandowski
The Bayern top-class striker is in his seventh season with the German giants. In his time there, he has led them to eight Bundesliga titles in a row. Last season, the Polish striker had another great season, having scored 34 goals in 31 matches he featured in. At 31, Lewandowski still seems to be getting better and better.
In the 2019/20 season, he failed to hit the target six times in the whole season. He also managed one hat trick and seven braces. He gives punters on Betway confidence in his team whenever he is playing. In all competitions, he scored 52 goals and had six assists in the 43 games he played. His incredible season was capped by a Champions League win, making his team the second ever European side to win a continental treble two times. However, all his achievements put him third in this three-horse race.
---
#2: Lionel Messi
Lionel Messi is among the most exceptional talents the world of football has ever seen. At 33, he continues to be a very influential player for both club and country. In his time at Barcelona, outstanding records and stats have become his second nature. Last season, he emerged as La Liga's top scorer with 25 goals. It was the seventh time in his illustrious career he has won the Spain's golden boot.
He is not keen on just scoring; his team contribution can also be seen in the 21 assists he provided for his teammates. No other player in La Liga managed that number of assists last season. He finished the 2019/20 season with 36 goals in all competitions. He is also the most recent player to win the coveted Ballon d'Or. Despite Barcelona's difficult start to the season, Messi remains an essential player for both club and country.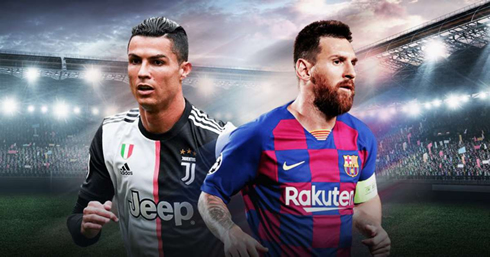 ---
#1: Cristiano Ronaldo
Cristiano Ronaldo remains the best player in the world. At 35, the football superstar is in his third season with the Bianconeri and has warned they are out to conquer the world this season. Last season, the Portuguese contributed more than half of his teams' goals with 31 goals and six assists in the Serie A. He has not managed to lead the Italian Champions to a Champions League title as he hoped, but based on his comments, he is raring to go again this season.
Ronaldo lifted the Champions League with two of his former clubs: Manchester United and Real Madrid. At Juve, Ronaldo's performances are more impressive as he manages to score a goal each game with less support from his teammates. What separates Ronaldo from his competitors is that he has proven that he can win in different countries playing with different systems. Having began his career in Portugal, he rose to stardom at Manchester United before moving to Real Madrid and later Juventus. If you bet on soccer online on Betway, you must have realized that he has been a critical player in all the teams he's played in.
He is the all-time Champions League scorer with 130 goals, and he also in line to beat Ali Daei's record of 109 international goals, having scored 102 so far. Internationally, he has won the European Championship and the UEFA Nations League. His closest rivals have not won much with their national teams.
Apart from his unmatched achievements on the pitch, he is also a great personality. He showed a lot of compassion when helping people in his native country during the pandemic. He has also managed to keep fitness levels no other player has managed in the game. He is a real GOAT!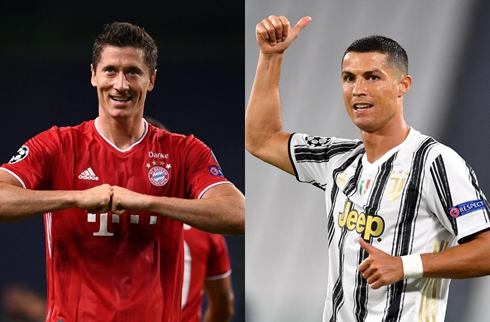 Cristiano Ronaldo next game for Juventus in the Serie A is on November 21, against Cagliari. You can watch Juventus vs Cagliari, AS Monaco vs PSG, Belgium vs Denmark, England vs Iceland, Bosnia vs Italy, and Poland vs Netherlands, all matches provided from our soccer live game pages.
Juventus next game:
Juventus vs Cagliari kick-off time (21-11-2020):
Beijing (China) | UTC/GMT+7: 02:45
Jakarta (Indonesia) | UTC/GMT+6: 01:45
India (New Delhi) | UTC/GMT+4.30: 00:15
Italy (Turin) | UTC/GMT+1: 20:45
Spain (Madrid) | UTC/GMT+1: 20:45
Portugal and England (Lisbon/London) | UTC/GMT+0: 19:45
Rio de Janeiro (Brazil) | UTC/GMT-4: 15:45
New York (United States) | UTC/GMT-5: 14:45
Los Angeles (United States) | UTC/GMT-8: 11:45
Sources: ronaldo7.net / merriam-webster.com / besoccer.com / cnn.com