22.07.2015 » Putting the pieces together: Is Ronaldo thinking about leaving Madrid?
Just like it happened when Ronaldo was at his peak in Manchester United, most of his fans are now refusing the idea of even discussing the possibility of him leaving Madrid. It will happen one day though and judging by the chain of events that took place over the last months and weeks, that day may not be that far away...


Cristiano Ronaldo cut a forlorn figure during the 0-0 friendly draw with Roma in Melbourne on Saturday, raising his eyes to the heavens when yet another good run went unnoticed as Gareth Bale neglected to release the ball to his teammate. It has become a familiar theme for the Portuguese star, and one which points to the possibility of him ending his six-year stay with the Madrid club. The news that CR7 has signed a six-year image rights deal with Mint Media (owned by Valencia patriarch Peter Lim) has fueled speculation that a transfer is imminent, with Iker Casillas' agent not losing any time to claim in the Mirror that Ronaldo is planning to leave the club after signing that €40 million deal. Is there any truth in the rumours? And why might Ronaldo be unhappy at one of the biggest clubs in the world?
Cristiano Ronaldo - Similar skill set in Manchester and Madrid:
# A new dynamic
Every manager likes to stamp his authority on a football club when he takes up the reins, and Rafa Benitez has dropped some sizeable hints about how he perceives Cristiano Ronaldo. The former Napoli boss took the opportunity to travel to Wales to meet Gareth Bale personally after his appointment, and if that didn't raise concerns on Cristiano, then his comments to Sky Sports probably did. Despite describing Ronaldo as fundamental to the team, Benitez is quoted saying: "By meeting him and starting to exchange our thoughts with each other, we will be able to progress in terms of the dynamic of the group and get to know him better, so as to get the best out of him".
If Benitez had been speaking about most other players, those comments would be perfectly reasonable, but to suggest someone needs to get the best out of Cristiano Ronaldo, must be hard for the player in question to take. Let's not forget that he scored 61 goals last season (including 48 in the league) in 54 matches. Indeed, he's managed 313 goals in 300 appearances for the Merengues, and won the FIFA Ballon d'Or again last season, so it's difficult to argue that the Spanish club haven't seen his best. Equally telling is Benitez' reference to the "'dynamic of the group", which suggests, once again, that all may not be well in the Madrid reign...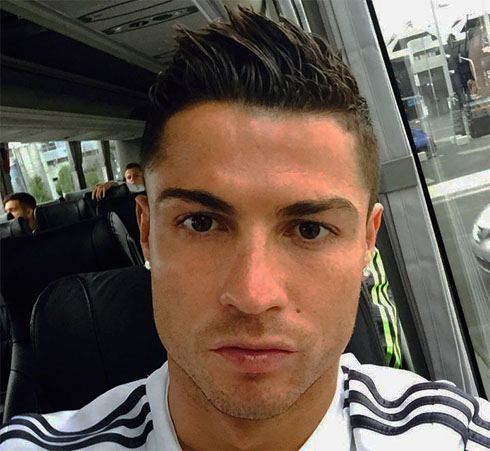 # The Bale factor
The fraught relationship between Bale and Ronaldo has been well publicised, and it is thought that Benitez intends to build his team around the Welsh Wizard – with the support of Real Madrid's President, Florentino Perez. Bale has just turned 26 and is 4 years younger than Ronaldo; Perez is reportedly desperate to see his world record signing regarded as a success, and it may be a case of Madrid not being big enough for the both of them. Benitez has already indicated that Ronaldo is likely to start in a number 9 position up front on his own, with Bale operating with more freedom in a more typical number 10 position. Would this please the Portuguese star if it becomes a systematic approach in the future?
# CR7 - The brand
Ronaldo will be 31 years of age during the coming season, and he has probably already started turning his attention to how he is going to end his career. It's interesting to note that he spent six seasons at Manchester United, and has now spent six seasons at Real Madrid. Is now the time for another high profile transfer? A last lucrative contract before he pursues challenges beyond the playing surface? Santos Marquez, the agent of Iker Casillas, certainly thinks so, and points to the image rights deal as a sign that Ronaldo is preparing to leave the European giants. He highlights the conflict of Ronaldo playing for Real Madrid while contributing with money to Valencia via the deal, suggesting this is a problem for Florentino Perez as Real Madrid's President, and a clear sign of Ronaldo's intentions in the near future...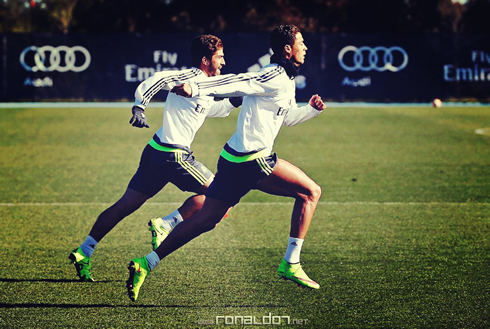 # Homeward bound
The rumours that Manchester United are set to bring Ronaldo home continue to grow, and under their new boss Louis van Gaal, the Red Devils have already raised the stakes in the transfer market by spending in excess of £150 million since his arrival. Markets on Ronaldo's potential transfer this summer suggest that the red half of Manchester is his most likely destination if he leaves Real Madrid, and it's easy to see why. They only have two senior strikers in Rooney and Javier Hernandez, and apparently have a sizeable transfer budget burning a hole in the manager's pocket.
It was less than a month ago that Ronaldo was quoted in the Portuguese sports newspaper "A Bola" saying that he was happy at Real Madrid and looking forward to the new season. But if a day in football is a long time, a month is a comparative lifetime. If Perez and Benitez are ready to cash in on the current European Footballer of the Year, the time might be right for all parties to enter a new chapter...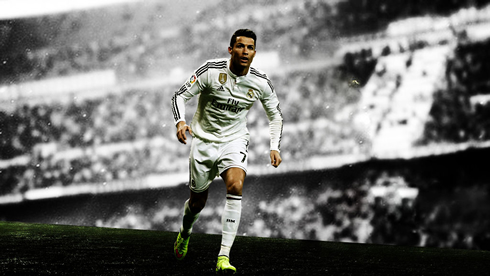 Cristiano Ronaldo next game will be for Real Madrid, on the 24th of July of 2015 against Man City. You can watch Juventus live stream, Real Madrid vs Manchester City, the LA Galaxy vs Barcelona, Manchester United vs San Jose, New York Red Bulls vs Chelsea, and USA vs Jamaica, all matches provided from our soccer live game pages.
Real Madrid next game:
Real Madrid vs Manchester City kick-off time (24-07-2015):
Beijing (China) | UTC/GMT+8: 18:00
Jakarta (Indonesia) | UTC/GMT+7: 17:00
India (New Delhi) | UTC/GMT+5.30: 15:30
Spain (Madrid) | UTC/GMT+2: 12:00
Portugal and England (Lisbon/London) | UTC/GMT+1: 11:00
Rio de Janeiro (Brazil) | UTC/GMT-3: 07:00
New York (United States) | UTC/GMT-4: 06:00
Los Angeles (United States) | UTC/GMT-7: 03:00
Sources: ronaldo7.net / independent.uk / mirror.co.uk / skysports.com / espn.com