16.07.2015 » Rafa Benítez: "Cristiano Ronaldo is a key element in Real Madrid"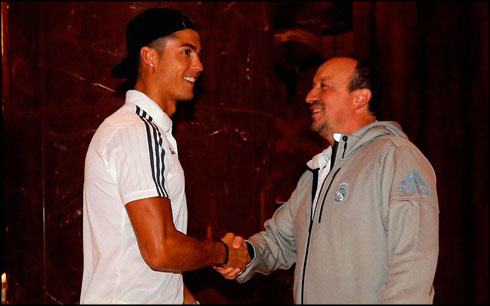 In his first interview granted to the club's official website after kicking off with Real Madrid's pre-season tour in Australia, Rafael Benítez admitted that Cristiano Ronaldo will continue having a pivotal role in the team next season and that he's looking forward to see the Portuguese star in action.


The pre-season 2015-16 has already kicked off for Real Madrid and it has been in Australia that the Merengues have been working out in these first days. The club's new coach, Rafael Benítez, granted an interview to RealMadrid.com this past Wednesday where he basically had no problems in declaring that Cristiano Ronaldo is still going to be the main man in this new team. The Spaniard also spoke about Iker Casillas' recent departure to Portugal and FC Porto, as well as his ideas and how he wants to implement them in this new Real Madrid team, which has just started being forged in Australian soil...
Cristiano Ronaldo - Skills and tricks:
Rafael Benítez: "Cristiano Ronaldo is a key player for us. The simple fact that he's already training next to his teammates right from day 1 is great for us. Having had the chance to finally meet him, let him know my ideas and also hear his own impressions has been very fruitful already. This is extremely important for us to make progress in terms of establishing some of the team's dynamics and also in order to get the most from Ronaldo on the pitch", started by stating the former Chelsea, Inter Milan and Napoli manager to the club's official website.
Ronaldo's influence in Real Madrid is enormous and one way to atest that is to simply look at some of his numbers. By viewing TitanBet's new infographic about the Portuguese star (click to enlarge below), we can immediately see why everyone expects Ronaldo to keep on the top of his game in the years coming ahead, even though he's already 30 years old...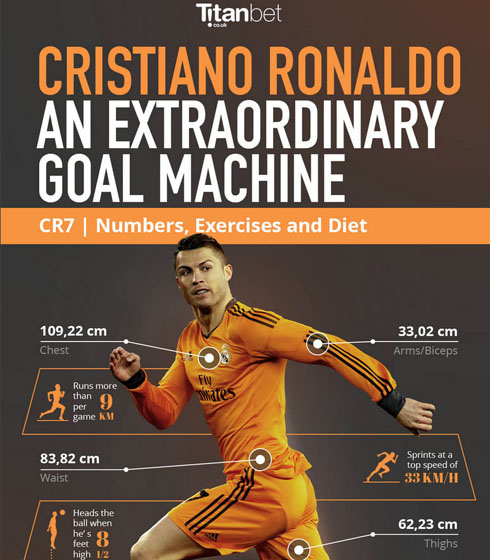 The interview was obviously not only about Ronaldo and especially since for the first time in the last 16 years, Real Madrid are preparing a new season without Iker Casillas. The Spanish goalkeeper got transferred for FC Porto just a few days ago and judging from Benítez' words, Iker is probably going to be missed not only by plenty of fans around the world, but also by most of his teammates.
Benítez: "Casillas is a living legend in Madrid and the best goalkeeper in the history of this club. We are all aware of the importance he has always had here. He made a decision of leaving to a different club and as a coach, I can only respect that and wish him all the best of luck in his new adventure. I'm sure he'll keep being loved and admired by most of the fans out there...", commented the 55-year old manager when addressing the always difficult Casillas' topic.
Benítez: "Right now, my primary goal is to get to know all the players we have at our disposal, and that the players also get to know me and all the coaching staff. Above all, I want this team to be loyal to the club's roots in terms of its game concept", began to explain the experienced manager...
Benítez: "Real Madrid has to go into every game with a clear intention to win that match, but also play good football, attack as well as we've been doing in these past years and defend a bit better. This is what we'll need to do in order to reach the required balance to win more matches and more titles in the times ahead", explained the new Real Madrid first team coach.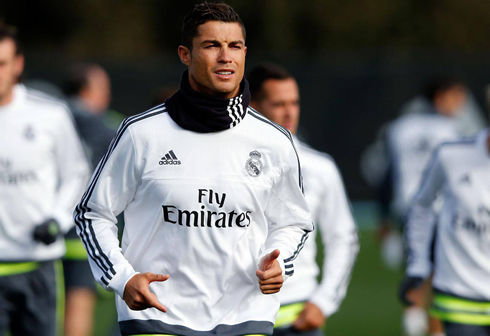 Cristiano Ronaldo next game will be for Real Madrid during the club's pre-season tour in Australia, on the 18th of July of 2015. You can watch Juventus live stream, Real Madrid vs Roma, Haiti vs Jamaica, America vs Manchester United, Brisbane Roar vs Liverpool, and USA vs Cuba, all matches provided from our soccer live section.
Real Madrid next game:
Real Madrid vs AS Roma kick-off time (18-07-2015):
Beijing (China) | UTC/GMT+8: 17:00
Jakarta (Indonesia) | UTC/GMT+7: 16:00
India (New Delhi) | UTC/GMT+5.30: 14:30
Spain (Madrid) | UTC/GMT+2: 11:00
Portugal and England (Lisbon/London) | UTC/GMT+1: 10:00
Rio de Janeiro (Brazil) | UTC/GMT-3: 06:00
New York (United States) | UTC/GMT-4: 05:00
Los Angeles (United States) | UTC/GMT-7: 02:00
Sources: ronaldo7.net / realmadrid.com / managingmadrid.com / marca.com