23.03.2014 » Real Madrid 3-4 Barcelona. A true roller coaster of emotions!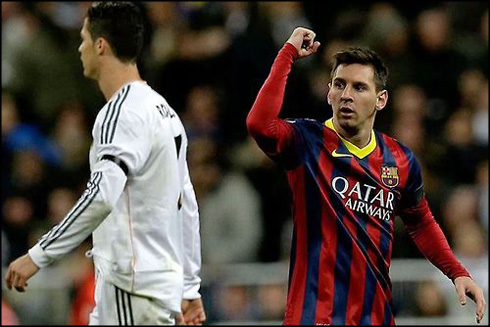 What a tremendous game we've had at the Santiago Bernabéu. Real Madrid and Barcelona met each other for the first time in 2014 and the visitors managed to pull off a vital 3-4 win that basically kept their title hopes well alive. In a game full of controversy, the Merengues reached their goals through two great efforts from Karim Benzema still before half-time and a second half penalty-kick taken by Cristiano Ronaldo. The Blaugranas' hero of the night was Lionel Messi, who got to score a hat-trick following an early Andrés Iniesta's opener.


Barcelona edged Real Madrid by 3-4 this Sunday night at the Santiago Bernabéu, in a game that can quite simply be described as inappropriate for patients. The Merengues saw their 31-game unbeaten streak being put to an end by their arch-rivals from the condal city and are now tied in points with Atletico Madrid on the top of the league (Atletico are in front though, due to their head-to-head advantage against Real Madrid), while Barcelona keeps chasing the both and are now just 1 point behind. The story of tonight's game can hardly be described in a few words, but the most important to retain is that when we have such a high-paced Clasico Real Madrid vs Barcelona in front of us and regardless of who takes the points home at the end, it's football who wins! Barça's goals came in by Andrés Iniesta and a Lionel Messi hat-trick, while the Merengues' response was delivered by the French striker Karim Benzema (2) and Cristiano Ronaldo.
Cristiano Ronaldo game photos in Real Madrid vs Barcelona
Real Madrid 3-4 Barcelona goals and highlights video:
All Cristiano Ronaldo actions vs Barcelona:
As it had already been announced by Ancelotti during the week, Real Madrid had no last-minute surprises ahead of this Sunday's Clasico at the Bernabéu and lined-up against Barcelona with their "primetime" starting eleven. Diego López was in the goal, while Marcelo, Sergio Ramos, Pepe and Carvajal formed the defense's back-four. In midfield, the keys of Real Madrid's possession game were handed to Xabi Alonso, Luka Modric and Angel Di María, while in the attacking end the Madridismo hopes to get the much-needed goals were put on Gareth Bale, Benzema and Cristiano Ronaldo's shoulders.
Barcelona were the ones to draw the first blood this Sunday night in Madrid, a feat that was only possible after a great assist from Lionel Messi and a not less impressive finish from Andrés Iniesta. We were still inside the first 10 minutes of the game (in the 7th minute to be more precise), when the Argentina international found Iniesta escaping Carvajal's marking on the left and delivered him the ball with a perfectly weighted pass. The man who handed Spain the World Cup in 2010 on a final against the Netherlands, kept his cool when he had only Diego López in front of him and slammed his shot past the Merengues' goalkeeper to put Barça on the driving seat for the first time on the night.
The equalizer came in around the 20th minute, through a strong header from Benzema off a brilliant cross assist from Angel Di María. The former SL Benfica winger picked up a pass close to the left side-line, took two small touches to control the ball and then released a pinpoint cross into Barça's box. In the air, Benzema easily beat Javier Mascherano and headed it past Victor Valdés. The Barcelona goalkeeper still had his fingers on the ball, but the header had just been too strong to be held.
The first remontada of the night was completed just 4 minutes later, when Angel Di María managed to explore a huge gap on the left wing to go down the line and put another cross into Barcelona's box. Exactly as it had already happened in the first Merengues' goal, Mascherano failed to intercept the pass and Karim Benzema was keen to capitalize on his opponents' mistake once again. The France international revealed all his class by controlling the ball with his right thigh and striking it past Valdés without letting it touch the turf. Superb goal from Benzema, his 17th in the league this season.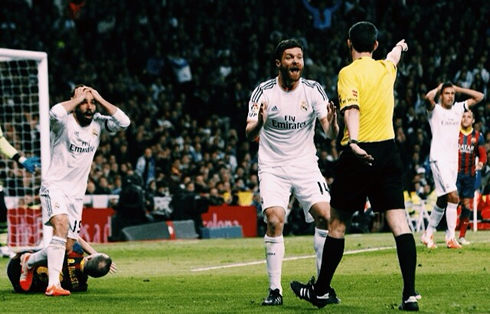 One of the crucial moments in this game was probably Barça's equalizer just 3 minutes before we reached the half-time period. Real Madrid had been leading the Clasico for almost 20 minutes by then and was apparently controlling all their opponent's attacking threats. However and when we have players of Cristiano Ronaldo and Lionel Messi's caliber on the pitch, everything can change in the blink of an eye. The 26-year old Argentinian showed his tremendous goal-instinct when he managed to pick up a loose ball coming from a tackle made by Ramos against Neymar, and when he was already inside the hosts' box, he basically didn't need much room to strike it past everyone in front of him and level the Clasico at 2-2.
What a spectacular Clasico we had been getting in those first 45 minutes. A high intensity game, with both Real Madrid and Barcelona creating plenty of goal scoring chances, one after another. The second half was destined to bring us a huge pile of controvesy though and it all started with a dubious decision from the referee Undiano Mallenco in the 54th minute, when he pointed to the penalty spot after seeing Daniel Alves tripping Cristiano Ronaldo. However and only after watching the TV replays, the truth is that the Portuguese forward was still outside the box when the Brazil international touched his foot that made him go down. No extra pressure for Ronaldo though, who kept his composure and didn't miss the chance to send Real Madrid into a new lead (3-2) from the 12-yard line.
Then came the true turning point in this Clasico. With 63 minutes on the clock, Lionel Messi spotted Neymar breaching into the back of Real Madrid's defense line and sent him a strong through pass to put him 1-on-1 with Diego López. However and only after looking a few times into the replays on TV, Neymar seems to have been a few inches ahead of Marcelo (Madrid's last defender on that play) on the exact moment Messi made the pass. The linesman didn't call offside as he probably should have done and what happened next is that Sergio Ramos ended up tripping Neymar when the Brazil international was crossing in front of him. It's clear to everyone that there was a touch on Neymar's left ankle, but what might be questionable here is if the Brazilian slowed down his run to force the contact or not. Nevertheless, the referee Undiano Mallenco awarded Barcelona their first penalty-kick of the night and showed Sergio Ramos a straight red-card, since Neymar was going into a clearcut goal scoring opportunity. Messi stepped onto the penalty spot and sent the game into its third tie of the night, as the score line was now 3-3.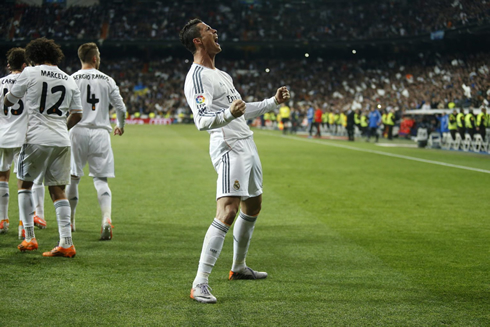 Being one man down and having a possession team like Barcelona in front is usually half recipe for losing the game. We still had roughly 30 minutes left to be played and with a 1-man superiority on the pitch, Barcelona were about to start pushing Real Madrid back into their own box. The Clasico would only get decided with another controversial decision from Undiano Mallenco though, who awarded Barcelona their second penalty-kick of the night, when he saw Andrés Iniesta falling inside Real Madrid's box, as Xabi Alonso and Carvajal were closing down on him. The visitors' midfielder was trying to get past right between the two Merengues' players and seems to have gone down way too easily and without any evidence of a strong contact made by either Xabi or Carvajal. The referee saw it differently though and Lionel Messi got to score his side's winning goal from the penalty mark, completing his hat-trick and breaking the all-time record for the player who has scored the most goals in Clasicos. The Argentinian forward now has 21 goals against Real Madrid, leaving Di Stéfano in second place with 18 and Raúl in third with 15. Over his 4 seasons and a half in Spain, Cristiano Ronaldo scored 13 Clasico goals so far...
With tonight's victory, Barcelona will keep their 3rd place in La Liga, but they are now only 1 point behind Atletico Madrid and Real Madrid. As for the Merengues, they saw Atletico tying them on points on the top of the league and taking the lead due to the head-to-head goal difference advantage (0-1 at the Bernabéu and 2-2 at the Vicente Calderón). Even though he didn't have a great game against Barcelona this Sunday night, Cristiano Ronaldo scored his 42nd goal of the season, his 26th in La Liga and his 9th from the penalty-kick mark. Real Madrid won't have much time to think about their defeat in tonight's Clasico and must bounce back right next Wednesday, as they face Sevilla for the league at the Sánchez-Pizjuán.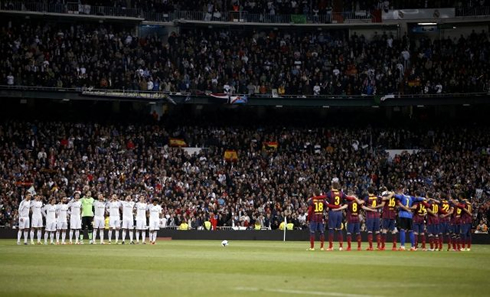 Real Madrid line-up vs Barcelona:
Goalkeeper: Diego López
Defenders: Marcelo, Sergio Ramos, Pepe, Carvajal
Midfielders: Xabi Alonso, Modric, Angel Di María
Attackers: Gareth Bale, Cristiano Ronaldo, Karim Benzema.
Match stats provided by www.ronaldo7.net

3

Goals

4

13

Shots

17

7

Shots on goal

7

2

Corner kicks

4

21

Fouls commited

11

6

Yellow cards

2

1

Red cards

0

37%

Ball possession

63%
Cristiano Ronaldo next game for Real Madrid will b against Sevilla, on March 26 of 2014. You can watch Juventus live stream, Sevilla vs Real Madrid, Barcelona vs Celta Vigo, Manchester United vs Manchester City and Arsenal vs Swansea, all games provided from our soccer live stream section.
Real Madrid next game:
Sevilla vs Real Madrid kick-off time (26-03-2014):
Jakarta (Indonesia) | GMT+7: 04:00
Spain (Madrid) | GMT+1: 22:00
Portugal and England (Lisbon/London) | GMT+0: 21:00
Rio de Janeiro (Brazil) | GMT-2: 19:00
New York (United States) | GMT-5: 16:00
Los Angeles (United States) | GMT-8: 13:00
Beijing (China) | GMT+8: 05:00
Sources: ronaldo7.net / realmadrid.com / goal.com / bbc.com / dailymail.co.uk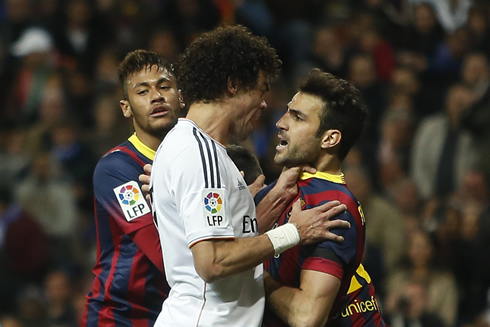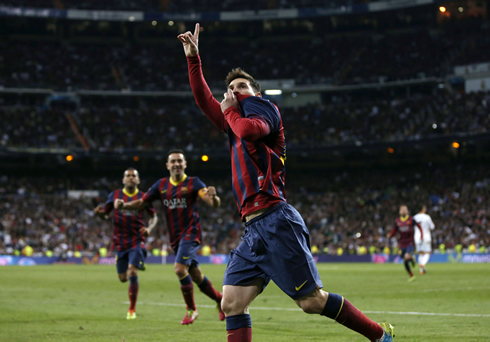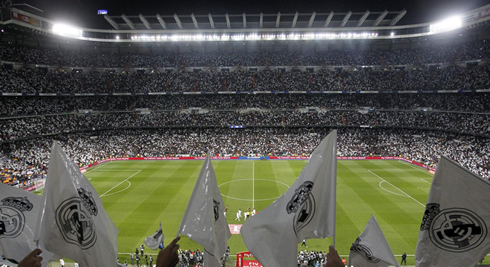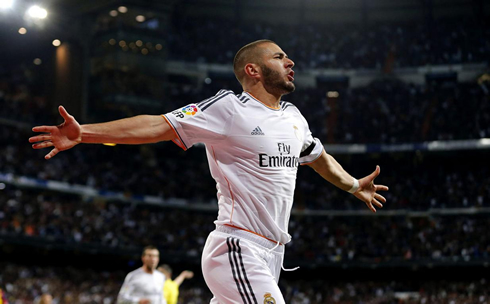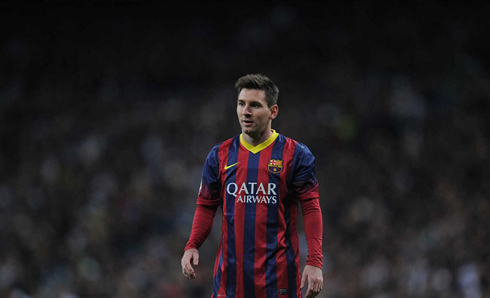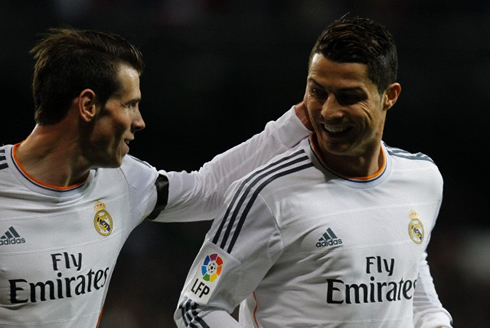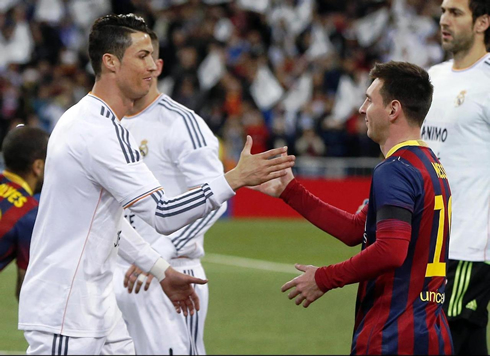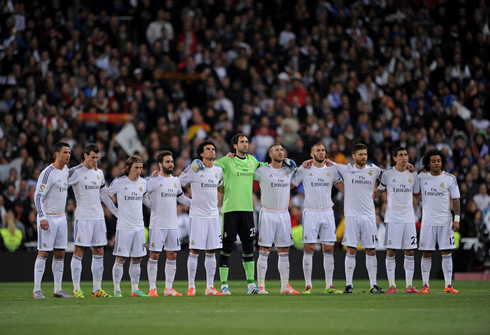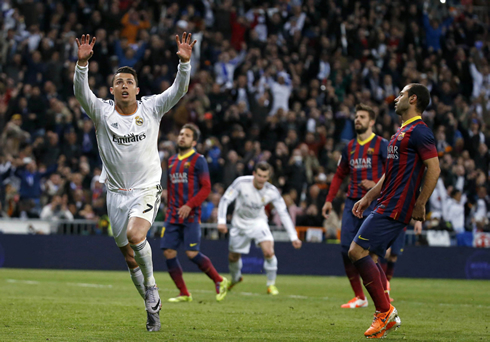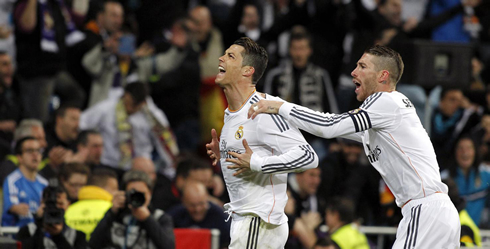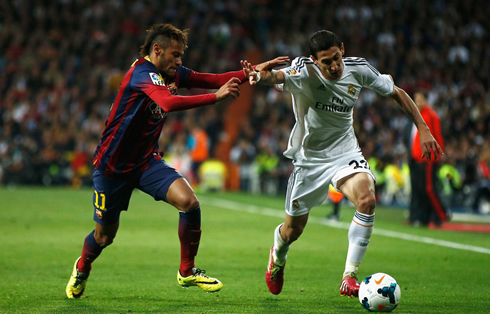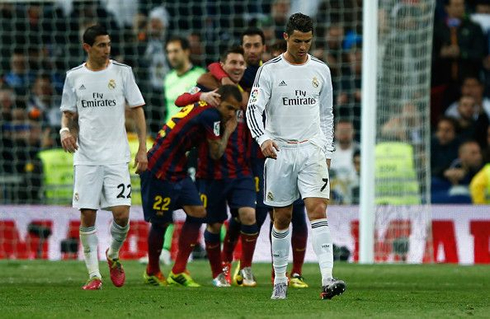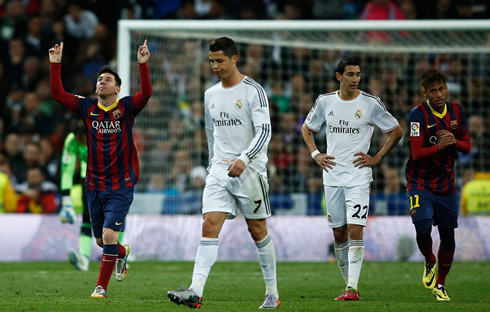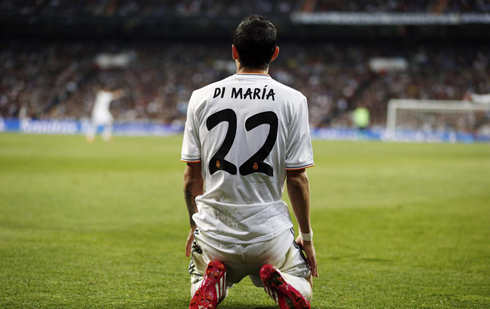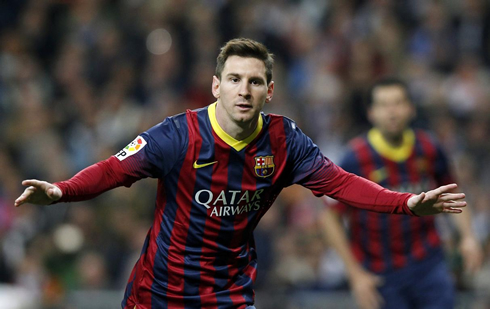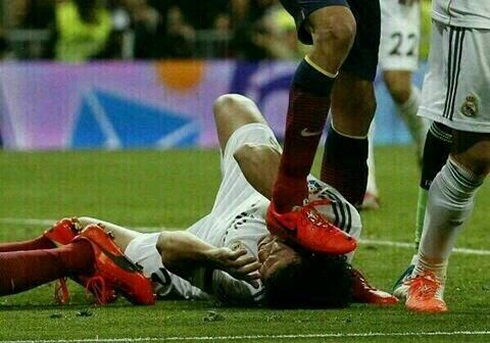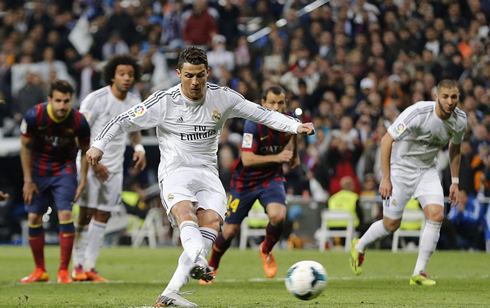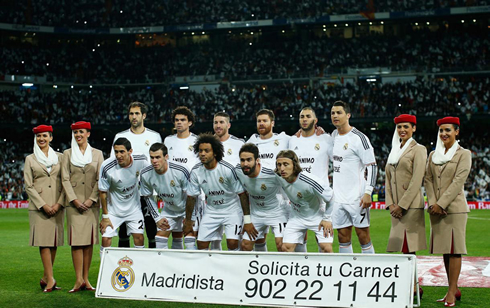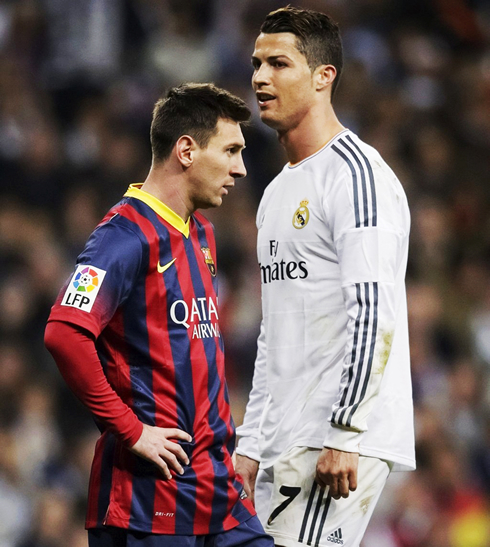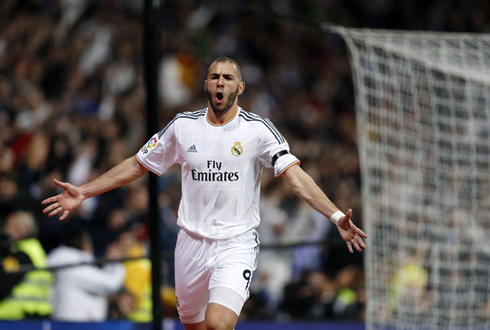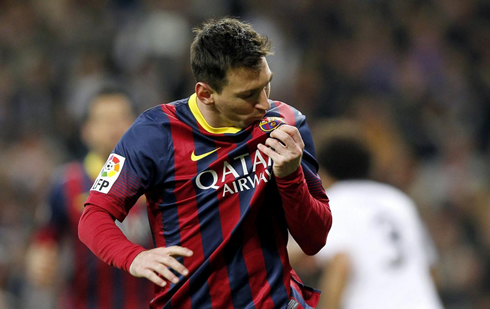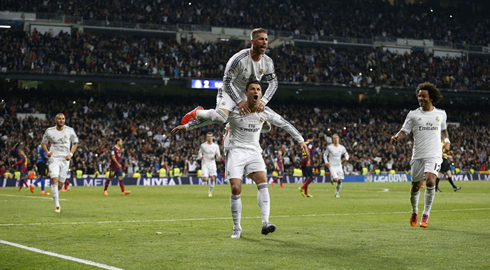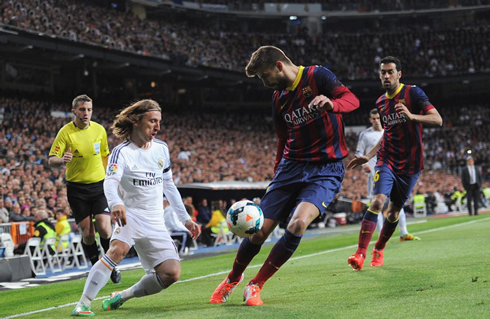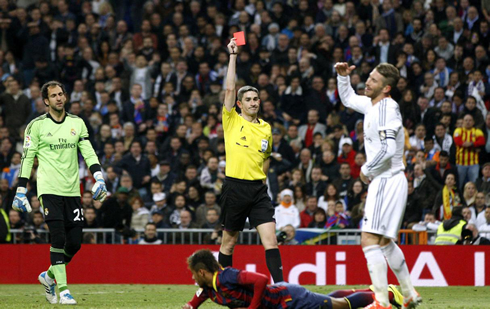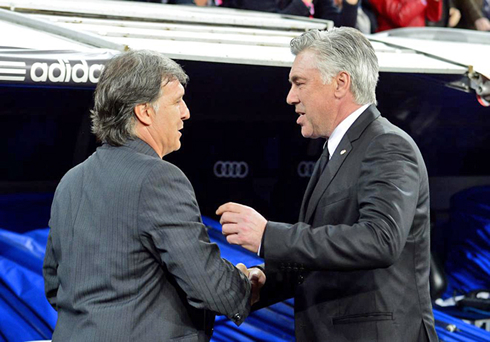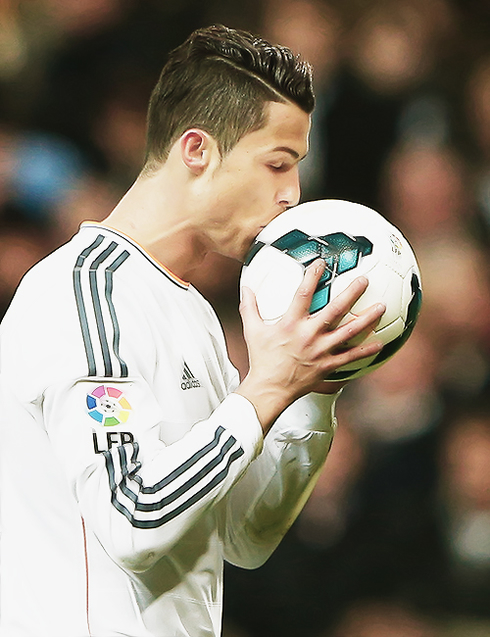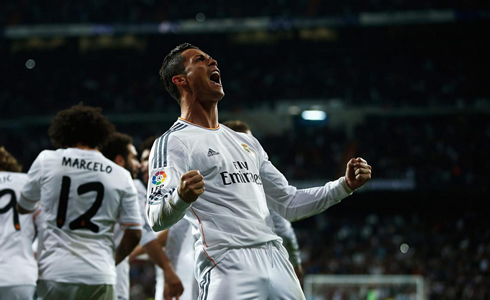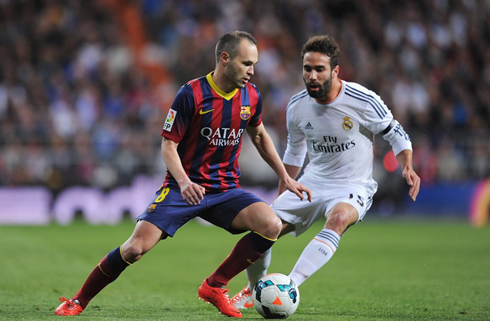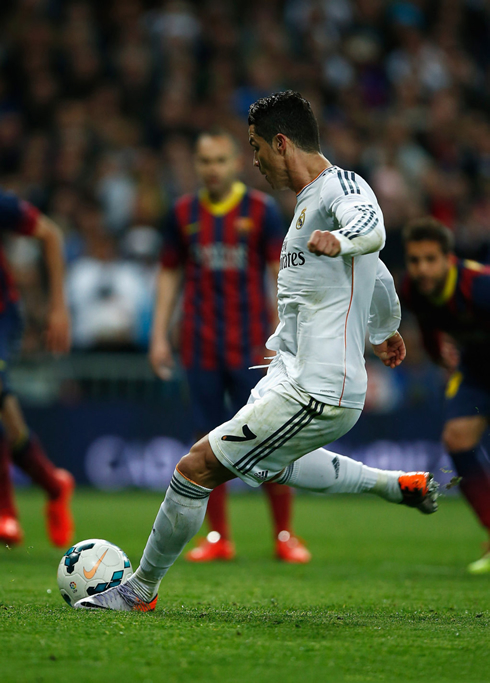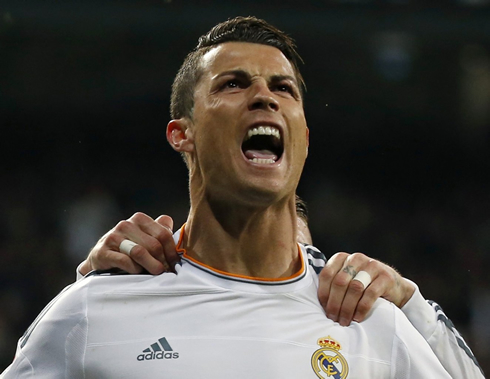 [ Ronaldo photos in Real Madrid vs Barcelona / Back to News Index ]