28.09.2013 » Real Madrid 0-1 Atletico Madrid. Too bad to be true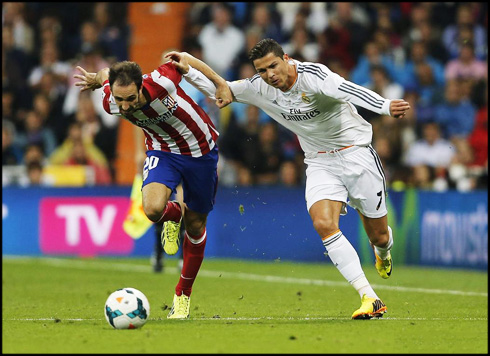 It's not like we weren't aware of how strong Atletico Madrid are this season, but it was the tremendous apathy and ineffectiveness shown by Real Madrid that is quite hard to understand from tonight's derby. Atletico came out of the Bernabéu with a 0-1 win and they were by far the better side on the pitch.


Real Madrid got handcuffed and humbled by Atletico Madrid this Saturday night at the Santiago Bernabéu, as they lost for the first timt this season and by a flattering 0-1 result. In fact, the Merengues can call consider themselves lucky not to have conceded more goals, as the visitors were far superior throughout the whole game. Diego Costa scored the only goal in this derby early in the first half, but it would be Atletico Madrid the only side who has always seemed to be close to score another goal during the remaining time of the match. With this result, Real Madrid has fallen 5 points behind both Barcelona and Atletico Madrid, with the two sides now leading La Liga with a perfect record of 7 wins out of 7 games.
Cristiano Ronaldo game photos in Real Madrid vs Atletico Madrid
Real Madrid 0-1 Atletico Madrid goals and highlights video:
Last Wednesday, Real Madrid got away with the 3 points in Alicante, after a last-minute controversial penalty-kick call made by the referee. The poor performance from the Merengues got somehow sent into second plan since there were no points being dropped at the end, but it's now far too obvious that there are many tactical and technical details needing to be tuned on this team. More worrying than the defeat itself, was the total inoperativeness from Madrid, which stood out during the 90 minutes at the Santiago Bernabéu and that could have easily resulted on a shocking 3 or 4 goal defeat.
Carlo Ancelotti went ahead into this game with a defensive midfield composed by Sami Khedira and Illarramendi, with the former Real Sociedad player taking Luka Modric's usual spot on the field. From a tactical point of view, one can easily understand such decision, since the Basque player was likely to give more consistency and physical presence in midfield, which is precisely where Atletico Madrid is known for being extremely strong. However, neither Khedira nor Illarramendi managed to untie themselves from the constant and high pressure exercised by Diego Simeone's men and the Merengues were unable to connect their game from the beginning until near the referee's final whistle.
Atletico Madrid came to the Bernabéu not only holding an undefeated and 100% victorious record, but naturally playing with their confidence levels quite high. If on top of that we realize that this is a group of talented and technical players, with a competitive mindset shaped by their highly peculiar manager Diego Simeone, what we have in front is a very dangerous side, extremely compact when it comes to regroup and very solid in cutting spaces to their opponents. In Atletico, everyone defends and fight for loose balls as if their lives depended on it. This was what Real Madrid had against them this Saturday night and if we started by criticizing the home side, it's only fair to also give the due credit for Simeone's work with this Atletico Madrid.
The first goal of this Saturday night's game took place on the 11th minute of the first half, right after Real Madrid had lost the ball possession in a dangerous zone. Angel Di María tried to get past Filipe Luis deep inside his own half but saw the Brazilian reaching out to the ball and touching it towards the former Barça forward, David Villa. The Asturian read the play brilliantly and quickly set up a great assist for Diego Costa, as he left the 24-year old striker with only Diego López in front of him. The Brazilian international kept his composure and easily struck the ball past Real Madrid goalkeeper, putting his side one goal up in the Bernabéu.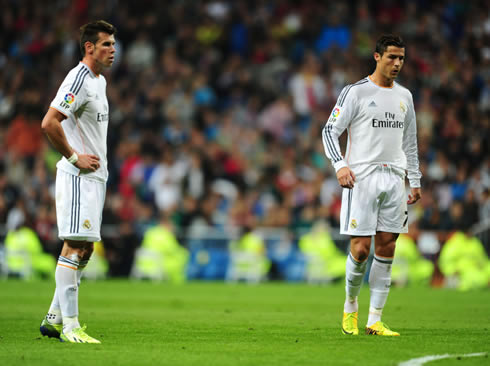 A reaction from Real Madrid was expected immediately after the opening goal, but as surprising as it may seem, the Merengues were unable to create a single true goalscoring chance for almost the entire game. Ancelotti tried to fix and rectify things after the break, sending Modric in for Illarramendi and Gareth Bale for Angel Di María. However, the game's tone didn't change much and despite Real Madrid having had a lot more ball possession (63% vs 37% from Atletico Madrid), the visitors continued being the more dangerous side.
Similarly to his teammates, Cristiano Ronaldo had a very weak performance as he has never found the space he needs to make the difference in the game. Ancelotti being a very experienced manager has surely taken his conclusions from what we've seen tonight and he better start preparing a plan B for the upcoming games where Real Madrid faces such a tough and organized opposition. Midfield must be a lot more dynamic and aggressive, while the understanding and linking-up between the team's midfield and attack still has a lot to improve.
For now, Real Madrid has allowed Barcelona and Atletico Madrid to earn a considerable point advantage in La Liga standings (they are both 5 points up) and it would be extremely important to cut down distances before the next "Clasico" between Barcelona vs Real Madrid, that is scheduled for October 27. There won't be much time to rest until then though, as Real Madrid hosts Copanhagen this next Wednesday for the UEFA Champions League, while Barcelona visits Celtic in Glasgow. A couple other big clashes will take place as well, with Steaua Bucuresti vs Chelsea drawing attentions in Group E, and a truly promising Arsenal vs Napoli in Group F, that will put two highly in-form sides head to head .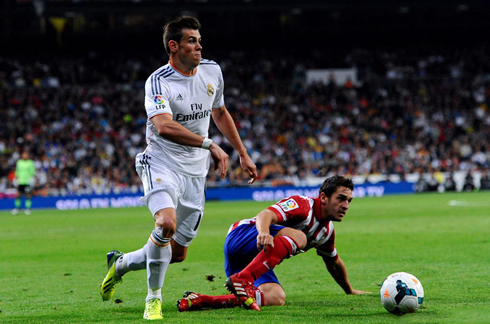 Real Madrid line-up vs Atletico Madrid:
Goalkeeper: Diego Lopez
Defenders: Fábio Coentrão, Pepe, Sergio Ramos, Arbeloa
Midfielders: Khedira, Illarramendi, Isco
Attackers: Angel Di María, Cristiano Ronaldo, Benzema

Match stats provided by www.ronaldo7.net

0

Goals

1

20

Shots

12

5

Shots on goal

5

2

Corner kicks

7

21

Fouls commited

18

4

Yellow cards

4

0

Red cards

0

63%

Ball possession

37%
Cristiano Ronaldo next game for Real Madrid will be in the UEFA Champions League, this Wednesday (October 2, 2013), against Copenhagen. You can watch Juventus live stream, Real Madrid vs Copenhagen, Celtic vs Barcelona, Steaua Bucuresti vs Chelsea and Arsenal vs Napoli, all matches provided from our live streaming section.
Real Madrid next game:
Real Madrid vs Copenhagen kick-off time (02-10-2013):
Jakarta (Indonesia) | GMT+7: 01:45
Spain (Madrid) | GMT+2: 20:45
Portugal and England (Lisbon/London) | GMT+1: 19:45
Rio de Janeiro (Brazil) | GMT-3: 15:45
New York (United States) | GMT-4: 14:45
Los Angeles (United States) | GMT-7: 11:45
Beijing (China) | GMT+8: 02:45
Sources: ronaldo7.net / realmadrid.com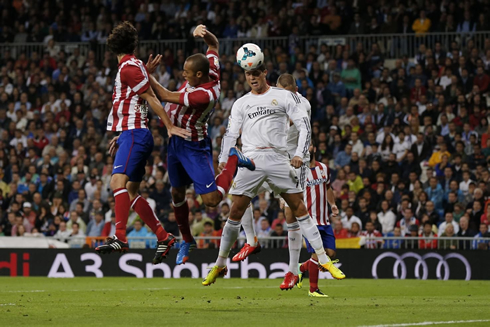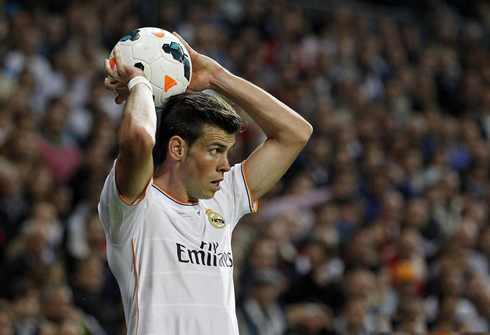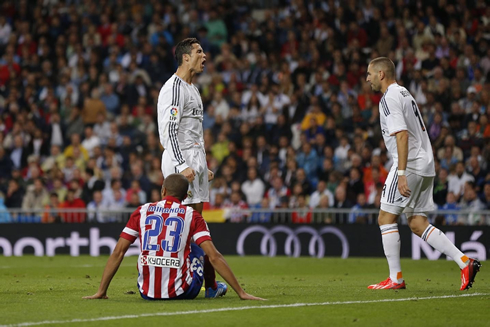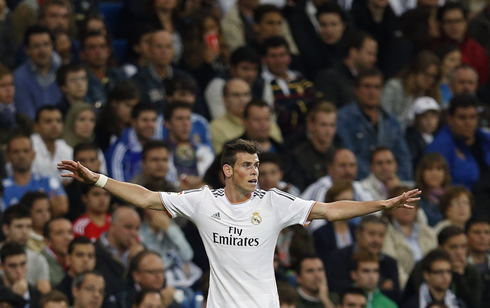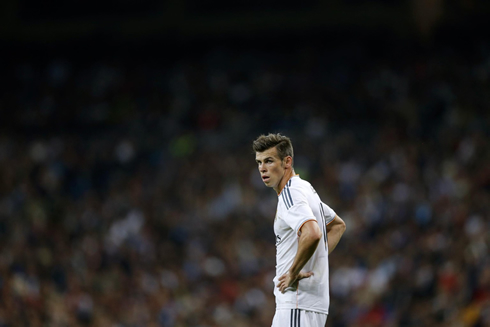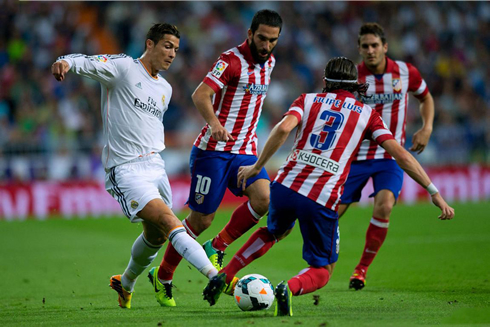 [ Ronaldo photos in Real Madrid vs Atletico Madrid / Back to News Index ]

comments powered by