About the project:
The Ronaldo7.net project began in November 2010 and since its very first days, it's been aiming at establishing itself as the most reliable source for Cristiano Ronaldo news.
Our writters will focus at covering both Ronaldo and Real Madrid stories, not only by merely reporting the facts, but also by sharing our editorial views across several different topics. We have a hard-working team involved in this project, who will strive to always provides accurate and resourceful information about Cristiano Ronaldo, offered throughout multiple sections within this site.
Our Team:
Guilherme Neto: Guilherme is the site owner and founder, as well as the main responsible for the coordination of every required task. Besides helping with writing stories for the "News" section, he's in charge for every matter related to advertising, marketing and partnerships deals.
Luís Fonseca: Luís joined the team back in June 2011 and since then, he has been giving a major contribution within the news article section. Luís has a degree in Economics and he has several years of experience in writing sports stories for a few blogs, as he is fluent in several languages such as Portuguese, English, French and Spanish.
Sara Escobar: Sara has been helping with the graphics side of the site, by helping with her skills in Photoshop. Sara is also a sports fan with good writing skills, so she often helps by writing a few articles for the "News" section, even though she's an Atletico Madrid supporter, a big rival of Real Madrid.
Our Social Media pages:
Facebook: www.facebook.com/www.ronaldo7.net
Twitter: www.twitter.com/Ronaldo7net
Google+: www.google.com/+Ronaldo7
You may contact us for general enquiries at: admin@ronaldo7.net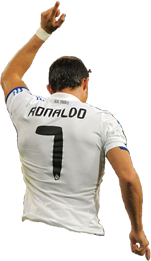 comments powered by