17.12.2010 »» Real Madrid will face O. Lyon in Champions League, Round of 16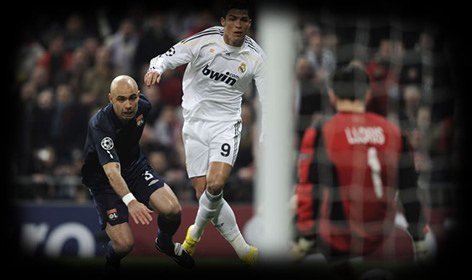 Real Madrid have drawn Lyon as their Round of 16 opponent in the Champions League. The first leg will be played at Stade de Gerland on 22 February and the second at the Santiago Bernabeu on 16 March.
Concerning this game, Emilio Butrageño (representing Real Madrid in the UEFA Champions League draw in Nyon) said: "This is a cruel but thrilling competition. We drew Lyon and must accept it. There is a lot of parity in football today. Ties are determined with few goals and every aspect of the game is important. We must be very focused and know that the return leg is being played at home. We are more than capable of making the quarterfinals. Let's see in what shape we are in come Ferbuary. It's time that our Round of 16 fortunes change."
Last year, Real Madrid was knocked out of the Champions League by O. Lyon, so memories are still fresh and this can be called a revenge match. Cristiano Ronaldo scored the only goal for Real Madrid in the 2 matches played last year, but that wasn't enough to bring down the french side who won 1-0 in France, and achieved a 1-1 draw in the Santiago Bernabeu.
To complete the information, we'll leave you with the rest of draws for the round of 16 in the UEFA Champions League:
Lyon - Real Madrid
Roma - Shakhtar Donetsk
Milan - Tottenham
Valencia - Schalke 04
Inter - BayernBayern
Arsenal - Barcelona
Marseille - Manchester United
Kobenhavn - Chelsea


Sources: realmadrid.com/ronaldo7.net

comments powered by