18.05.2011 » Manchester City dreams with a Cristiano Ronaldo transfer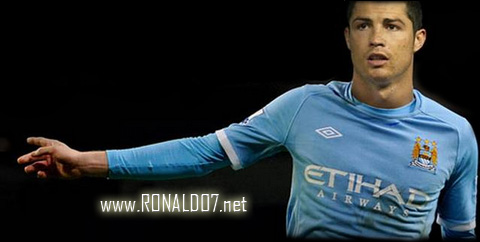 Cristiano Ronaldo record breaking season is making everyone to dream with the Portuguese player. According to British media, Manchester City are planning a 114 Million euros bid, to attempt transfering Cristiano Ronaldo back to the English Premier League.
After AC Milan revealed their intentions of bringing Cristiano Ronaldo to the club, it was now time for Manchester City to get linked with a Cristiano Ronaldo move to England, according to "Mirror" newspaper. The "Citizens" are on a spending rampage and money will certainly not be a problem when trying to persuade Real Madrid to let go their most valuable asset. However, Cristiano Ronaldo has a buyout clause of 1 Billion euros (1.000 Million euros) and, therefore, CR7 will probably leave Real Madrid only if the club or the player are unhappy with each other.
Manchester City just won the FA Cup a few days ago and the club owner, Sheik Mansour is now excited with the participation in the UEFA Champions League, next season. Reports say that City has a 200 Million Euros budget for this summer transfer season and Cristiano Ronaldo will be their number 1 target. The "Citizens" coach, Roberto Mancini, said a few days ago that he wants to have players with Champions League experience, in order to take the club to the next level.
Tottenham's head coach, Harry Redknapp also said: "They will probably spend another 200 Million € this summer. I've been told that they have got one or two players signed already, who will blow your brains out. They're not going to stop until they win the Championship, then the UEFA Champions League and I can see them doing it."
Chances of Cristiano Ronaldo transfering to Manchester City are very small though, since CR7 seems to be happy in Madrid and unless something very unusual happens in the next weeks, we should keep seeing Cristiano Ronaldo wearing Real Madrid's number 7 shirt in the 2011-12 season. Besides the joy that may bring to Real Madrid fans, we're sure that Manchester United fans will also be relieved by the fact that Cristiano Ronaldo won't join their biggest rivals.
Remember that you can watch Real Madrid vs Almeria livestreams, for the Spanish League, in ronaldo7.net, next Sunday. Cristiano Ronaldo will play on this match.
Sources: ronaldo7.net/mirror.co.uk

comments powered by