09.03.2011 » Cristiano Ronaldo is recovering well from the muscle injury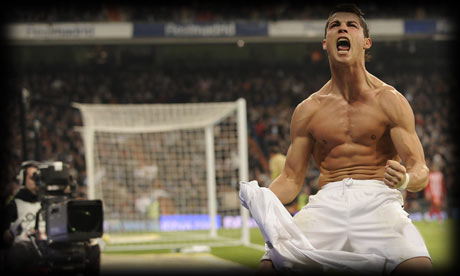 Cristiano Ronaldo is recovering very quickly and there are still small chances that CR7 could comeback this weekend against Hercules. However, the most likely is that Ronaldo won't force his condition for now and only returns against Olympique Lyon, in the UEFA Champions League match (16th of March).

Cristiano Ronaldo is recovering well and at a good rhythm, from the injury inflicted in the match against Malaga, after having to miss already one game (against Racing Santander). But good news are coming, and there's still a tiny possibility that CR7 can play against Hercules, this Saturday, in a match counting for the Spanish League.
Medical reports indicate that Cristiano Ronaldo is a true force of nature and his injury recovery might happen sooner than everone was expecting. Even though CR7's muscle injury isn't completly healed yet, Ronaldo will do a few more medical exams this Thursday, in order to to be sure if he's fit to start training with his teammates.
However, and like many of you are probably already questioning, Real Madrid medical team and technical staff are aware of the dangers of an early comeback, and assured that they won't force Cristiano Ronaldo to play, unless he proves to be at 100%. That's a condition that has to be verified for both matches against Hercules and Olympique Lyon, so there's still no certainties on exactly when Cristiano Ronaldo will play again. But like Portuguese people like to say: "Hope is the last thing to die", so there are still possibilities that we can all see Cristiano Ronaldo playing this weekend, against Hercules.
You can watch Real Madrid vs Hercules livestreams this Saturday, here on ronaldo7.net. Links will be updated around 30 or 60 minutes before the match starts.
Sources: ronaldo7.net/abola.pt

comments powered by