14.02.2011 » Brazilian Ronaldo announces retirement. Thank you Fenómeno.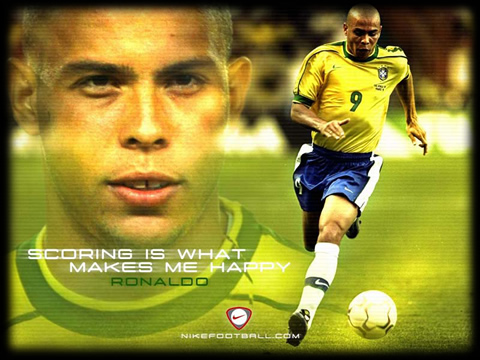 The brazilian Ronaldo decided it was time to say goodbye to football and announced his retirement. Even though this is not directly related to Cristiano Ronaldo, Ronaldo7.net pays tribute to one of the greatest football players of all time.
Today is a sad day for those who love football. Even though we are all fans of Cristiano Ronaldo, we certainly also share and respect the game of football. Ronaldo7.net pays tribute to the brazilian Ronaldo Luis Nazário de Lima, former player of PSV Eindhoven, Barcelona, Real Madrid, Inter Milan and Corinthians, who just announced his retirement from football. At the age of 34, the Brazilian player currently playing in Corinthians was getting criticised by the media and many supporters for his bad physical condition.
Ronaldo: "I'll miss this game a lot. My career was beautiful, wonderful and thrilling. Many defeats, endless victories. I made a lot of friends. I don't recall to have made any enemy at all. I'm anticipating the end of my career for important reasons." The brazilian striker had his two sons and the "Timão" president Andrés Sanchez by his side.
The "Fenómeno" explained his decision was very painful: "This last thursday, just after I decided I would retire, it looked like I was in ICU (Intensive Care Unit) in terminal care. This announcement was my first death. It's very hard to abandon something that made us so happy."
In a press conference given this afternoon, Ronaldo explained he suffers from hypothyroidism, which basically means his metabolism works slower and makes it harder to lose weight: "My love for football allowed me to overcome huge obstacles. I suffer from hypothyroidism, which slows down my metabolism and makes it very hard to lose weight."
The old slogan "There is only one Ronaldo" many Manchester United fans love, will now make more sense, but Ronaldo "Fenómeno" will also live long in our memories. Here's a tribute video we chose and hope you like it:
Sources: ronaldo7.net/globoesporte.com

comments powered by