04.07.2011 » Cristiano Ronaldo denies the interview published in Sunday Mirror
This weekend, the English newspaper "Sunday Mirror" published an interview with Cristiano Ronaldo. However, Ronaldo himself publicly announced on his Twitter and Facebook personal pages that the interview was entirely false.
Cristiano Ronaldo released a statement on his personal Facebook and Twitter pages, denying having granted the interview that the British media "Sunday Mirror" published this weekend, written by Jim Hughes. CR7 is still on vacations with his son and his girlfriend Irina Shayk and affirmed that he never met with the reffered journalist or anyone else from the Sunday Mirror staff in the last days.
Cristiano Ronaldo posted the following statement on his Twitter and Facebook personal accounts: "The Sunday Mirror publishes an interview with me today. All that content is false. I have never spoke with the newspaper, and never made those statements." In the reffered false and fake interview, Cristiano Ronaldo was quoted saying that he doesn't like London and he would only play in a North West English club, which would be the same as saying he would only consider a move to either Manchester City or Manchesster United.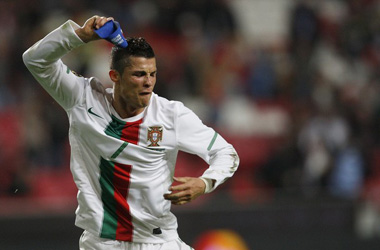 Sunday Mirror false story also contained statements from Cristiano Ronaldo regarding the Manchester City approach in order to attempt transfering CR7 to the Citizens. On this matter, Ronaldo would have allegedly said that if José Mourinho had left to Chelsea in the end of this season, then he would have left Real Madrid and joined Manchester City, because he was flattered to receive an offer around 20 million pounds a year. Once again, those statements were false and Real Madrid fans can relax because Cristiano Ronaldo will keep wearing the number 7 shirt in the next seasons.
Sources: ronaldo7.net/abola.pt/facebook.com/mirror.co.uk

comments powered by