11.02.2011 » Cristiano Ronaldo: "Right now, Messi is the best player in the world."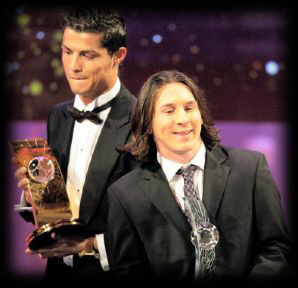 Cristiano Ronaldo granted a big interview to Cadena Ser, and admitted that, right now, Lionel Messi is the best player in the world. The portuguese player also added that Mourinho knows how to beat Barcelona.
Cristiano Ronaldo granted an interview to the spanish radio "Cadena Ser" and surprisingly afirmed that Lionel Messi is the best player of world at this moment. The portuguese forward also talked about several other topics related to Real Madrid.
Ronaldo: "Right now, the best player in the world is Messi. That's what FIFA acknowledged." When asked to comment the match against Argentina, CR7 also said he likes such kind of games: "Argentina won it. I chatted a bit with Messi, but it was a normal thing to happen, so nothing special. When we play against each other, I don't like to see it as a personal rivalry. I like this kind of matches."
About the rivals Barcelona, Cristiano Ronaldo previews an exciting match in the final of the Copa del Rey and confessed that he's hoping to score against the spanish leaders during this season. "Real Madrid will play against Barcelona in the final and I'm confident I'll score against Barça this season. The 5-0 loss in Camp Nou was one of the most painfull results I ever had to deal with. We learnt a lot from it and we won't commit the same mistakes in future. Mourinho knows how to beat Barcelona."
There are also some concerns about the physical condition of some Real Madrid players, so there was a lot of interest on knowing how Cristiano Ronaldo feels physically: "I'm on an outstanding moment and I feel perfect physically. I think that I'll be even better in the end of the season."
Ronaldo also approached other topics, such as the rumors of conflicts related with Valdano and Mourinho: "They have a good relationship." About his teammate Pepe, Cristiano Ronaldo defended that he should get his contract renewed as soon as possible. Another hot topic, was the past conflict with Iker Casillas, on which Ronaldo said, once again, that there isn't any problem at all.
Cristiano Ronaldo then "opened" a more personal side of himself and talked about his new job as a father. "My life has changed a lot after the birth of my son. It's one of the best things in my life. In the beginning it's a bit strange, but then it turns into something different. I'm very happy to finally accomplish this dream I had." Ronaldo also added a few other things about his family: "My mother and my sisters think that my son doesn't look like me, but there are other people who say he does. He's gorgeous and beautiful! He'll have to get used to the pressure, but that's life. He's the son of a famous person, who plays for Real Madrid."
Talking about pressure, made Cristiano Ronaldo comment on how he deals with some stuff that comes out in the press: "I don't open my heart to people who I don't want to grant the chance of knowing me. What people say about me, doesn't affect me and I'm already used to it. In fact, some stuff still bothers me, but that's part of my life and it comes with the my personality. I see myself as a good person. I'm not false or hypocrite. I say what I think in front of people and I try to always be correct. I'm a friend of my friends."
Sources: ronaldo7.net/ronaldo7.net/cadenaser.es

comments powered by