09.02.2011 » Portugal 1-2 Argentina. Ronaldo scores for the first time against Messi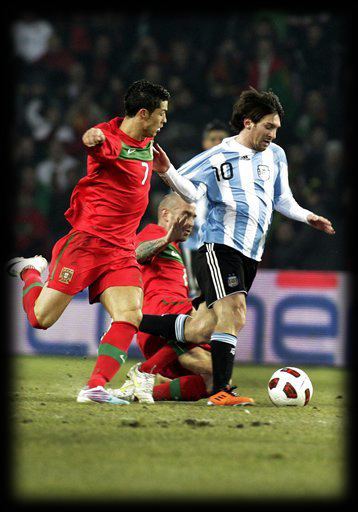 Argentina may have won the match (2-1), but everyone was paying more attention to both Cristiano Ronaldo and Lionel Messi performances. Ronaldo scored his first goal against Lionel Messi.
Many people tried not to individualize this matche into a "Cristiano Ronaldo vs Messi" fight, however the reduction of this plum international to a straight face-off between the world's two most celebrated players seemed to have a certain inevitability to it. Argentina won against Portugal by 2-1, but most of the attentions were given to Messi and Ronaldo, rather than the teams' performances.
That the sold-out clash at the Stade de Geneve turned out to be so much more besides is a fine retort to those who sniff that international friendlies have had their day. Switzerland may not often be singled out as a hotbed of footballing passion but the former Euro 2008 venue undoubtedly elevated this occasion and watching Cristiano Ronaldo and Lionel Messi playing on the same field was an opportunity not to miss.
Geneva is a home from home for Portugal. Around 200000 (two hundred thousand) Portuguese nationals live in Switzerland with more than 30000 (thirty thousand) living in Geneva alone, making up some 7% of the city's population as its largest foreign community. Portugal won their first two matches of Euro 2008 in this stadium (in fact, the only two they won during the entire tournament) in their way to the quarter-finals. When Portugal arrived in Switzerland that summer, around 10000 (ten thousand) fans were there to greet them at Geneva's Cointrin airport and 300 motorcyclists decked in red and green decided to escort the team bus on the hour-long drive back to their base in Neuchatel.
The sense of occasion was further accentuated by the rarity of such an encounter, specially putting face to face Cristiano Ronaldo and Lionel Messi. This was only the seventh time the two sides have met since their inaugural encounter in 1928, with Portugal having only beaten the South Americans once - in their last meeting, way back in 1972. Yet, despite the lack of direct confrontations, their paths had crossed in the ether, as both sides handed Spain a four-goal beating since their coronation as world champions, after deflating South African campaigns of their own.
The partisan nature of the Stade de Geneve crowd meant the balance of previous encounters between the countries, and between Ronaldo and Messi, was somewhat skewed. Messi had got the better of Cristiano Ronaldo in their most recent four 'duels. (with the latter representing Manchester United in the first and Real Madrid in the subsequent three), with Cristiano Ronaldo's team not scoring a single goal in the matches. Portuguese pride in their star is so fervent that the match saw the bizarre occurrence of Messi being loudly whistled and booed whenever he took possession in the early stages of the match.
Messi may have had further reason to think how much things have changed for him since Argentina's previous visit to Geneva. After that 3-2 friendly defeat to England in November 2005, Lionel Messi famously hopped on an Easyjet flight back to Barcelona alone after the game. It is hard to imagine his club leaving him to his own devices today.
The opening stanzas of the game ran true to recent form, with Lionel Messi's runs from deep pushing Portugal back and Cristiano Ronaldo unusually subdued, with his erstwhile junior club-mate Nani far more prominent on the right. Settled on his favourite spot on the right, Lionel Messi was at the heart of Argentina team whose supremely confident circulation of the ball was not stymied by a badly-weathered playing surface, and his superb run and pass to create the opener for Di Maria was little surprise.
Ronaldo's first significant contribution was his sharp finish in front of Sergio Romero to bring Portugal level. The talisman represents his team's mood in microcosm, and has he been liberated - and far more productive - under Paulo Bento than in the tortuous Carlos Queiroz era. The Real Madrid man's captaincy of his country is often questioned, but he leads by seemingly similar example. Minutes later he cut through Argentina with a pulsating run, brushing off the robust Javier Mascherano like a grizzly bear swatting a squirrel, before having a shot deflected wide.
Portugal's World Cup limitations, like Argentina's, had been authored by their failure to get the best out of their key player. Just as Argentina saw Lionel Messi thrive among a squat trio of forwards (as he does at Barcelona) with a reliable supply line in Banega, Portugal's every move now glistens with Ronaldo's endeavour. There is something more direct about Portugal's approach, exemplified as much by Hugo Almeida's header against the bar from Joao Pereira's monster throw as by Fabio Coentrão's dizzying combinations with his captain on the left-hand side.
Hugo Almeida showed here he still has plenty to contribute. A string of barely-credible near misses - the worst of which was blazed wide over a gaping net with Romero prostrate - may point to his run of bad luck, after the weekend farrago of his goal for Besiktas against Karabukspor being missed by the officials. It shouldn't detract from his role as a constant thorn in the side of Argentina's defence, and as an able foil for Cristiano Ronaldo and Nani.
One of Portugal's other unsung heroes, Raúl Meireles, has garnered plenty of Premier League praise recently. Usually a nominal but interchangeable sitting midfielder under Paulo Bento, he was forced to stay deeper by the excellent movement of the Argentinean front three. Raúl Meireles has suffered for his versatility throughout his top-level career, but he did a valuable job here in helping Portugal to gain traction in the match, and allowing the superb Joao Moutinho to dictate in a way which made the fact that he missed the World Cup seem all the more ridiculous.
The game's cut and thrust inevitably waned following the standard second half rash of substitutions, with the trio of Ricardo Quaresma, Danny and Hélder Postiga - introduced by Paulo Bento just after the hour mark - making negligible impact. Yet this levelling-off, and Messi's inevitable late intervention, failed to hide the recognition that a genuine stability is tangible in the Portuguese camp, and even the statistical disappointment of Paulo Bento's first defeat in charge doesn't change that.
Sources: ronaldo7.net/espn.com

comments powered by