08.02.2011 » Quaresma: "Cristiano Ronaldo is better than Messi"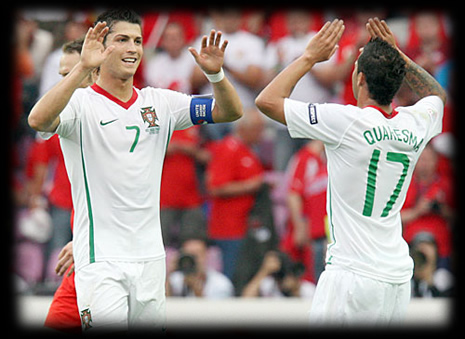 Ricardo Quaresma will be one of the star players in tomorrow's match between Portugal and Argentina. The Besiktas idol, said that Cristiano Ronaldo is a better player than Lionel Messi.
Portugal will play against Argentina tomorrow (Wednesday) and Ricardo Quaresma was approached by the journalists to comment about the match and the rivalry between Lionel Messi and Cristiano Ronaldo. The portuguese winger, currently playing for Besiktas in Turkey, was one of the first to arrive to the hotel, after travelling with Hugo Almeida, who also plays in the turkish club.
Quaresma, also known as Q7 or RQ7, has no doubts about who is the best player in the world. When asked to compare Lionel Messi and Cristiano Ronaldo, the Besiktas player was very clear: "Between Messi and Ronaldo, i think the best is Ronaldo." However, Quaresma remembered that the Portuguese National Team isn't only Cristiano Ronaldo: "Every player who has been called up for this match is in great shape and I believe we can get a good result tomorrow. It's a big game and everyone loves to play such games. We are prepared for it."
Tomorrow's match will be played in a stadium where Ricardo Quaresma was happy in the past. The portuguese winger scored a goal in the Euro2008 campaign, against the Czech Republic, in a game where Portugal won 3-1. "I hope to score again. We are prepared for everything. We're here to win the game against Argentina and we'll work towards that goal."
Sources: ronaldo7.net/maisfutebol.pt

comments powered by