31.01.2011 » Cristiano Ronaldo: "We have to be positive."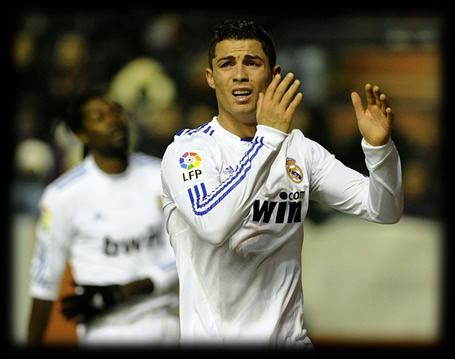 After last night's defeat, Real Madrid dropped behind Barcelona to a total of 7 points. Title hopes are now almost vanished, but Cristiano Ronaldo promises to keep fighting.
Real Madrid probably began to say goodbye to a league that seems irremiably sentenced, even though there are still 17 matches to be played. However, Barcelona doesn't seem to slow down and they already won 15 matches in a row in this La Liga season.
In the post-match interview last night, Cristiano Ronaldo complained about the way things got out of control in the game against Osasuna. Ronaldo said: "It is inadmissible that a football game turns into a ground battle. We had to deal with kicking, balls being thrown from the public to stop our plays...". CR7 (who has 23 goals scored in 21 matches played in this season's Spanish League), also had a disagreement with Walter Pandiani, when both players were heading to the locker room in halftime.
The portuguese player defended that such actions should get punished: "What happened today, isn't good for the show and it's not a good example for young kinds. I hate when such scenes happen. In Sevilla, someone almost broke Casillas' head. This kind of actions should be punished."
Despite all bad things seen yesterday, there's one thing no one can't argue against. Cristiano Ronaldo never gives up and he keeps showing it, both on and off the pitch: "We have to be positive. We tried everything we could during the match, but, unfortunately, we didn't win." José Mourinho also mentioned there was nothing left to be done by his players: "I don't have anyone to criticise. We lost against a team who gave everything they had to the game and played close to their limits."
Real Madrid is now far behind from Barcelona. In any other league around the world, it would be reasonable to think that the league leader could eventually drop 7 points in the remaining 17 matches to be played. The only problem, is that the leader we're talking about, won 15 of their 15 last matches played and it doesn't give any sign of slowing down at all. Should Real Madrid adjust priorites and start resting some key players for Copa del Rey and Champions League fixtures, or should José Mourinho keep playing with the best team possible in all competitions, but risking that way to over-fatigue some key players, such as Cristiano Ronaldo. We leave that question for you to discuss further.
Sources: ronaldo7.net/sben.com.ar/record.pt

comments powered by