30.01.2011 » Casillas helped Cristiano Ronaldo dealing with referees decisions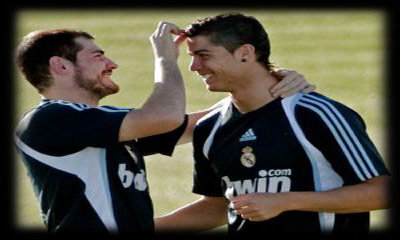 Casillas helped Cristiano Ronaldo dealing with referees' bad decisions this season. CR7 can score tonight his 50th goal in Spanish League since he arrived at Real Madrid.
Real Madrid's captain, Iker Casillas, is said to have changed Cristiano Ronaldo's attitude this season, towards the referees decisions in Spain. According to newspaper "Marca", Ronaldo humbly accepted Casillas recommendations. A good way to prove that, is by looking at this season La Liga stats and note that Cristiano Ronaldo wasn't booked yet for arguing with referees.
Real Madrid and Cristiano Ronaldo will play tonight against Osasuna, in about 3 hours and there's a noticeable fact to be pointed from this match. Cristiano Ronaldo will make his 50th spanish league appearence since he joined Real Madrid, after he have scored 49 goals in the 49 previous games he played.
These numbers are unseen in Real Madrid's history, which means Ronaldo already broke several records this season. Names such as Puskas, Di Stéfano, Hugo Sánchez, Ronaldo (brazilian) or Ruud Van Nistelrooy, are just examples of players who couldn't achieve the 50th goal mark for Real Madrid with an higher goal average per match as Cristiano Ronaldo.
CR7 is still aiming at breaking the 38 goals (in Spanish League) record achieved by Zarra and Hugo Sanchez, but in order for that to happen, he can't stop scoring untill the season ends. Cristiano Ronaldo stats in Real Madrid since he joined the club are outrageous: CR7 have scored 66 goals in 66 matches in all competitions, which makes an average of 1.00 goal per match. To compare with a few of Real Madrid's greatest legendas, Puskas had a 0.76 average (216 goals in 282 matches) and the brazilian Ronaldo had an average of 0.65 (83 goals in 127 matches).
Sources: ronaldo7.net/record.pt/marca.com

comments powered by