29.01.2011 » Adebayor and Ronaldo in the squad list for the match against Osasuna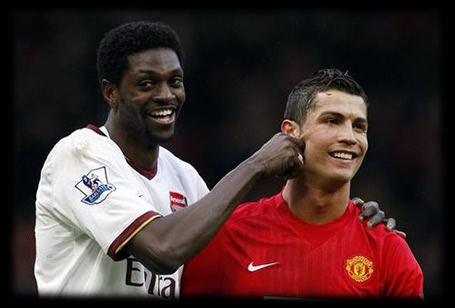 Adebayor included for the first time in the squad list. José Mourinho also called Cristiano Ronaldo and Benzema to complete the forwards list.
José Mourinho released the squad list for Real Madrid match against Osasuna this Sunday, and the biggest surprise is the inclusion of Emmanuel Adebayor, who arrived to the club just a few days ago. Cristiano Ronaldo and Benzema are the other two forwards called by the portuguese coach.
The most noted absences are Marcelo, Pepe, Higuaín, and Dudek, who remain injured and unavailable to give their contribut to the team.
Here's the full squad list for the match against Osasuna: Casillas, Adan and Mejías; Arbeloa, Albiol, Sergio Ramos, Ricardo Carvalho and Garay; Lass, Gago, Khedira, Xabi Alonso, Di María, Özil, Pedro León, Granero, Sergio Canales and Kaká; Cristiano Ronaldo, Benzema and Adebayor.
Sources: ronaldo7.net/ojogo.pt

comments powered by