20.11.2010 »» Real Madrid reach "El Clasico" against Barcelona as leaders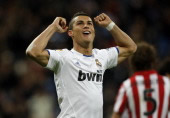 Watch Goal 1
Real Madrid 5-1 Athletic Bilbao
Real Madrid head into next week's Clasico as league leaders following their 5-1 victory against Athletic Bilbao on Saturday. The Whites are still unbeaten after twelve weeks of action and are the only team in La Liga that have yet to lose. Cristiano Ronaldo's hat-trick and several key saves by Casillas were more than enough to sink Los Leones.
Mourinho's starting eleven runs like clockwork. The way each player helps his teammates and the commitment each shows on the pitch are worthy of commendation. But perhaps the best sign of this team's maturity is its ability to manage the tempo of matches. Eighteen minutes in, Di maria found Higuain in the box, where the Argentine turned, split two defenders and beat Iraizoz with a shot to the right of the keeper. Llorente nearly had the equalizer ten minutes later, but Casillas dove to his right to get a hand to the striker's shot. Real Madrid capitalized on the missed opportunity by Athletic to counter. Higuain marched up the right wing to find Ozil in midfield. The German one-touched to a surging Cristiano Ronaldo, who fired past the keeper with left foot.
With 11 minutes left in regulation, Llorente managed to pull Los Leones within one, but from an offside position. The referee granted the goal despite the protests and the sides headed into the dressing rooms with the scoreboard reading 2-1.
Real Madrid dictated the tempo in the second half to prevent the match from getting any closer than it had to. The defense maintained its composure and the offense sought any chance to counter.  Athletic, meanwhile, turned to Fernando Llorente for inspiration.
Di Maria was tripped up inside the box on 55' after beating Susaeta and Sergio Ramos successfully fired home the ensuing spot kick. Real Madrid continued pouring on the heat and on 62' Cristiano Ronaldo put the fourth on the board with a rocket of a free-kick that Iraizoz barely got a hand to. The match was all but in the bag with 30 minutes to play.
With Ajax and Barcelona on the horizon, Mourinho ordered fresh legs onto the pitch. Lass replaced Khedira, Benzema stepped in for Higuain and Ozil was benched for Granero. Real Madrid never let up despite the comfortable lead. Sergio Ramos came close to a brace but saw his header sail wide.  Once in injury time and on the last play of the match, Cristiano Ronaldo completed his hat-trick with a spot kick after Granero was fouled in the box. All sights are now set on Ajax and Barcelona.
Source: realmadrid.com