14.01.2011 »» Gerard Piqué: "Cristiano Ronaldo is not arrogant. He's a good guy".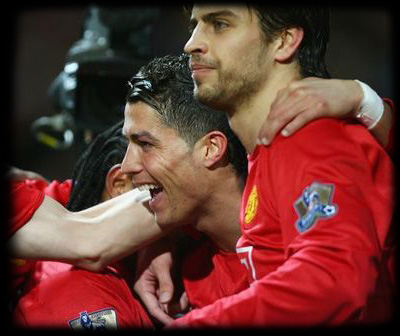 Gerard Piqué talked about Cristiano Ronaldo in an interview to dutch magazine "Voetbal". The spanish defender said Cristiano is a very complete player and very friendly when off the pitch.
Barcelona defender Gerard Piqué has cheekily remarked that he knows all of Real Madrid star Cristiano Ronaldo's tricks from their time together in England, when they both played at Manchester United a few years ago. Piqué had the oportunity to watch Cristiano Ronaldo develop into the world-renowned superstar he is today. Speaking in an interview with Dutch magazine "Voetbal", Piqué also had great praise for the abilities of the portuguese forward.
Piqué: "Now that he is at Real Madrid, I know all of his tricks because he was my rival every day in practice. However, this does not guarantee anything, because I know that he is a very complete player."

Piqué also felt the need to defend Cristiano Ronaldo from those who often call him arrogant individualist. He said: "They say Cristiano is arrogant, but I remember him being friendly and fun. Yes, it is difficult for him to resist the mirror, but he is a good guy."

Piqué also talked about his national team partner Cesc Fabregas, who remained at Arsenal despite the rumors linking him to Barcelona. Piqué said: "The situation with Cesc is a pity, since his arrival would bring a lot to this team."
Sources: ronaldo7.net/goal.com

comments powered by