13.01.2011 »» Real Madrid 3-1 Atletico Madrid. Cristiano Ronaldo scores again.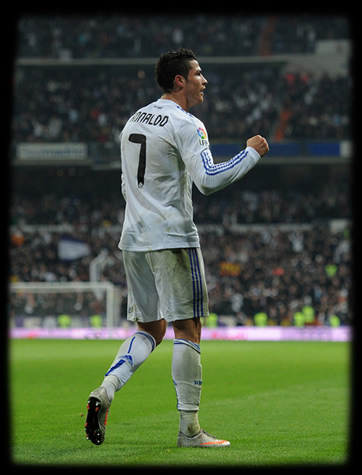 Real Madrid made another "Remontada", this time against their rivals Atletico Madrid. Cristiano Ronaldo put Real Madrid in the lead, by scoring another goal.
Real Madrid got another win against Atletico Madrid (3-1), who have not beaten their neighbours since 1999 and stunned their hosts by taking the lead in the seventh minute through Diego Forlan. However, Real were quickly back on level terms as Sergio Ramos headed in a 14th-minute equaliser before second-half goals from Cristiano Ronaldo and Mesut Ozil gave Jose Mourinho's men a two-goal advantage to take into the second leg.
Atletico came into the game on the back of an embarrassing 4-1 defeat at Hercules on Monday but they could hardly have had a better start tonight thanks to Forlan's early goal. The flag stayed down as Sergio Aguero latched onto Jose Antonio Reyes' through-ball and, although Aguero went tumbling as he attempted to round Iker Casillas, the referee allowed play to continue and Forlan slotted in at the far post.
Although they were trailing, Real will perhaps have felt fortunate that the official decided not to award a penalty and show Casillas a red card as, with a full quota of players, they ultimately proved much too strong for Atletico. The impressive home side had already gone close a couple of times before they drew level through Ramos, who climbed highest to send a powerful header from Angel Di Maria's corner past David De Gea. After that it turned into a shooting gallery for the hosts, with Karim Benzema, Ricardo Carvalho, Di Maria - twice - and Ronaldo all being denied by the overworked De Gea prior to the break.
Atletico were able to regroup somewhat at the interval and they twice came close to retaking the lead at the start of the second half with Aguero involved both times. He twice saw low shots deflected away by the feet of Casillas, with the second rebound falling to Forlan who fired his effort against the post.
Real angrily protested there was a handball by Aguero in the build-up to that opportunity, but the home side were much happier just 60 seconds later as they took the lead. Ozil created the opening with a lovely dinked pass to the far post, where the in-form Ronaldo slid in his 31st goal of the season.
It looked like that goal was all that was going to be separating the two sides going into next week's return meeting at the Vicente Calderon, but Ozil took advantage of a defensive error in the 90th minute to slot in Real's third. With this win over Atletico, Real Madrid will go into the 2nd leg with 2 goals advantage. The 2nd leg match will be played next week, on Thursday.
Sources: ronaldo7.net/espn.com

comments powered by