12.01.2011 »» Sara Carbonero: "Ronaldo deserved to be nominated for Balon d'Or"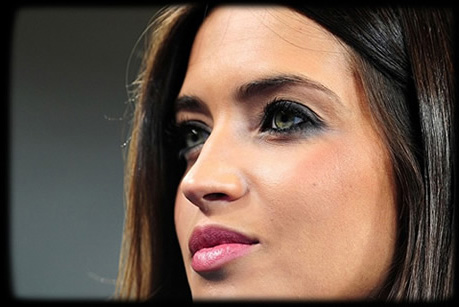 The day after the FIFA Best Player of the Year award was granted to Lionel Messi, the spanish most sexy reporter of the moment stepped up to defend Cristiano Ronaldo.
Sara Carbonero didn't lose the chance to also say something about one of the most controversial Balon d'Ors ever granted before. The spanish beautiful reporter, who in the past publicly criticized Cristiano Ronaldo by calling him a selfish and individualistic player, this time came to the press to defend the portuguese phenomen.
The gorgeous reporter, currently working for "Telecinco" network station, confessed in a tv show called "El programa de Ana Rosa" that she was truly disappointed and defended Cristiano Ronaldo.
Sara Carbonero: "I'm disappointed. I honestly believe that Cristiano Ronaldo is at the same level as Messi and they are both the best players in the world. Therefore, i can't understand why Cristiano Ronaldo wasn't nominated for the list of the 3 players who could win the trophy."
The spanish mesmerizing women also noted: "If everyone takes into consideration the individual quality and the goals scored, Cristiano Ronaldo should have been nominated for the Balon d'Or." This intervention can be seen as an attempt to make peace with Cristiano Ronaldo, after an incident that occured a couple of monthes ago, where Sara Carbonero called Cristiano "selfish and individualistic" (Read story here).
Sara Carbonero, still dating the Real Madrid captain Iker Casillas, added: "Argentina was a big deception in the World Cup, but I don't think that was the case with Portugal. Since 1982, everytime there was a World Cup competition, coincidently or not, in that same year, the winner of the Balon d'Or also always won the World Cup. It always had some influence and counted for something, but it wasn't the case this year."

Sources: ronaldo7.net/telecinco.es

comments powered by