18.11.2010 »» Cristiano Ronaldo: "I didn't touch Busquets... unfortunately"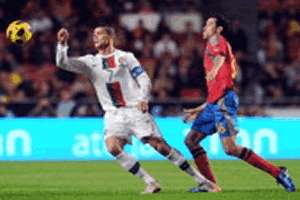 The spanish big clash between Real Madrid and Barcelona keeps being played and last wednesday, we could witness that in the pitch.
Busquets, Barcelona's midfielder, tackled Ronaldo badly in the first half. He got shown the yellow card, but later, Ronaldo anwsered the same way and received the yellow card aswell.
In the end of the match, when Ronaldo was asked about that incident, he was very clear saying he didn't touch him, but that was his intention. "I didn't touch him unfortunately. But there's nothing special on it, that's normal stuff in a game."
Source: ronaldo7.net