11.01.2011 »» José Mourinho: "Ronaldo deserves to win 4 or 5 Balon d'Or"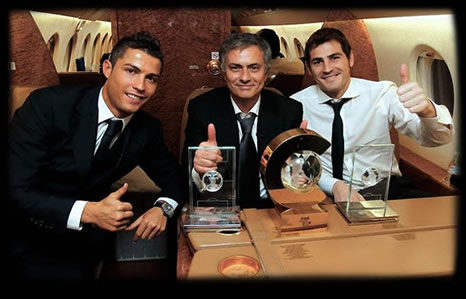 José Mourinho was very grateful to his players, after receiving the award for FIFA Coach of the Year (2010).
After being elected the best coach in the world, José Mourinho said that he wouldn't mind switching his award just to see one of his current players winning the "Balon d'Or" next year.
Mourinho: "If someone tells me that I'm going to win this award next year, I would say i rather see one of my players winning it. Next year, I want to see 2 or 3 of my players in the nominees. I also hope to see a goalkeeper winning it and I hope that can happen with Casillas, because he is the best in the world. Cristiano Ronaldo also deservers 4 or 5 Balon d'Ors in future.
The portuguese coach also remembered those who helped him achieving what he has today. "Coaches are nothing without their players. Anyone will pass a rough time if they don't empathize with the players and by doing, make them do what is expected from their roles. Yesterday, i had 5 of my players with me, two from Real Madrid and three from Inter. I hughed them, because without them, without my staff and without my family, I would be nobody."
Sources: ronaldo7.net

comments powered by