07.01.2011 »» Cristiano Ronaldo receives Ochocinco (NFL player) in Madrid.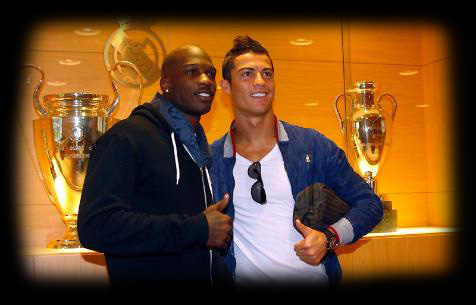 The Cincinatti Bengals NFL player and friend of Cristiano Ronaldo attended training and met Mourinho and the squad.
Cristiano Ronaldo and Chad Ochocinco are friends, and the Portuguese player was one of the first to greet the NFL receiver. Kaka, Xabi Alonso, Pepe, Albiol and José Mourinho greeted him in the VIP Room before training started and showed him the pitch. The coach also jokingly suggested Ochocinco should train with the team.

After visiting the dressing room, Ochocinco went to the pitch to meet the entire squad, with whom he posed in a photo.

"I follow Real Madrid, so it is an incredible experience to be here and meet the players," sayd the NFL star, "I greatly admire Cristiano. He is very fast, but not as fast as I am (laughs). I would love to race him."
Cristiano Ronaldo seems to be fully recovered from the illness that kept him away from the game against Levante and should be available to help Real Madrid against Villarreal this Sunday.
Sources: ronaldo7.net/realmadrid.com

comments powered by