06.01.2011 »» Levante 2-0 Real Madrid (2-8 aggregate). No Ronaldo, no glory.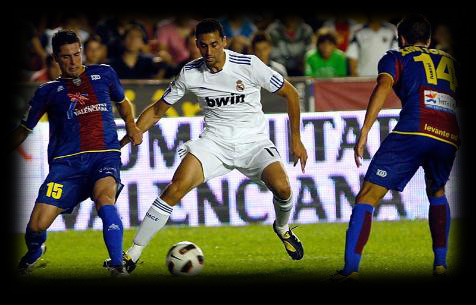 Second-string Real Madrid loses 2-0 against Levante, but it's Real Madrid who progress through (2-8 aggregate), to the "Copa del Rey" quarter-finals and will face Atletico Madrid.
Without Cristiano Ronaldo and some of the most inlfuent players available, it was time for Levante to restore some pride thanks to goals from Xisco Munoz and Sergio Gonzalez as they registered a 2-0 victory over a second-string Real Madrid, but it is Jose Mourinho's side who progress through to the Copa del rey quarter-finals.
The tie was all but over after Madrid ran riot in the first-leg thanks to an 8-0 victory where Cristiano Ronaldo and Karim Benzema both claimed hat-tricks. The hosts had little to play for other than pride.
Mourinho made nine changes to his Real side from the one that romped tonight's opponents in the first-leg prior to the Christmas break. Interestingly, Ezequiel Garay partnered Ricardo Carvalho in central defence rather than David Mateos who was utilised at right-back. Cristiano Ronaldo and Angel di Maria sat out, while two of summer recruits, Pedro Leon and Sergio Canales, stepped in to support Karim Benzema from the flanks as the Frenchman continued his run in the team due to Gonzalo Higuain's season ending injury.
Esteban Granero filled the space just behind Benzema and Fernando Gago made his long-awaited return from injury to partner Sami Khedira in centre midfield. It was an exhibition feel to the game as the first-half passed without any real incident. Both sides were happy enough to keep hold of possession when they had it and never really looked to threaten in the final third. Levante had the best chance of the game on 10 minutes following a dazzling run from Xisco Munoz who weaved his way through the centre before eventually unleashing a right-footed shot in the 18-yard box that was well saved by Real's stand-in goalkeeper Alberto Adan. Valmiro Valdo was unable to cash in on the follow-up. Xisco looked the brightest player on the pitch in the opening half as Levante looked to utilise their attacks down the flanks as he and Valdo interchanged from time to time.
Madrid offered very little in attack. Most of their play was being played in the middle of the park as the midfield trio of Khedira, Gago and Granero looked to orchestrate proceedings. Pedro Leon and Canales were having little effect on the game and were unable to supply a lonesome figure of Benzema, who was anonymous throughout.
It took 35 minutes for the visitors to have their first meaningful attack. Pedro Leon showed a glimpse of his talent as he provided a lovely jinked run down the left to get to the by-line before supplying a teasing cross that was teed up by Khedira via his chest to Canales whose effort was superbly blocked by a Levante shirt. Granero pounced on the rebound but his effort sailed way over the bar.
Cristiano Ronaldo missed this game due to illness as we all know by now, but he is expected to play in Real Madrid's next game against Villareal, this weekend. Ronaldo7.net will keep you updated on this subject in the next days.
Sources: ronaldo7.net/goal.com

comments powered by