30.12.2010 »» Ronaldo will be playing more often as a "9" when Kaká returns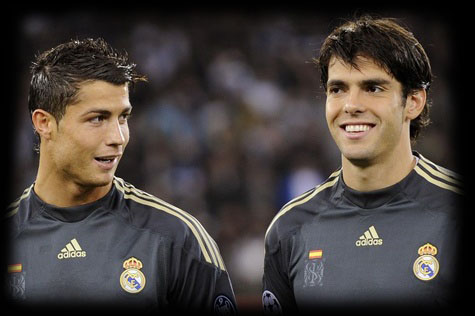 Cristiano Ronaldo is likely to be seen playing more often as a "9" (striker), specially after Kaká returns and Higuain long absence, due to injury.
Real Madrid will probably not buy anyone to replace Gonzalo Higuain, despite the argentinian injury may not be that easy to overcome and his comeback might take more time than what it was expected in the beginning.
But there are also good news, and they have a special name attached to them: Kaká. The brazilian is expected to return to competition in January and his comeback means that a few tactical readjustments might be made. It's known that José Mourinho doesn't exactly "fall in love" for Karim Benzema's skills and contributions for the team, so it is very likely that we may start seeing the most waited partnership of the season being tested in a few days/weeks. We're talking about Cristiano Ronaldo and Kaká playing together in the most attacking roles the team will have.
It won't be a surprise if we see Cristiano Ronaldo playing as a number 9, center forward, without losing his ability to also play a free role when needed. Kaká can then play behind Ronaldo, in a position the brazilian won't need much time to readapt.
Another alternative for José Mourinho, besides playing Benzema, would be the youngster Morata. The 18 years old, has impressed the critics over the last weeks, even though he only played small parts of a few games.
Kaká and Cristiano Ronaldo already proved in the past that they can play together without any problems. However, Kaká's physical condition and competitive rhythm might not be the ideal yet and José Mourinho will probably take that in account for the next matches, starting with Getafe next monday.

Sources: ronaldo7.net/marca.com

comments powered by