22.12.2010 »» Real Madrid 8-0 Levante. Cristiano Ronaldo scores an hattrick.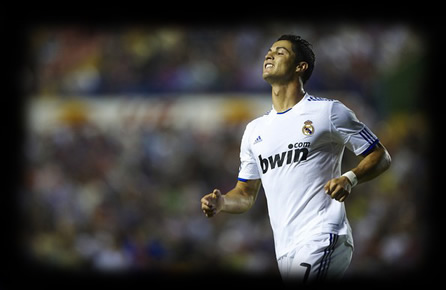 Watch Cristiano Ronaldo 1st goal [45'] (4-0)
Watch Cristiano Ronaldo 2nd goal [72'] (6-0)
Watch Cristiano Ronaldo 3rd goal [74'] (7-0)
Cristiano Ronaldo and Benzema both scored hattricks and help closing 2010 with an 8-0 win over Levante.
Real Madrid virtually assured a place in the quarter finals of the Copa del Rey at the Bernabeu, after crushing Levante, who never seemed a strong enough side to be competitive in this game. Levante's defense just didn't have a good night and when that happens against players such as Cristiano Ronaldo, Benzema, Di Maria or Ozil, the price to pay has to be high.
Benzema scored an hattrick and Cristiano Ronaldo didn't want to be left behind, so he also got 3 goals from this easy game, even though he reports said he was a bit ill yesterday. Xabi Alonso, Granero and Lass Diara also played an important role in this win, simply outclassing their opponents.
Benzema's performances over this month were a bit inconsistent, but today, the french striker proved he can still score goals easily. The question remains though, can Karim Benzema keep doing the same against stronger sides and on a regular basis? Or does Real Madrid need to buy a better replacement for Higuain, while the argentinian is injured?
If there are doubts about Benzema, the same can't be said about Cristiano Ronaldo. The portuguese legend, also described as the "bread and butter" in this Real Madrid (quoting Toshack), just doesn't get tired of scoring and this time he added 3 goals to his season count of 26 goals!
With this amazing 8-0 win over Levante, Real Madrid ends the 2010 year and presents their supporters with a tasty victory. The transfers market will open in January and Real Madrid might be active in some deals, since Higuain condition is still worrying the staff team.

Sources: ronaldo7.net

comments powered by