19.12.2010 »» Real Madrid 1-0 Sevilla. Angel Di Maria comes to the rescue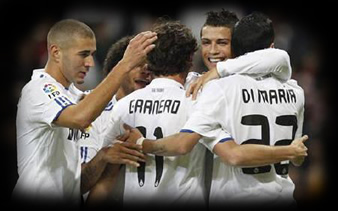 The winger netted in what was a tempestuous contest at the Santiago Bernabeu..
Real Madrid won a match and made its great history proud. Despite having everything against them, the Whites defeated Sevilla 1-0 thanks to a strike from Di Maria. The awful performance of referee Clos Gomez took centre stage, sending Carvalho off unfairly and failing to award a penalty on Granero.
Sevilla played a fierce defensive match from the start and Real Madrid took time to find the pace to their game. Linesman Juan Jose Gallego Galindo was the southern side's best ally by calling three inexistent offsides. Mourinho's team suffered from the absences of Alonso and Marcelo and their performance had a stop-start nature due to the multiple stoppages perpetrated by Sevilla.
Karim Benzema once again led the line for the hosts, but did not look anywhere near his best, and Madrid's best efforts of the half came from two long-range Cristiano Ronaldo free kicks that bounced in front of Palop.

Referee Clos Gomez earned the spotlight in the second half, making countless mistakes in detriment of Real Madrid. He sent off Carvalho with a double booking on the 62-minute mark, alleging he elbowed a rival player when in reality he and Negredo bumped into each other with their heads. The referee also failed to award a penalty in the 69th minute when Granero was repeatedly obstructed by Escude inside the box. It is worth mentioning Real Madrid received nine bookings and saw one red card, while Sevilla only saw three yellow cards and one of their men was sent off.

Against all odds, the Madridistas used the support of the crowd to win the match. Sevilla seemed intimidated and focused on defending even more. Ozil entered the box and tried to score. The cleared ball landed at Di Maria's feet and the Argentine defeated goalkeeper Palop with a splendid shot (76'). Mourinho reacted to the strike by replacing Ozil with Albiol.

Sevilla were flabbergated by the defeat and were unable to pose a threat on Casillas' goal. Real Madrid deserved to win because they never gave up. All mids are now set on Wednesday's clash with Levante in the Copa del Rey.


Sources: ronaldo7.net/realmadrid.com/goal.com

comments powered by