06.08.2011 » Tianjin Teda 0-6 Real Madrid. 20 minutes Ronaldo put on a show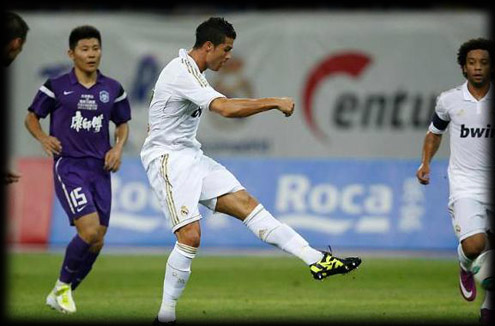 Last game in the 2011-2012 pre-season and Real Madrid won their 7th game out of 7 played matches. Once again, the Merengues crushed their opponents, this time by 0-6 and Cristiano Ronaldo scored another great goal. CR7 will now focus on the first two big games of the season, against Barcelona. The Spanish Supercup will be played in the 14th and 17th of August.
Watch Cristiano Ronaldo game photos in Tianjin Teda vs Real Madrid
Watch Real Madrid vs Tianjin Teda goals and highlights, including CR7 goal:
Real Madrid line-up against Tianjin Teda:
Mejías; Arbeloa, Varane, Sergio Ramos, Raul Albiol; Xabi Alonso, Fábio Coentrão; Angel Di María, Kaká, Jesé; Gonzalo Higuaín.
Real Madrid finished their pre-season tour in China, with another comfortable win (0-6) against Tianjin Teda. Cristiano Ronaldo started on the bench, as well as Ozil, Benzema or Casillas, so there was room left for the likes of Kaká, Di Maria and Higuaín to show up in the starting eleven. The game had a bit of a slow tempo, but Real Madrid dominated from the start to the end. Just one week left for the first big clash of the season against Barcelona, and Real Madrid seems to be ready to take the challenge.
The game started with Real Madrid trying to make things easier by scoring an early goal. Around the 7th minute, Di Maria was fouled inside the penalty area and Kaká wouldn't miss the chance to make the first goal of the match. A few minutes later, Di Maria would score himself and make it 2-0, from a rebound of his own shot. The game wasn't very well played from that point on and it would reach halftime with Real Madrid on the lead by 2-0.
Many Chinese fans were expecting to see Cristiano Ronaldo joining the game right on the beginning of the second half, but José Mourinho decided to grant the opportunity to other players and made 3 substitutions. Casillas, Khedira and Callejón got in, replacing Adán, Xabi Alonso and Di María, who went to rest. There wasn't a big improvement in terms of game quality, but Higuaín still managed to make it 0-3 around the 66th minute, in a bit of an awkward play.
However, everything changed around the 67th minute, when José Mourinho decided that it was time to bring the big guns. Cristiano Ronaldo and Karim Benzema replaced Fábio Coentrão and Gonzalo Higuaín and the game suddendly changed. Just 6 minutes after being on the pitch, Cristiano Ronaldo scored the best goal of this match, after a great combination play with Sami Khedira and blasting a great shot with his left foot. When CR7 touches the ball, everything magically seems easy to accomplish and around the 78th and 81th minute, Benzema scored twice, making the final result to 0-6 for Real Madrid. Cristiano Ronaldo ends this pre-season with an average of 1 goal per match in terms of stats, aftering having scored a total of 7 goals from 7 friendly matches. It's now time to face Barcelona, but before that, you can watch CR7 highlights vs Tianjin Teda below:
Real Madrid finished the pre-season tour and their last friendly match with a 6-0 win in China, against Tianjin Teda. Next week, Cristiano Ronaldo and his teammates will fight for the Spanish Supercup and will play the first leg against Barcelona in the Santiago Bernabeu, on the 14th of August (Sunday). CR7 will certainly be on the line-up and you can watch the game Real Madrid vs Barcelona livestreams inside the Live Games Streams section. Countdown clock for the game is always shown in the top right corner of this site.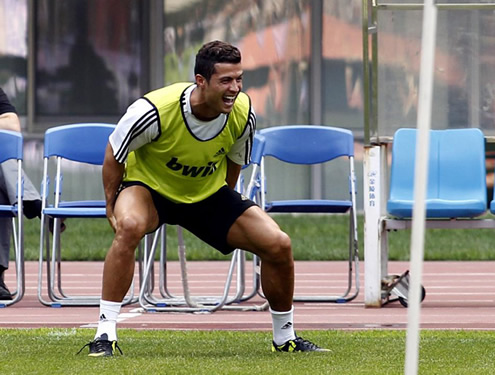 Real Madrid vs Barcelona - 14th of August, 2011 (Sunday):
21:00 (GMT+1) - London (U.K.), Lisbon (Portugal)
22:00 (GMT+2) - Madrid (Spain)
04:00 (GMT+8) - Beijing (China), (Monday)
12:00 (GMT-8) - Los Angeles (USA)

Sources: ronaldo7.net

comments powered by