03.08.2011 » Guangzhou 1-7 Real Madrid. Backheel Ronaldo stunishes China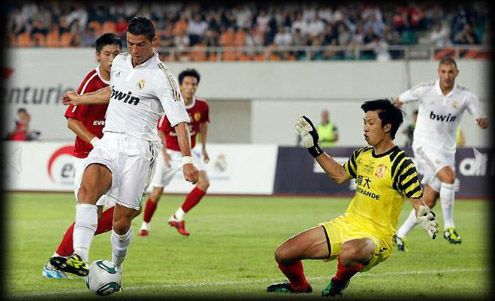 Real Madrid had another great display earlier today, against the Chinese team Guangzhou Evergrande, winning the game by 7-1. Cristiano Ronaldo scored a wonder goal, finishing a good play with a backheel touch. Benzema (2), Khedira, Ozil, Jese and Di Maria scored the other goals in this game.
Watch Cristiano Ronaldo game photos in Guangzhou Evergrande vs Real Madrid
Watch Cristiano Ronaldo highlights in Real Madrid vs Guangzhou Evergrande:
Chinese fans were anxious to watch Cristiano Ronaldo and Real Madrid in action, and the Spanish team showed them why they are regarded as one of the best teams in the World. With an enthusiastic Ronaldo, Real Madrid left no chances for Guangzhou Evergrande ambitions of getting a good result from this match. The Merengues crushed the Chinese team by 7-1 and will now prepare for the second and last match in this China pre-season tour, against Tianjin Teda, this Saturday morning (European Time).
This was the sixth game that Real Madrid disputed this pre-season, and that's also the sixth win obtained. So far, Real Madrid's path has been 100% victorious, after having played games in the United States, Europe and now China. There's only one game left in this pre-season, before facing Barcelona in the Spanish Supercup and this team seems to be very well prepared for such an early stage of the season. In his second year managing this team, José Mourinho presents a more established game system and this season is definately promising a lot, with the likes of Cristiano Ronaldo, Benzema and Ozil, a lot more comfortable with the Portuguese coach tactical demands. Watch Cristiano Ronaldo backheel goal video against Guangzhou Evergrande below:
We all know Chinese fans are very loyal to Real Madrid and to prove that, more than 50.000 people showed up to watch Guangzhou Evergrande playing against the Merengues. José Mourinho was aware of the importance of this game in terms of marketing, so he presented a very strong line-up, with Cristiano Ronaldo decided to put on a good show. Just 6 minutes after the game started, the first goal appeared by Khedira and it was his first strike since he signed for Real Madrid.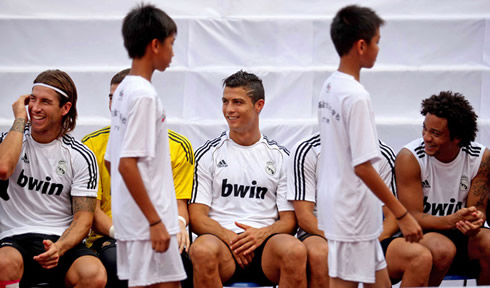 Cristiano Ronaldo and his team mates had a great performance and goals happened naturally. Around the 30th minute, Ozil scored the 2nd goal after a good combination with Sami Khedira. Benzema also scored in the first half, around the 38th minute, making it 0-3 before the halftime. The second half started and only 3 minutes after, Benzema once again, put the ball on the back of the net. However, the biggest moment of the game happened around the 54th minute, when Cristiano Ronaldo got assisted by Callejón and scored a tremendous goal with a backheel touch. A couple minutes later, José Mourinho decided to rotate almost the entire team and the game lost a bit of rhythm. Jese and Di Maria still had time to make a goal each, as well as Yang from Guangzhou Evergrande, who managed to put the final score to 1-7. Next match is this Saturday, against Tianjin Teda (11:45 GMT+1 (Madrid)), who are expected to be a stronger team than Guangzhou, and therefore present a bigger threat to Real Madrid and CR7. Watch the full highlights and goals videos from Real Madrid vs Guangzhou Evergrande below:
After defeating Guangzhou Evergrande by 7-1, Real Madrid will now face Tianjin Teda in China. This will be the second and final match from this China pre-season tour. Cristiano Ronaldo will probably be in the line-up on this final test. You can watch Juventus live stream, the match Real Madrid vs Tianjin Teda livestreams and Cristiano Ronaldo playing, inside the Live Games Streams section. Countdown clock for the game is shown in the top right corner of this site.
Real Madrid vs Tianjin Teda - 6th of August, 2011 (Saturday):
10:45 (GMT+1) - London (U.K.), Lisbon (Portugal)
11:45 (GMT+2) - Madrid (Spain)
17:45 (GMT+8) - Beijing (China)
02:45 (GMT-8) - Los Angeles (USA)

Sources: ronaldo7.net/realmadrid.com

comments powered by