30.07.2011 » Leicester City 1-2 Real Madrid. Callejón and Benzema score again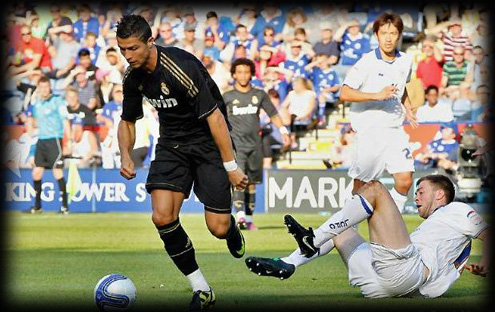 Real Madrid managed to bring home another win, after defeating Leicester City by 1-2. Even though the performance wasn't great, the Merengues kept their winning streak this pre-season with a 5th win in 5 matches. Cristiano Ronaldo started on the bench and only joined the game in the 2nd half, but Benzema and Callejón stepped up and scored the only goals in the match.
Watch Cristiano Ronaldo game photos in Real Madrid vs Leicester City
Leicester City vs Real Madrid goals and highlights:
With the beginning of the season almost starting, Real Madrid keeps rotating the team, allowing every play to rest enough, in order to reach the desired physic levels. Real Madrid grabbed a win from Leicester, by beating the home team by 1-2 earlier today and José Mourinho didn't lose this chance to try out a few new things during the match. The opponent wasn't easy, as Leicester is competing in England's "Division One" and already confessed that their objective for next season is to get promoted to the Barclays Premier League.
Real Madrid ended by winning this game in Leicester, just like they did in the previous four friendly matches they have played. As most fans are aware, England teams are known for being very competitive, and it's common to see teams from lower divisions usually putting a good fight against the most reputed teams. Real Madrid controlled the game but it's only fair to say that this Leicester team showed that they can be a very good test for any top team in the World. Cristiano Ronaldo didn't start the game in the line-up, but joined it just after the halftime, still in time to have a few good actions in the match. Watch Ronaldo highlights and best moments against Leicester in the video below:
The Spanish press made a note to the fact that Cristiano Ronaldo already has scored 97 goals for Real Madrid, if we count official and friendly matches. Having in mind that Ronaldo is only about to start his third season with the Merengues shirt, these numbers are truly impressive. There was some expectations that CR7 could have ended by reaching the 100 goals mark today, but the game wasn't prone in goal scoring chances and Ronaldo didn't manage to play at his best. No one doubts that it's only a matter of time though.
Real Madrid line-up against Leicester City:
Adán (Iker Casillas, 46'); Sergio Ramos, Raúl Albiol (Nacho Fernández, 80'), Varane, Marcelo (Arbeloa, 63'); Sami Khedira (Pepe, 63'), Fábio Coentrão (Jesse, 70'), Esteban Granero (Xabi Alonso, 46'), Kaká (Ozil, 46'), Callejón (Cristiano Ronaldo, 46') and Karim Benzema (Higuaín, 63').
After having won against Leicester City, Real Madrid will travel to China and play against Guangzhou Evergrande. José Mourinho will most likely keep rotating the team, but Cristiano Ronaldo is expected to be in the line-up. You can watch Juventus live stream, Real Madrid vs Guangzhou Evergrande live streams and Cristiano Ronaldo playing, inside the Live Games Streams section. Countdown clock for the game is displayed in the top right corner of this site.
Sources: ronaldo7.net/realmadrid.com/marca.com

comments powered by