27.07.2011 » Hertha Berlin 1-3 Real Madrid. CR7 scores from another "tomahawk"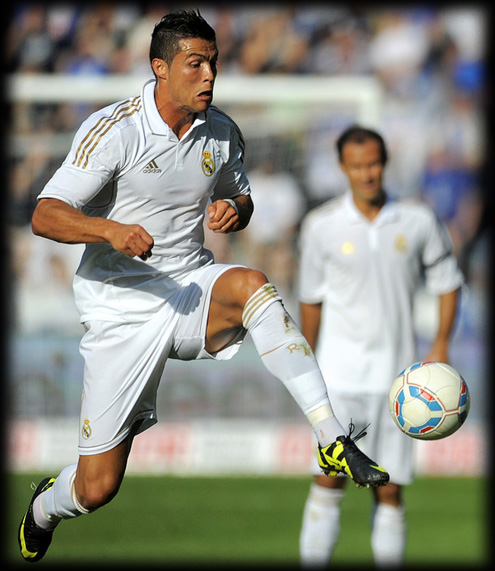 Real Madrid defeated Hertha Berlin by 1-3, in a game where once again, Cristiano Ronaldo mesmerized the crowd. Hertha Berlin scored first around the 18th minute by P. Ebert, but Ronaldo equalised the match after taking a powerful free-kick around the 30th minute. Benzema would score the other 2 goals in this match, completing the "remontada" and allowing Real Madrid to keep 100% victorious this pre-season.
Watch Hertha Berlin vs Real Madrid highlights and goals
Watch Cristiano Ronaldo game photos in Hertha Berlin vs Real Madrid
Watch Cristiano Ronaldo free-kick goal against Hertha Berlin:

José Mourinho didn't expect an easy game in Germany and Hertha Berlin showed how concentrated they were towards this game, by taking the lead early on in the first half. However, Real Madrid reacted well and Cristiano Ronaldo scored an amazing free-kick goal, from one of his world famous "tomahawks", leaving no chance to Hertha's goalkeeper. Karim Benzema performed very well and scored the other 2 goals, which allowed Real Madrid to safely win the match and control the game easily throughout the 2nd half.
The Berlin Olympic Stadium (Olympiastadion) got over crowded to watch this new Real Madrid team beating the home team, with more than 75.000 fans making their presence feel noted. The game was very well disputed in the first half, with both teams playing good football and showing some quick passing. Real Madrid managed to complete the "remontada" still in the first half, thanks to a Cristiano Ronaldo freekick goal and a good finish from Karim Benzema. However, just after the 2nd half started, Benzema added another to his personal count, making it 1-3 and trashing Hertha Berlin hopes to get a good result from this clash. The German team lost the flame they showed in the first half and Real Madrid easily dominated the ball possession, without suffering much pressure from Hertha Berlin players. You can watch Juventus live stream, all Cristiano Ronaldo highlights and action moments from the match against Hertha Berlin below:
A very positive note from this match regards Benzema performance. With Gonzalo Higuaín still on vacations, after his presence in the Copa América representing Argentina, the French striker is showing he can finally set himself as a starter this season and prove he's a world-class forward. After José Mourinho assumed that Real Madrid is still on the market for another forward to compete with Karim Benzema and Gonzalo Higuain, but also knowing that Sergio Kun Aguero is almost discarded since he's about to sign for Manchester City (for a 45 million transfer fee), does this team really need to invest millions in another player for this position? Is Neymar the right move to take at this point? Or should Real Madrid rely on Benzema or Higuain's potential to establish as an undisputed world class player? Should José Mourinho give the third spot to a player from the "cantera" like Joselú or Álvaro Moratta? Feel free to share your thoughts with us...
After beating Hertha Berlin, Real Madrid next opponent is Leicester City. On this next pre-season friendly, Mourinho will probably keep playing with Cristiano Ronaldo in the line-up. You can watch Juventus live stream, Real Madrid vs Leicester City livestreams and Cristiano Ronaldo playing, inside the Live Games Streams section. Countdown clock for the game is displayed in the top right corner of this site.
Sources: ronaldo7.net/marca.com

comments powered by