26.07.2011 » Cristiano Ronaldo nominated for UEFA Best Player in Europe 2010-11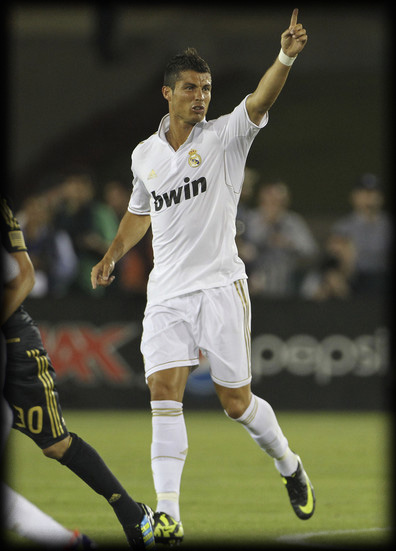 The Portuguese forward, Cristiano Ronaldo, is one of three candidates nominated (alongside with Xavi and Messi) to win the first edition of the UEFA Best Player in Europe award. This trophy will replace the UEFA Club Footballer of the Year, which Ronaldo already won back in 2008, in the same year that he was also crowned as FIFA Best Player in the World.
The shortlist for the inaugural UEFA Best Player in Europe award contains only 3 names now. They are Xavi and Lionel Messi from Barcelona and Cristiano Ronaldo from Real Madrid. They were the most voted players, from a voting poll of a group of journalists from all the 53 "UEFA's countries". Already out of the race are Andrés Iniesta from Barça who comes in as 4th, Radamel Falcao from F.C. Porto as 5th (Europa League all-time top scorer with 19 goals last season) and Wayne Rooney from Manchester United as 6th.
After an outstanding season, Cristiano Ronaldo broke several all-time records both in La Liga and Real Madrid. The Portuguese finished the season with a total of 53 (54) goals (the same ammount of Lionel Messi), but won the Pichichi award after scoring a total of 40 (41) goals in La Liga, breaking Hugo Sanchez and Zarra records, having also won the ESM Golden Shoe trophy. However, those arguments might not be enough to beat the two rivals from Barcelona, who added to their curriculum another Champions League and La Liga's trophy. Since the winner will be the player most voted from 53 journalists representing all countries listed in UEFA, the outcome is still unpredictable.
The final decision will be revealed in Monaco on the 25th of August, by the time when the UEFA Champions League group stages are drawn. We couldn't end this story without posting a video from Cristiano Ronaldo moments in last season, probably showing how much CR7 deserves to win this award:
The US campaign is over and Real Madrid will play against Hertha Berlin, in Berlin, on the 27th of July, at 6PM (local time). Mourinho will probably play his best eleven right from the beginning, meaning that Cristiano Ronaldo is likely to be on the line-up. You can watch Juventus live stream, Real Madrid vs Hertha Berlin online live streams and Cristiano Ronaldo in action, inside the Live Games Streams section. Countdown clock for the game is displayed in the top right corner of this site.
Sources: ronaldo7.net/uefa.com/goal.com

comments powered by