25.07.2011 » Alexis Sánchez: "I don't like being compared with Cristiano Ronaldo"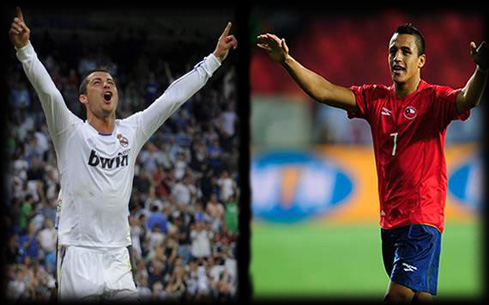 Barcelona is also strenghtening their team and they brought a new reinforcement from Chile, Alexis Sánchez. The former Udinese player costed 26 million euros, but the transfer price could rise to 37 million euros depending on appearances and titles won. Alexis immediatly rejected any comparisons made to Cristiano Ronaldo, but underlined he respects him a lot.
This transfer season is still far from ending, but both Barcelona and Real Madrid are making sure they fill all the gaps they had last season. Barcelona's new transfer to attack the title renewal is Alexis Sánchez, from Udinese. The International player from Chile will replace Bojan spot, who got sold this week to AS Roma, for a transfer fee of 12 million euros. Alexis Sánchez refused to make any comments regarding comparisons between him and Cristiano Ronaldo, but pointed that he respects CR7.
Alexis Sánchez: "I've always felt a great admiration for the Brazilian Ronaldo, but I honestly don't like to be compared to any player and that includes Cristiano Ronaldo. However, I must say that I respect a lot Cristiano Ronaldo and he's definately a great player." Both Alexis and Ronaldo wear the number 7 on their respective National Teams, but this time Alexis will have to take a different number in Barcelona, because the #7 shirt is already taken by David Villa. The Chilean player will most likely be Barcelona's new number 9, just like Ronaldo was when he first arrived to Real Madrid and Raúl was the owner of the #7.
Alexis Sánchez confessed that he received a call from Pep Guardiola and that it was decisive for the outcome of the negotiations: "Yes, I talked with him during the negotiations. He showed me that I could trust him and that was very important for me. I felt happy when he showed me that I was wanted in Barcelona." Alexis also confessed that he's very proud to have the opportunity to play for Barça, and that he expects to adapt well and learn a lot from players such as Xavi and Lionel Messi. Cristiano Ronaldo and Alexis Sánchez will have a first opportunity to measure strenghts in the two-legged Spanish SuperCup, to be played on the 14th and 17th of August this year. Below you may check a "battle" video from Cristiano Ronaldo and Alexis Sánchez and even though this site's oppinion can be seen as biased, I think everyone probably agrees that CR7 is still several levels ahead of Alexis. However, one thing we all must agree is that the Spanish League will be stronger this season:
Now that the United States tour has ended, Real Madrid will match up against Hertha Berlin. The game will be played in Berlin, on the 27th of July at 6PM (local time). José Mourinho will most likely play with a strong team right from the start, which means that Cristiano Ronaldo is probably going to start the game from the line-up. You can watch Juventus live stream, Real Madrid vs Hertha Berlin free livestreams and Cristiano Ronaldo in action, inside the Live Games Streams section. Countdown clock for the game is displayed in the top right corner of this site.
Sources: ronaldo7.net/marca.com/abola.pt

comments powered by