24.07.2011 » Philadelphia Union 1-2 Real Madrid. Ozil and Callejón leave their mark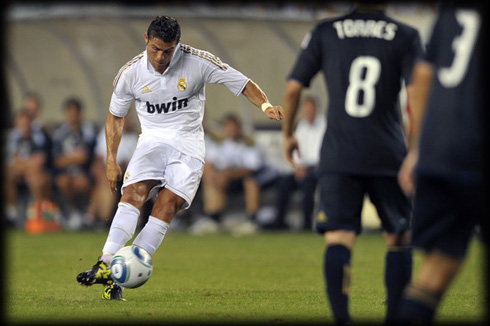 Real Madrid finished their United States tour with another win (1-2), this time against Philadelphia Union. The Merengues played in Philadelphia against the local team and added a third victory in three games. Cristiano Ronaldo played only in the 2nd half, but couldn't score in this match. CR7 finishes the first round of this pre-season already having remarkable stats, as he scored 4 goals out of 3 matches.
Watch Real Madrid goals against Philadelphia Union
Watch Cristiano Ronaldo game photos against Philadelphia Union
Real Madrid played their last match in the United States, as well as they finished their participation in the World Football Challenge. José Mourinho man defeated Philadelphia Union by 1-2 and didn't got much trouble to control and dominate the game. The goals arrived early, as Callejón (2th minute) and Mesut Ozil (11th minute) gave Real Madrid the lead. Later on, with Cristiano Ronaldo already on the field, Philadelphia scored their only goal by M. Farfán, from a truly great lob, leaving no chances to Real Madrid's goalkeeper.
The American side proved to be several levels behind Real Madrid and the first half was prone to plenty of mistakes by Philadelphia's defense. From those errors, Real Madrid not only capitalized but also showed some good football on the field. José Mourinho rotated the team intensively, in order to prevent players to get over-fatigued after a first week of very hard work and physical demanding. Below you can watch Cristiano Ronaldo highlights in this match:
Right on the second half, José Mourinho started by trying some new things, by putting Pepe and Fábio Coentrão side-by-side on the midfield. That is, a left-back and a center defender assuming the role in a neuralgic position on the field. They are both very versatile, but I still think Real Madrid won't win much from them, by placing these players as organizers. Anyway, this is just a "fallback" solution, since Nuri Sahin (who is still injured for a couple more weeks) is expected to have an important role throughout the season, as well as Khedira who remains unavailable to help his team.
Cristiano Ronaldo didn't score another hat-trick last night, but at least he didn't stop himself from trying. After joining the team just after the break, CR7 created two chances for scoring around the 57th and 63th minute, but unfortunately he couldn't add another goal to his tally this time. Close to the end of the game (86th minute), Ronaldo had the chance to try his world famous free kick, but his shot got stopped by a 19 years old Philadelphia's Union goalkeeper and the game would simply rush to its end after that.
Real Madrid line-up against Philadelphia Union:
Iker Casillas; Arbeloa, Varane, Ricardo Carvalho and Casado; Granero and Xabi Alonso; Callejón, Özil and Jese; Karim Benzema
After playing their last match in the United States, Real Madrid will now go up against Hertha Berlin. The match will be played in Berlin, on the 27th of July at 6PM (local time). José Mourinho will probably play with a strong team on the line-up, meaning that Cristiano Ronaldo is likely to start the game in the first eleven. You may watch Real Madrid vs Hertha Berlin livestreams and Cristiano Ronaldo playing, inside the Live Games Streams section. Countdown clock for the game is displayed in the top right corner of this site.
Sources: ronaldo7.net/record.pt

comments powered by